The parliamentary election outcome can transform not just France, but Europe and beyond, exactly as the 18th century uprising inspired political, economic and social changes globally. Underpinned by the ideals of liberty, equality and fraternity, the French Revolution spawned the modern era, ending monarchies and seeding liberal democracies worldwide. Though brutal and bloody, it aimed at benefiting not only France, but all of humanity. And so it did, triggering a nuclear fission of ideas, pollinating socialism, liberalism, feminism, radicalism, secularism, universal suffrage, the abolition of slavery and feudalism in every continent.
Newcomer Emmanuel Macron's extraordinary rise to power signifies a velvet revolution. Defying all odds and predictions, he democratically swept aside the established parties by winning the presidential elections last month. Now he has scored an astounding landslide in the parliamentary elections, with his one-year-old party, La République En Marche! (REM), winning 350 of the 577 seats. Not since Napoleon and Charles de Gaulle could a French leader garner such a historic mandate. Macron now has the power to implement his vision to reboot his country—and the world.
Two contrasting visions are unfolding in the international arena—Donald Trump's scaremongering, isolationist, divisive, scapegoating worldview versus Macron's liberal, youthful, modern, reformist, optimistic, inclusive and outward looking vision.
The French are fed up with their elitist politics, fragmented society and economic stagnation. Macron promises to end stifling red tape and inflexible labour laws, while compensating job losses wrought by globalisation and deindustrialisation. How? By initiating business-friendly policies, dismantling bureaucracy, retraining and re-skilling lost and losing generations so that they can ride the technology and digital tsunami that characterise 21 century economies.
"I want France to be the land of unicorns," he declares, capturing the essence of the transformation he plans. In the old days that meant the mythical beast, but now it refers to startup companies valued at over $1 billion. He wants France to be the bigger, better Silicon Valley that birthed legendary disruptors like Airbnb and Uber. Once labelled the man from 'Blah Blah Land' for his 'please-all' campaign speeches, Macron is now the beacon for successful startup disruptors like BlaBla car, the French rideshare poster-child.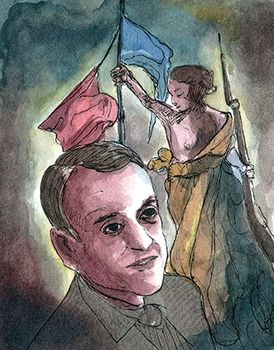 The routing of France's left and right parties showcase the intensity of public discontent with status quo. The reason why history repeats itself is because we don't learn from it. Historians differ on the causes of the French Revolution, but concur that a crucial factor was the impoverished public's resentment at the privileges enjoyed by a profligate monarch, the wealthy aristocracy and Catholic clergy. Economic and social inequality, harsh taxation to finance wars, and ruined harvests caused by environmental factors contributed to the revolution that ended the patronage granted to the Ancien Regime's elite. Sounds familiar?
Macron has a historic opportunity to reinvent France. Through his parliamentary majority, he can drive reforms to unleash the creative genius of his nation. But the 42 per cent voter turnout proves not everyone in France supports his vision. Just as in the aftermath of the French Revolution, much turmoil can lie ahead. Macron's failure would be a setback for the world. It requires intelligence, wisdom and sheer force of will to transform France—thus triggering another nuclear fission of ideas to revolutionise the flawed politics of failing societies globally. It is now within Macron's power to become a political unicorn, that legendary creature of purity and grace, to cleanse the muddied pond of putrid politics, crony capitalism, split societies and cleaved cultures.
Pratap is an author and journalist.