I was honoured to be part of the Kala Ghoda Arts Festival in Mumbai this month. This was the 17th edition of the festival. Over the years it has become notable for the number of participating artistes, writers and other creative people. In fact, this is perhaps one of the few festivals where creative minds involve themselves right from the time of conceptualisation. The theme for the 2016 edition was 'Crossing The Threshold', and the theme for the music section was 'Breaking Barriers'.
The very idea of bringing together musicians and performers from different genres and countries is just what was needed to convey to the world the power of togetherness. The idea was to have a blend of local artistes perform alongside known names in the music industry. I performed at the Cross Maidan and I would like to congratulate Brinda Miller, the festival director, for providing a platform to budding talents in the field of arts and culture. The festival was an arena for creative expression, and there was a free flow of ideas from performers and artistes.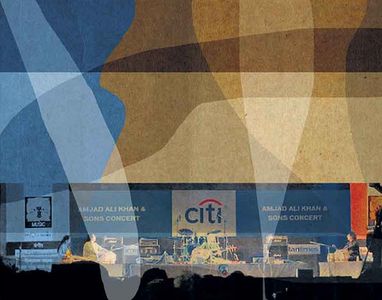 Indian classical music allows innovation. I have always believed in tradition, not convention. I was recently at the Tata Theatre at the National Centre for the Performing Arts, Mumbai, to attend a collaboration called Soul Strings by my sons Amaan and Ayaan with violinist Elmira Darvarova. The collaboration between a bow instrument and a pluck instrument is very unusual and often not attempted. Elmira has had a very unique musical career. Apart from being the first and only woman concertmaster of the Metropolitan Opera Orchestra in New York, she is a Grammy-nominated recording artiste. Her attention to perfection and detail has been inspirational, and in terms of calibre and genius, she is truly unparalleled. She has, undoubtedly, one of the fastest fingers in the business. I am inspired to record a track with her very soon.
I was very happy to see so many artists and creative people in the packed hall, including Jaya Bachchan and Abhishek Bachchan. The Bachchan family's love and passion for music run deep. I had the honour of spending wonderful moments with the great Dr Harivansh Rai Bachchan, who was truly a symbol of dignity and grace.
I was deeply saddened by the passing away of the Siachen braveheart, Lance Naik Hanumanthappa Koppad of the 19 Madras regiment. A real hero, the 33-year-old had more than six postings in his 13-year Army career. And, he had been in Siachen since August 2015. In all humility, I salute the brave man. My heart also goes out to the families of the other nine young soldiers who died in the avalanche. May their souls rest in peace.