During the golden age of Indian hockey in the 1950s and 60s, competition for each position was intense, and so, regularly getting a place in the national squad was a difficult task. Yet, the late Haripal Kaushik, an astute inside forward played in three Olympics, winning two gold medals (1956 and 1964) and one silver medal (1960) and a gold in the 1966 Asian Games. Very few players like right half-back Leslie Claudius, inside-forward Udham Singh, centre-forward Balbir Singh, defender R.S. Gentle, goalkeeper Shanker Laxman, inside-right V.J. Peter and centre-forward Harbinder Singh have played three successive Olympics. Haripal also belongs to this elite group not because of sheer talent but consistency and commitment that made him a coach's delight.
He was not a player of great individual brilliance but was known for his consistency and ability to blend into a team and create a cohesive atmosphere. The soft-spoken and supremely fit Haripal was the 'crisis man' for Indian hockey. In an era of specialisation, the late Haripal Kaushik was the quintessential team-man.
This is what set him apart. In domestic hockey for the Sikh Regiment or the Services, he mostly played as inside-right. However, in the 1964 Tokyo Olympics, in which India won the gold medal, Haripal became an effective inside-left. His Service's teammate V.J. Peter was in dazzling form in 1964 and first choice for the inside-right position. Veteran Udham Singh, playing in his fourth Olympics and Bandu Patel of the Maratha Light Infantry were chosen as inside-left.
But coach Dharam Singh had other ideas. He felt Udham had slowed down and Bandu was struggling against European teams. Hence, he made Haripal play as inside-left. Former Indian skipper Gurbux Singh recalls that in the training camps before the team departed for the 1964 Tokyo Olympics, Haripal played as inside-right. However, at the Olympics he was switched to inside-left and played with aplomb. An excellent athlete, Haripal's work rate and distribution of the ball were exemplary. He provided the passes for the quicksilver centre-forward Harbinder Singh and outside-left Darshan Singh to launch attacks.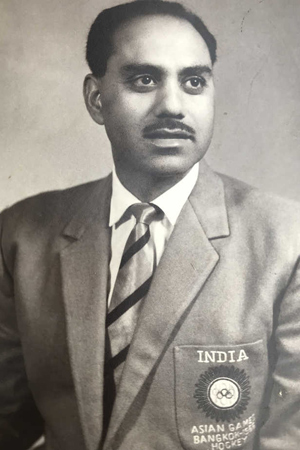 Harbinder has often said that during his playing days, there was a lot of tension among players and spectators alike when India met Pakistan in hockey. He once said, "When we played Pakistan the atmosphere in both camps was very tense and it was like a war was going on." In 1960 Rome Olympics, Pakistan had beaten India 1-0 in the hockey final. Haripal had been a member of that team but did not play in the final. On the eve of the 1964 Olympics final, it was Haripal who rallied the troops. Though he was not the captain of the team, he had been a commander of men in the 1962 Indo-China war and so inspired the players to be calm and focused in the final.
Haripal had once admitted that after surviving Chinese army's attacks in hostile terrain during the 1962 war he was not overawed by a hockey final. Very few people know that Haripal missed the 1962 Asian Games because of the border crisis with China. He was not just a fine hockey player but was also a consummate professional soldier and a committed Army officer throughout his working career. Commissioned into the Indian Army in 1959, Haripal served in the 1st Battalion of the Sikh Regiment.
In the early days of the 1962 Sino-Indian War, Haripal—then a young Lieutenant—was commanding the forward company at the Battle of Bumla along the border between India and China. The Chinese People's Liberation Army attacked Ladakh and NEFA (Arunachal Pradesh) in strength on October 20, 1962. The People's Liberation Army plunged down the Bum La-Tawang stretch three days later to seize Tawang. With the help of heavy artillery fire, the Delta Company of 1 Sikh Regiment led by Lieutenant Haripal Kaushik based at Tongpeng La managed to repulse every Chinese foray. During heavy combat with much larger enemy forces, he led a successful retreat, from the Tawang sector saving the unit's heavy machine guns and mortars. Haripal was awarded the Vir Chakra for "exemplary courage and self-disregard" on the battlefield. In the Indian Army, he rose to the rank of lieutenant-colonel.
He was a highly regarded officer. Creditably, the Indian Army has remembered his valour on the battlefield and commitment to hockey. A sports stadium has been named after him, so he will be remembered in posterity. Haripal Stadium at the Indian Army's Mechanised Infantry Regimental Centre in Ahmednagar—a lush green and sprawling multipurpose sports field—is named in his honour.
His commitment to the Services and the Army was exemplary. After his playing days got over, he would train the young Services players. Defensive midfielder Dhanjay Mahadik (Services), who played for India in the 2010 World Cup and Commonwealth Games, paid a tribute to Haripal's teaching abilities. During the 2010 World Cup in Delhi, Mahadik admitted that he had learnt many nuances of the game from Haripal during coaching camps organised by the Services.
Remarkably, Haripal played with gusto whether it was for his regimental team or for India. In the 1965 Nehru hockey final, he represented Sikh Regimental Centre against Bombay XI in the final. Haripal was the only non-Sikh in his team and dashing outside-right Balbir Singh was the only Sikh player for Bombay XI. Both Haripal and Balbir excelled in that entertaining final that Sikh Regimental Centre won 1-0. It was a clash of contrasts, Haripal was at the sunset of his career and Balbir was the new kid on the block. A year later both were in the Indian team that won the gold medal at the 1966 Asian Games in Bangkok. Haripal was the vice captain of the team and was the first to congratulate Balbir when he scored the winning goal against Pakistan in December 1966.
His hockey career faded after 1966 and he devoted his time and energy to the Indian Army. After retirement, he settled in Jalandhar, got involved with hockey administration, played golf and did some occasional coaching and TV commentary.
By sheer guts and mental toughness, Haripal overcame many odds in life. But there was one battle he did not win. He was 84 years old and would have celebrated his 85th birthday on February 2. However, he was suffering from dementia since 2015 and though he was a fighter all his life, he finally died on the eve of Republic Day at his Jalandhar Cantonment residence. His wife Prem Bala Kaushik had died long ago. His daughter Veronica looked after him during the last days of his life.