Acording to ancient Indian culture, food is eaten based on the season. During winter, foods that create warmth are to be consumed Summer diets demand foods that have a cooling effect. Ancient physicians categorise foods as ones that generate body heat and those that cool the body. Food is prescribed according to symptoms and the season.
Cooking is a process, so is digestion. Foods that generate warmth promote your metabolism. They require a longer digestion time and generate more heat in the body due to chemical reactions. In winter, when temperature is low and you are more lethargic, these foods automatically make you more alert, energetic and keep you warm. They prevent colds, coughs, poor circulation, cold hands and feet. But please be careful. These foods should not be had in excess as they can cause nose bleeds, hemorrhoids, piles, fissures, anxiety and skin complaints like acne.
When we think of winter in India, these are the foods which instantly come to our minds—Sarso ka saag (a dish made of mustard leaves), palak (spinach) and methi (fenugreek) bhaji, mixed pickles made of radish, carrot, turmeric and ginger, almonds, pistachios, walnuts, dates, figs, adrak (ginger) aur kesar (saffron) ka kaada (a healthy drink), gud (jaggery) and til (sesame) ki chikki, makki (corn) and bajra (pearl millet) roti, char grilled sweet potato and yam.
Do these foods have any nutritional value? Yes, of course.
Let's have a look at our vegetables first. Leafy greens such as spinach and broccoli, which most kids hate, are excellent sources of calcium, iron as well as protein. Cauliflower, a cruciferous vegetable is a source of powerful antioxidants and has been found to be good to prevent breast cancer. Celery is known to lower blood pressure and is excellent for preventing osteoporosis. Fenugreek is also rich in calcium and iron.
Winter fruits are grapes, oranges, strawberries and fresh figs. Oranges and strawberries are high in vitamin C, low in the glycemic index and excellent sources of antioxidants. Figs prevent constipation and are a source of natural sugar. Their seeds are packed with nutrients. Grapes are also a source of natural sugar as well as vitamin C. They are rich in antioxidants and lower cholesterol levels.
As we all know, carrots are abundant in betacarotene and antioxidants. They are very important for healthy eyes. The beetroot is rich in iron and calcium. Amla, also referred to as the Indian gooseberry, is one of the most widely used ingredients in ayurvedic medicines. It is an excellent source of vitamin C.
Yams, one of the oldest food plants are rich in vitamin B6 and potassium. They protect against cardiovascular diseases. Sweet potatoes, often associated with yam are an excellent source of betacarotene and have antidepressant properties.
Sesame, commonly known as til, is abundant in calcium. Jaggery is an excellent source of iron and various minerals.
Our mothers keep telling us to eat bajri and makki ki roti. And they aren't wrong when they say that. Bajri (pearl millet) is an excellent source of iron and makki (corn) is rich in anti-oxidants, vitamin C as well as fibre.
Ginger and turmeric are excellent for the body. Ginger has been used as a natural remedy for many ailments for centuries. It prevents nausea, flus, coughs, colds, migraines and joint pains. Turmeric, one of nature's most powerful healers has more benefits than you can even think of. It prevents colds, coughs as well as cancer. It has antiseptic and antioxidant properties. It also lowers cholesterol. Did u also know that it is very good for your skin?
Dried fruits are a natural source of sugar. Dried figs are rich in calcium, prevent constipation and have mucous drying properties. Dates are an excellent source of fibre as well as iron.
Nuts are packed with protein and are a good source of healthy fats. They are powerful antioxidants and lower cholesterol.
Last of all, are saffron and honey. Saffron prevents colds, coughs and keeps you warm. Honey is very good for sore throats and is a source of natural sugar.
Now that you know which foods you should be looking forward to eat this winter, make the most of them in the months of December, January and February.
Also, try out these recipes.
SESAME CHIKKI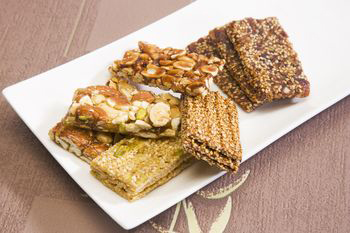 Ingredients
Roasted sesame seeds-1 cup
Jaggery-3/4 cup
Method
1.Heat a pan and add ghee.
2.Add jaggery, mix it well and let it turn light brown.
3.Add the sesame seeds and mix well.
4.Roll into chikki.
5.Store it in an airtight container.
SARSON KA SAAG
Ingredients
Green mustard (sarson) leaves, washed and roughly chopped-500 gm
Tomatoes-250 gm
Green chillies-2 to 3
Ginger-1 inch long piece
Oil-2 tbsp
Asafoetida-1 to 2 pinches
Cumin seeds-1/4 tsp
Turmeric powder-1/4 tsp
Corn flour or gram flour-1 tbsp
Red chilly powder-1/4 tsp
Butter/ghee-1 tbsp
Salt to taste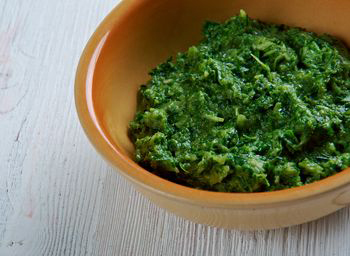 1.Add one bowl of water and cook the mustard leaves in a cooker. After the first whistle goes off, turn off the gas. Let it cool down.
2.Make a fine paste of tomatoes, green chillies and ginger.
3.Pour oil in a pan and heat.
4.Add cumin seeds and asafoetida.
5.Now add turmeric powder and gram flour.
6.Add the tomato paste, followed by chilli powder and fry the spices till oil separates from the mixture.
7.Take out the mustard leaves from the cooker and grind in a mixer.
8.Add this mixture to the pan, add water and salt to taste.
9.After the mixture comes to boil, cook it for 5-6 minutes on a low flame.
Sarson ka saag can be served with makki roti, paratha, chapatti.