Take a bite of these diet tips to stay fit and glow on your wedding day
With both the bride and groom counting down to the big day, stress levels run high. Mothers are frantically organising last-minute touches, with nearly everything, from RSVPs to clothes to jewelry to menus to anything you can think of to be sorted out. The bride and groom must be at their best on their wedding day. There is always the paradox of all the eating out versus wanting to lose weight and look your best.
In the midst of all this confusion, there is one thing that the bride and groom should focus on—food. When you eat right, you cleanse, nourish and beautify yourself. Do you know your kitchen cabinet is your natural beauty kit? It is not only about how good your outfit, makeup or even your hair style is, because your true glow comes from within. And the secret to glowing truly from within lies in the food you eat.
The bride and groom should start the day with a glass of water. Do not begin it with caffeine, i.e. tea or coffee as caffeine robs you of your vitamins and minerals and makes your skin look dull. If you must drink something, then a herbal infusion would help,. Water, on the contrary, freshens up the body, and flushes out the toxins in a fresh manner.
Next, there should be a fruit, because the body's instinct is to want natural sugar, which is ample in fruit. You could have bananas throughout the year. In the summer, tend towards mangoes, watermelon and musk melons. In the winter, have more of grapes, oranges, apples, strawberries and figs.
Your entire day should consist of foods that are rich in nutrients.
A crucial part of your skin's nutrient requirement is proteins. Protein is absolutely necessary, as it prevents hair from splitting and gives it more strength. So include nuts, seeds and sprouts. For non-vegetarians, an occasional serving of fish is a good idea. Remember, spinach and all your leafy greens, in fact, are one of the best sources.
Vitamins and minerals
Several minerals are great for the bride and the groom's pre-marriage period. Sulphur makes your hair lustrous and glossy, and gives your skin a lovely glow. It is found in broccoli, garlic, cabbage, rocket leaves, spirulina and onion. It is also found in aloe vera. Cut it up and either apply it or toss the pulp into your juice.
Copper in your diet will enhance the natural colour of your hair, so ditch those parlour trips and eat more nuts and seeds. Include zinc in your diet as it prevents hair loss. Munch on sesame seeds, pumpkin seeds, coconut and cashew nuts. Eat a few everyday. Zinc is also known to be great for prostrate health. This is important, due to several men's problems on the rise. A lack of iron causes starvation in the hair follicles. Nourish them with beet, spinach, wheat grass. Iron also improves the quality of the blood, boosting the iron-carrying capacity, which carries more nutrients to the skin.
Vitamins are excellent for the body too. Scalp health will improve with vitamin A. You can find it in red, orange and yellow-coloured food such as carrots, spinach, pumpkin, yellow capsicum, papaya and the like. Vitamin C promotes hair growth. Though orange is a famous source, remember that guava has four times more vitamin C. The cheapest and best source is the Indian Gooseberry, also known as Amla. Lemon is also required, as it not only supplies vitamin C, but also helps the body absorb the nutrients. Vitamin B also maintains natural hair colour, so ensure that your palette is filled with vegetables, nuts, oilseeds, eggs, milk and milk products. Vitamin B2, or riboflavin, is often known as the 'beauty vitamin'. It aids the removal of oily skin, blackheads, scaling, sores, cracks and whiteheads. Vitamin B3, or niacin, alleviates skin eruptions. You should indulge in vegetables, fruits, nits, oilseeds, fish and milk. Vitamin A prevents free radical damage to the skin membranes. It also develops and maintain skin cells and a deficiency can lead to dry skin. Eat more carrots, beet, spinach, pumpkin, yellow capsicum and papaya.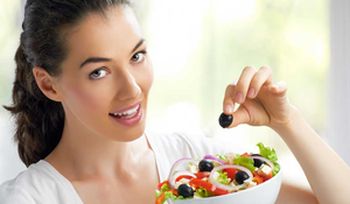 Eat lots of raw food, since all the nutrients are intact when food has not been cooked in any way. This boosts the skin's glow. Be it a salad at each meal, or a freshly chopped fruit, fresh foods improve your health and beauty. Raw food is also rich in fibre. This maintains colon health, and ensures that your digestive system is cleansed regularly. This will allow you to feel fresher, happier and this will also reflect on your skin in a positive way. You can also get your fibre from your whole grains, i.e. bajra, jowar, whole wheat and brown rice.
Having decided what food should be eaten to be energetic and pretty, the most important aspect is to feel the same way from within. Therefore, ensure that all your food is pure. This means that your food should be organic. Organic food is genuinely pure from within and leaves you a lot fresher that pesticide and additive-addled food would.
Simply put, go back to basics. Eat all sorts of natural foods, even if you are going out. Fruits and vegetables should be aplenty and remember to eat at home, or carry food if you know you are going to be out all day. Stay away from fried food, white flour and white sugar as well as processed and packaged foods.
Remember to exercise, as it helps to remove toxins and carry the blood around the body more effectively. Enjoy your courtship days, and most importantly, don't worry. Fresh natural and whole foods will help you sort out your health and weight so that you can spend your energy sorting out the hundred things that weddings demand.