At no point was the sari about the kitchen and the bedroom and the spaces of domesticity alone...
I'm in London at the moment, and an absolute outsider to this city. I've been spending a large part of the last two years visiting, and every time, just getting outside from the everyday humdrum of Chennai gives me a fresh perspective. Not always is this freshness of perspective something to rejoice, because not always in London rosier.
One of the things that I noticed, but I never got around to writing about what happens when you are a women of colour and you call yourself a writer. There's always a knee-jerk response, of mild curiosity mixed with a snide dismissal: "So, what language do you write in?" This question precedes all others. It is almost as if a woman who wears the colour of my skin has to be writing in something else, as if just by looking the way I look I'm never taken to be a writer who writes in English. After hundreds of years of colonialism and English being forced down our throats—my answer still comes as a surprise. And what happens when you write in English and try to get published here, in this city all too celebrated for its diversity, a diversity that somehow never gets reflected in the books that get published here? A brilliant friend of mine, Kavita Bhanot, recently submitted a manuscript of her novel and was told "too many Indian words", "far too much everyday domestic detail", "too much emphasis on religion and customs". These things they pick out and problematise were not even unintentional she tells me; these were the result of a conscious decision to write as a Punjabi women of working class origin. But mainstream white publishing does not get that in its eagerness to write away people from elsewhere, people of colour, people whose stories are not similar to their own.
I was simmering with anger—knowing that what happened to my friend was no isolated thing, knowing that this is the fate of a lot of writers of colour in this country. It always becomes easy to dismiss the work of women by saying that it is too domestic, and to dismiss the work of women of colour by saying it is too domestic and too remote. Until everyone begins to inhabit the monoculture of white middle-class existence, and, perhaps, everyone explores that overdone theme of middle-aged professors having an affair with one of their students on a university campus, the white-male dominated publishing industry will perhaps be left deeply unsatisfied. Does this fear of being labelled domestic haunt us? Yes, it does, and in ways that are too many to enumerate. As much as I'm allergic to domesticity as a person, I also knew that writing about my life as a wife, or my experience of marital rape--all of which would lead me to being labelled/ slotted, and even worse, not even published, because I would become that category that everyone dreads about: the housewife novelist.
Even as the idea of the domestic sends alarm bells ringing everywhere--because it is trivial, because it is women's lives, because it is in the private sphere, because the domestic unmasks the worst hypocrisies of patriarchy—is there any credence in why the domestic is sidelined?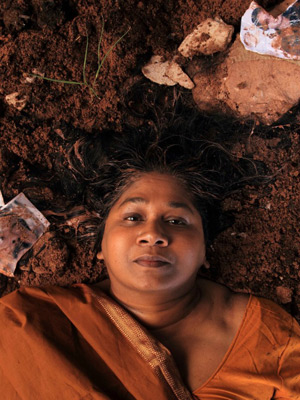 Last Friday I got the opportunity to watch the Malaysia-born, Manchester-based actress and playwright Rani Moorthy perform her one-woman play Whose Sari Now. Even as the sari is the most domestic thing that can come to mind for an Indian woman—Rani's play tore through the layers of fabric, through the centuries of history, to raise political questions. She shape-shifted, she was an old grandmother of Gujarati origin one moment, and then she was, in the blink of an eye, a hip-hop artist transman traumatised by being forced into womanhood and docility, which gave way to Anjali, a woman weaver in Kanchipuram who laments the loss of the handloom tradition, and then she became Leelavati, a high-caste women of Tamil origin who nevertheless suffers racism in Malaysia, and her final avatar was that of an Eelam Tamil woman who gives birth in the middle of bombings. At no point was the sari about the kitchen and the bedroom and the spaces of domesticity alone—she was so skilful, so beautiful, so enchanting and so persuasive on the stage that we were left asking all kinds of questions about society—about patriarchy, about class and convention, about stereotyping, about racism, about caste, about industrialisation, about assimilation, about identity, about women caught in conflict zones. She was all of the women she had sought to create, she was all of the women in the audience in the way in which she spoke our minds.
Rani's amazing reservoir of talents and the energy that she emits on the stage came into even sharper focus because of the sequences in which these characters appeared on stage. At the post-show discussion, Kimberley Sykes, spoke of how she chose to arrange these women and why. Just as the sari border always stands as a contrast colour to the body of the sari itself—every character seemed to provide the perfect foil to the previous woman who had inhabited the stage.
Not only was I transfixed by Rani's performance and spellbound by her sheer range, that night I came away from the play thinking that what is often discarded as the "domestic" can be reclaimed, that it can be transformed into sharp political statements. It was time to place faith in the feminist slogan: "the personal is the political."