The stalemate over government formation in Jammu and Kashmir continues, with Peoples Democratic Party president Mehbooba Mufti playing hardball with the BJP, apparently to appease her supporters, who say the PDP betrayed their trust by aligning with the Hindu nationalist party. Many PDP supporters even refused to attend chief minister Mufti Mohammad Sayeed's funeral in Anantnag.
BJP general secretary Ram Madhav, who played a vital role in bringing the parties together, will soon meet Mehbooba to discuss the future of the alliance, and there were reports that the BJP had set Mehbooba a deadline, February 23, to take a decision on government formation. Many in the state, however, believe Mehbooba is playing "heads I win, tails you lose" with the BJP. If the BJP accepts her demands, she will emerge stronger. But, if the party refuses to comply and breaks off, then good riddance. Mehbooba would salvage some pride and it would be easier for her to face voters if there is an election.
Unlike her father, Mehbooba is trying to exploit the weaknesses of the BJP, which wants to strengthen its grip on Hindu-majority Jammu. An end to the alliance could dent its prospects in the upcoming elections in West Bengal, Assam, Kerala and Tamil Nadu, which have a sizeable Muslim population. It would also reflect poorly on Prime Minister Narendra Modi, who had hugged Sayeed during the swearing-in of the coalition government, even as his supporters chanted the name of BJP ideologue Syama Prasad Mookerjee, who was known for his opposition to the state's special constitutional status.
Though Mehbooba hasn't announced her demands, they are likely to be about withdrawing the Armed Forces Special Powers Act from violence-free districts, generous funding for flood victims and development projects, and an end to policies driven by hindutva—like the beef ban or questioning the state's special status. Apparently, the complaint is that only Rs3,000 crore has been earmarked for flood victims, most of whom are Muslims, but Rs2,000 crore each has been set aside for schemes benefiting the minuscule group of Kashmiri Pandits and West Pakistan refugees, all Hindus.
After meeting Governor N.N. Vohra in Jammu on February 6, Mehbooba said: "I told the governor that despite opposition, Mufti sahib stitched an alliance with the BJP as he had a vision to take the state out of morass." She said her father used to say he was joining hands, not with the BJP, but with a billion people who had reposed faith in Modi.
"I only want the government to initiate state-specific confidence building measures to create an atmosphere congenial for formation of the new government," she said.
Former chief minister and National Conference working president Omar Abdullah said Mehbooba must clarify her stand on the confidence building measures and say how long she would wait. He said she should explain why she didn't feel the need to ask the Centre for these measures when Sayeed was alive. "An elected government is not in place, but the alliance between the PDP and the BJP is intact," he said. "We shut the door for the BJP a year ago and there is no chance of us allying with the right-wing party to form government."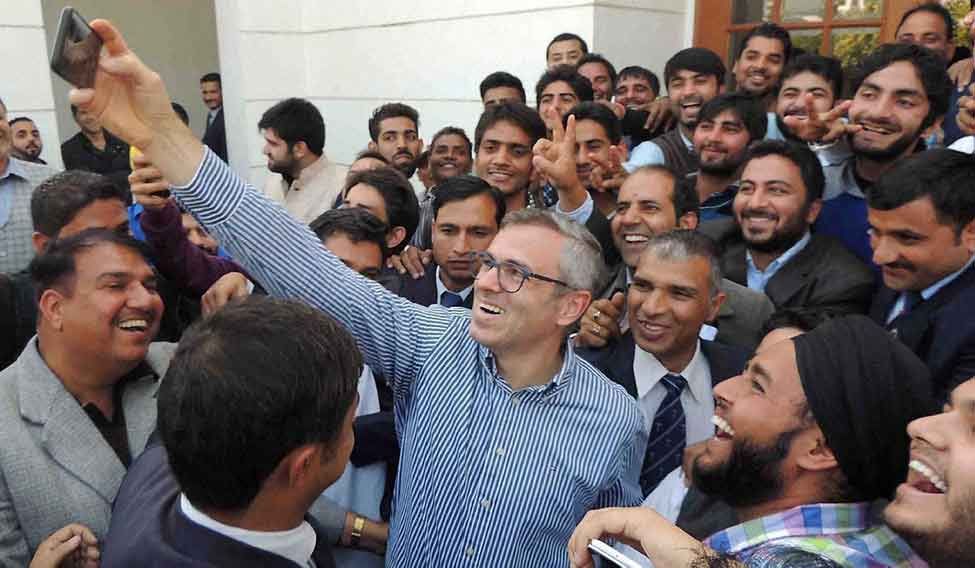 Silent valley: Omar Abdullah with supporters | PTI
Amid growing political uncertainty, there is talk of an election to the assembly. Political parties and some independents have begun mobilising supporters quietly. In the 2014 assembly election, Omar was perhaps overwhelmed as his father, former chief minister Farooq Abdullah, was in London for a kidney transplant. This time, with Farooq around, their party hopes to cash in on the anger against the PDP. "This time we will fare far better if fresh elections are held," said a district president of the National Conference. The party has reportedly started a silent campaign against the PDP in some constituencies in Srinagar, such as Sonwar, Hazratbal, Amira Kadal and Batamaloo, which the PDP won for the first time in the last election.
Congress workers are also seeking support. At a function in Jammu, senior Congress leader Ghulam Nabi Azad said people had realised that only the Congress could give them a stable government. In a veiled attack on the BJP, he said: "Those who never dreamt of becoming legislators became ministers because they exploited the sentiments of people and communal polarisation."
Many PDP leaders and workers feel that the continued stalemate could result in an election. And, while some leaders fear the party would suffer, others believe a fresh election could help the PDP regain lost ground. Predictably, not many PDP ministers, most of them first-time members of the cabinet, want to risk their jobs with an election. They hope the alliance will hold firm.
Mehbooba, however, seems to be looking at the future of her party. Sacrificing her government could be a small price to pay in the long term. She is also working on a plan to give her brother, Mufti Tassaduq, a role in the party. The move, however, has not gone down well with many senior leaders.
There is also talk of Mehbooba frustrating the BJP to a point where the saffron party ends the alliance. Then, Mehbooba could tie up with the Congress and return to power.