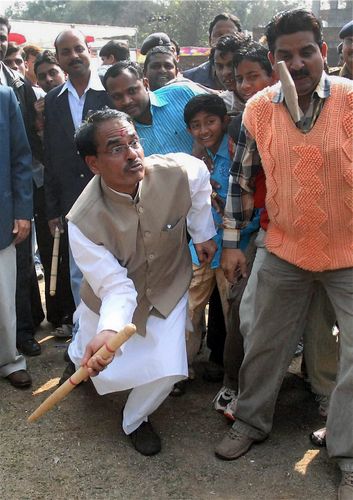 Hit trick: Shivraj Singh Chouhan may or may not be good at 'gilli-danda', but he is a pro at power play, having been chief minister for more than a decade | PTI
The fault lines within the Bharatiya Janata Party have come to the fore in Madhya Pradesh, where it has been in power for 13 years. Several of its senior leaders have criticised the government, led by the BJP's blue-eyed boy Shivraj Singh Chouhan. 
Chouhan, who has been the chief minister of the state for the past 11 years, is facing open dissent from a few of his ministers and senior party leaders. Leading the attack is Kailash Vijayvargiya, the BJP's national general secretary. He has been periodically criticising Chouhan on Twitter, and off it. During a recent function organised by a spiritual organisation, Vijayvargiya said, "Waiving electricity bills is not a decision in public interest; it is a populist one. Weak leaders normally resort to such populist decisions." 
The split between the two camps—pro-Chouhan and anti-Chouhan—is wide open, and such remarks have sent shockwaves within the BJP and the RSS, which doesn't welcome open criticism. 
Vijayvargiya had earlier charged the government with being corrupt, too. In an interview with a television channel, he had said, "We have been in power for a long time and certain ills do creep in. But slowly they are becoming too apparent…. If we do not correct them, we may find it difficult in the next elections." Though corruption had always been there, he said, it was well under control in the first two terms of the BJP rule. "However, it is now rampant, especially at a lower level. The bureaucracy does not care for party workers," he said. 
Vijayvargiya has been vocal against the government since September when he tweeted on the government's failure to fulfil its promise of a metro rail network in Indore, his hometown. "We promised metro to the residents of Indore, but the state government's speed suggests we will get a bullock cart, not metro," he tweeted. Later, the tweet was edited.
Vijayvargiya, who aspires to become chief minister, also raked up the 2007 dumper scam, in which Chouhan and his wife, Sadhna Singh, had been accused of furnishing wrong documents. They were later absolved of the charges. 
The party did try to rein in Vijayvargiya, said to be close to BJP national president Amit Shah. State party chief Nandkumar Chauhan asked Vijayvargiya to refrain from making such comments. Vijayvargiya, in reply, advised him to run the state party unit and stop being a PR machinery of the government. Chauhan eventually had to eat his words—he paid a visit to Vijayvargiya and apologised. 
Vijayvargiya, however, is not the sole voice of dissent. Rural Development Minister Gopal Bhargava, whose animosity towards Chouhan is an open secret, said the condition of BJP workers was as pathetic as it was during the Congress regime. He later retracted his statement. Then, there is Panna Lal Sha-kya, MLA, who said, "In the next assembly polls, the BJP will defeat the BJP." Another MLA of the party, Ramdayal Prajapati, chose the budget session to make allegations against the government, saying it was shielding the sand mafia in Bundelkhand. MLAs Sanjay Sharma and Jalam Singh Patel demanded the resignation of Agriculture Minister Gourishankar Bisen for ignoring dedicated BJP workers and fomenting unrest in Maoist-dominated Balaghat region. 
Not on silent mode: Kailash Vijayvargiya has criticised Chouhan's government time and again | Vivek Pateria
While Sharma, Patel and Shakya were issued show cause notices, BJP spokesperson Prakash Mirchandani and Rajesh Bhadoria, state convener of the cultural cell, were suspended from the party. Mirchandani had objected to "outsiders getting plum positions in the party and the government while the old workers were being sidelined''. Bhadoria, in a press conference, had said the "party should apologise to the people of Madhya Pradesh on the Vyapam scam and declare that the next chief minister will be from the dalit community". Within minutes of his press conference, Bhadoria was suspended from the party.
"There is a big section of party leaders who want Shivraj to be replaced. He has blocked the top position in the state. Why are we in politics if the post of chief minister is to remain with one person?" asked a minister. 
Former chief minister Babulal Gaur, too, has been critical of the government. He was home minister in the Chouhan government, but was dropped from the cabinet a few months ago as he was over 75 years. Similarly, former PWD minister Sartaj Singh, too, attacked the government, saying "the party and its leaders have changed. They are not the ones who laid the foundation."
Deepak Vijayvargia, chief spokesperson of the BJP, however, has downplayed the dissent, saying, "The BJP government is working as per its poll manifesto. There may be some leaders and workers who have their own experience and analysis of certain things, which they must share on relevant forums, and not in public."
Chouhan's grip over the affairs of the state weakened with the removal of powerful organisational secretary Arvind Menon a few months ago. He was replaced by Suhas Bhagat, a hardcore RSS man. However, most leaders fear the wrath of the RSS as they still haven't forgotten former chief minister Uma Bharti's expulsion from the party for airing views against the leadership in 2005. (She was taken back after a few years.)
For the Congress, which is slowly gaining ground in the state and has won the municipality polls and the Jhabua Lok Sabha bypoll, the infighting in the BJP couldn't have come at a better time. "We have always maintained that the BJP does not have inner-party democracy. Leaders cannot air their views freely," said state Congress president Arun Yadav. "Their rule is the most corrupt in the history of Madhya Pradesh, where every decision is being taken by the RSS."