In March 2010, Lt Gen R.K. Loomba, then director-general of Military Intelligence, approached General V.K. Singh saying that he could raise a special ops team. Singh gave his go-ahead.
When elephants fight, the grass is crushed. The Swahili proverb has come painfully true for half a dozen officers who were part of the Indian Army's top covert operations unit.
They were recruited in the wake of the 26/11 attacks in Mumbai in 2008, to stage counter-attacks on enemy targets. But, they were soon caught in the crossfire between the Army's top brass, which included three chiefs. Today, the super spies who sneaked into terrorist hideouts, blasted their depots and did such covert jobs are serving time in sinecure jobs—counting blankets and shoes, checking accounts, and overseeing repair work to residential quarters.
The story of the top-secret spy unit, officially the Technical Support Division, goes back to the days immediately after 26/11. Rattled by the audacity of the attack, the then National Security Adviser, M.K Narayanan, met heads of all spy and security agencies individually to find out if they had the capability to attack home bases of terror groups in Pakistan and Pakistan-occupied Kashmir. None had. Narayanan asked them to raise a team, if they could.
Sources said that neither the heads of agencies nor the director-general of military operations went back to the NSA on this issue. Then Army chief General Deepak Kapoor also did not give much thought to the idea. In March 2010, Lt Gen R.K. Loomba, then director-general of Military Intelligence, approached the new chief, General V.K. Singh, saying that he could raise and train a special ops team. Singh gave his go-ahead.
Loomba then handpicked one of his finest spies, Colonel Hunny Bakshi, to raise and train the unit. Bakshi is among the few officers who joined the directorate-general of Military Intelligence directly from the Indian Military Academy. While serving in Jammu and Kashmir he risked his life to save a Brigadier who was ambushed by terrorists.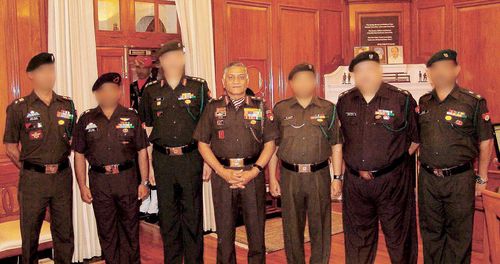 (From left) Lt Col Vinay B. aka Birdie, Lt Col Sarvesh D., Col Hunny Bakshi, Gen V.K. Singh, Lt Col Zir, Lt Col Anurag aka Naughty and Lt Col Alfred B.
Bakshi's first pick was Lt Col Vinay B. aka Birdie, who had served in the Research and Analysis Wing, the external intelligence agency. He was awarded a gallantry award for his role in a classified operation. He was Bakshi's point man against terrorist groups in the northeast and Jammu and Kashmir.
Lt Col Sarvesh D. was the second man to be picked. The veteran skydiver with 3,000 jumps under his belt commanded an Army company during the Kargil war. Later, he was part of a special action group of the National Security Guard. During a counter-terrorist operation in Sopore, Jammu and Kashmir, Sarvesh sensed that his men were in danger and barged into a house where Afghan terrorists were holed up. He killed them all and saved his men.
No 3 was Lt Col Alfred B., a seasoned negotiator. While serving with 28 Assam Rifles, he created assets in the dreaded United Liberation Front of Assam (ULFA). These assets were later used to persuade the ULFA leadership to come to a truce with the Army, which ensured peace in Assam for quite a while.
Lt Col Zir was the fourth. Known for his wide network among terror groups in the northeast, Zir had brought about the cease-fire deal with the Dima Halim Daogah ultras of Assam. He had played a key role in the arrest of some DHD leaders. Zir gathered crucial intelligence on arms trafficking into India from Myanmar and helped intercept consignments.
Bakshi's best pick, perhaps, was Lt Col Anurag aka Naughty. Diabetic and overweight, he looked quite unlike an Army spy. A training injury meant that he could not work out and, thus, he gained weight. Many laughed when Bakshi picked him. But, they soon found that he could walk for miles through the hilly Jammu and Kashmir terrain with a walking stick for support. A master in cultivating assets among the terrorist groups, he was the one who helped the Army identify the real troublemakers during the stone-pelting protests in Kashmir in the summer of 2010.
The going was good for a short while. The team was following the likes of Syed Salahuddin, the Hizb-ul-Mujahideen chief, in occupied Kashmir. A board of officers' report confirmed this and the Army had forwarded the report to the defence ministry. The report also mentioned other operations done by the team, including ones in the northeast and in Pakistan. Especially highlighted was one in an Inter-Services Intelligence office in Faisalabad, Pakistan. "The unit was working very efficiently. It was an asset for the Army and the country," said Loomba, about the TSD.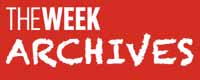 While the group was establishing contacts and assets in occupied Kashmir, the weather was getting rough in the Army HQ. General V.K. Singh and the defence ministry were slugging it out over his age. A.K. Antony was defence minister. It was perceived that Singh wanted to scuttle the chances of General Bikram Singh and the incumbent General Dalbir Singh Suhag succeeding him.
The ministry started questioning V.K. Singh's initiatives, and top among them was the TSD. Singh's detractors alleged that TSD was snooping on Antony and defence ministry officials. Army sources to whom this reporter talked for this story said the equipment alleged to have been used by the TSD for snooping could not zero-in on a particular mobile number. So, it would have been very difficult to track Antony's number using off-the-air interceptors. Moreover, all classified communication goes through encrypted RAX lines and not through regular service providers or devices.
As soon as he took over as Army chief, Bikram Singh ordered a probe into the activities of the TSD. He suspended its operations and virtually disbanded it. The Army HQ also wanted an inquiry into the TSD by the Central Bureau of Investigation. Antony rejected the demand fearing that this would affect India's relations with countries where TSD operatives had been active.
Once Bikram Singh pulled the plug on the TSD, it was a free for all. Some alleged that auditors had found $8 crore missing from TSD accounts. V.K. Singh used the money, others alleged, to bribe ministers and destabilise the Omar Abdullah-led government in Jammu and Kashmir.
The TSD was also blamed for the public interest litigation that alleged that Bikram Singh was awarded a gallantry medal for a fake encounter which happened in 2001. The general was injured in the firefight. The Army said that a Pakistani militant was killed in the encounter, while his family claimed that he was Kashmiri and a labourer. In April 2012, the Supreme Court dismissed the PIL and cleared the decks for Bikram Singh's promotion as Army chief.
As the fight intensified, allegations and counter-charges were leaked to the media, and names of TSD officers were bandied about. In the midst of this came the Tatra truck scam, where V.K. Singh alleged that Lt Gen Tejinder Singh, former chief of the defence intelligence agency, had offered him $14 crore for clearing the procurement of 614 Tatra heavy-duty trucks.
The covert team got more bad press when Tejinder Singh, who was then facing a CBI probe in the scam, allegedly barged into the TSD premises in Delhi cantonment area for "collecting evidence". Reports said that the lieutenant general and a journalist were apprehended by sentries on duty.
Strangely, instead of moving against Tejinder Singh, the Army moved against Birdie, who was the officiating commander of the TSD then. A court of inquiry was set up to look into Birdie leaking a "sensitive document". The document was a questionnaire sent by a TV channel to the Army's public relations wing, seeking information about the TSD.
That was just the first inquiry. Officers and troops of the TSD have since been subjected to several inquiries, but nothing unlawful has been established to date. As no charge held water, the officers were shunted out to nondescript jobs. The ill-treatment of these officers continues under the present chief.
V.K. Singh has since joined politics, contested polls, and is now a minister, but these men continue to suffer the indignities heaped on them.
The leader of the team, Bakshi, is with a unit in Ladakh, where his job is to count snow-jackets and shoes being stocked for the winter. Despite being close to the Chinese border, the super spy has no role in monitoring activities of Chinese troops. Shattered by the hostility shown to him by colleagues and seniors, Bakshi underwent psychiatric treatment in a Delhi hospital. His wife told the defence ministry and the prime minister that he has developed suicidal tendencies.
His son, an engineering student in a college outside Delhi, fears payback from those his father took on, while in the TSD. On his mother's instructions, he now skips the direct bus from home to college; he changes three buses every day. His mother had written to Antony, requesting security. Antony instructed the Army to provide security, but she says she has not received any.
Instead, the Army asked her to appear before a court of inquiry ordered by a formation under its western command. Its mandate was never disclosed to her, and she was never told what it was trying to find out. When she filed an RTI application, she was informed that the court of inquiry had been called off. She alleged that a senior officer had warned her that it was dangerous to dodge the military court. Coming from a military background—her father and brother were officers—she wonders how information on something as secret as the TSD was leaked.
She has now written to Prime Minister Narendra Modi seeking justice for her husband. She wrote that he has been subjected to "extreme humiliation, indignity and fear by the hands of the top-most hierarchy of country's Army", despite not having any cases against him.
All top guns of the TSD are in Bakshi's shoes. Birdie is with the Military Engineering Services in Shillong, where he oversees plumbers and masons who maintain the official quarters of Air Force officers. Sarvesh, the skydiver, maintains land records of a small formation in Jharkhand. Alfred used to manage a poly-clinic in Deolali in Maharashtra. After his father, a retired Major, wrote to the Army that his son was threatening to kill himself, Alfred was posted closer to home—as a National Cadet Corps officer in Rajasthan. Zir is at a poly-clinic in Karnataka, clearing medical bills of retired officers and jawans. Naughty, too, is with a medical facility in Madhya Pradesh.
More than the humiliation of these postings, the officers are tormented by the strain on their families. Two are facing divorce proceedings, with their wives alleging prolonged years of separation.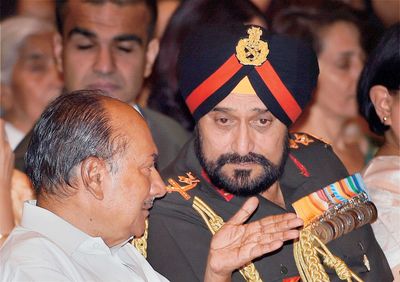 Bikram Singh (right) wanted a CBI inquiry into the TSD. A.K. Antony said no, fearing that it would affect India's relations with countries where the TSD had been active | PTI
What should be worrying the country more is that the Army today has hardly any capability for covert ops. When he took over from V.K. Singh, Bikram Singh instituted a board of inquiry to look into the operations of the TSD. It was headed by Lt Gen Vinod Bhatia, then director-general of military operations. "The panel went beyond its actual brief of reviewing the functioning of the unit and started investigating its activities, which were clandestine in nature," said an officer in the directorate-general of military intelligence. "Covert capability is supposed to be covert and there is always the factor of deniability. But, if our own people start documenting the deeds of intelligence officers and start feeding it to the media, then we are destroying our present and future assets."
Covert units have been similarly shut down in the 1977-1979 Janata period, and, later, during the 1996-1998 United Front period, when, under the spell of I.K. Gujral's namesake doctrine, all covert operations were called off. "In the earlier two instances, the covert strike capabilities suffered due to politicians," said a Military Intelligence officer. "But, in this case, they have suffered due to military people who are supposed to order these people. Not only that, they have even resorted to leaking information about the operations carried out by such units, compromising the country's standing at the international level."