Lots of animals come to our house—stray cats, dogs, a monkey that would visit us—and AKSHAY thinks we are lucky that all these animals come and live with us.

Akshay doesn't read which is wonderful. He thinks I am Einstein. thanks to him, I keep researching new theories of relativity and sunao [sneer at] him.
Twinkle Khanna was inquiring about classical dance classes for her five-year old daughter Nitara, when I met her at her residence in Juhu. "Everyone has different attributes, so it's good to find out what they are," says Twinkle, who is currently popular because of her tongue-in-cheek writing, both in newspapers and in her two books. She is working on the third.
The daughter of actors Rajesh Khanna and Dimple Kapadia, Twinkle did not have a very easy life as a kid, with the well-known conflicts between her parents. But, she does not dwell on it. She, rather, looks at the lighter things in life.
Her inimitable style intact, she talked to us, about getting into production with Padman, her life, her kids, equation with husband Akshay and more.
Was becoming a producer always on the cards?
Not in the least. It was just something that happened when I started working on the Muruganantham story [for her second book, The Legend of Lakshmi Prasad]. I started writing, but halfway through, I realised that the book will take the story only so far. It was an important story for two reasons: one, it was a topic that had not been addressed, and two, his life was entertaining and interesting—it was the perfect conduit for this message. Once I realised that, I felt that the only way for it to cut across cultural, religious and financial boundaries, was cinema. It was then that I decided to make it. It was never that I wanted to be a producer and I found this story. It was pretty much the opposite.
Were there moments of regret, when you wanted to give up?
At no point did I feel that I should leave it. For me, the greatest challenge in this journey was to convince Muruganantham to let me make a movie on his life because he was very reluctant. What I found about him was that he is a man unaffected by money or fame. He had won the Padma Shri, been on the Time magazine's list of the 100 most influential people. But, when I went to meet him, he was sitting on the floor and eating from a banana leaf. There were no tables or chairs in his house. I felt that he was a man who would let me tell his story if he trusted me with it. It would never be about money. And, I had to gain that trust. That was the challenge.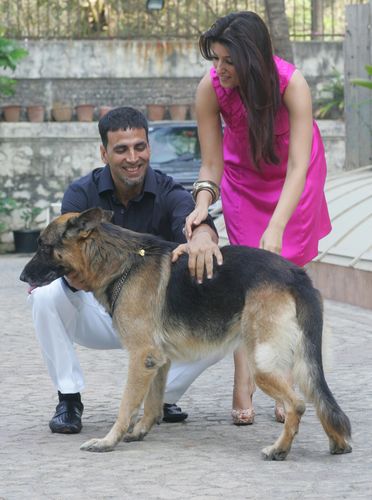 You have dabbled in different things—acting to candle-making, interior designing, writing and, now, production. You said in an earlier interview that your failures were the reasons to try newer things. Failures can also break you.
I was raised in a very different manner. My mother is slightly idiosyncratic in her own way. I was academically inclined and probably topped my class more often than not. I would go tell her that I have got 97 in maths, and she would be like, 'it matches your weight.' She would make light of it. So repeatedly, I found her not making such a big deal about success. And, that is why there was not a big deal about failure either.
Has it been like this since the time you were a kid?
I am resilient by nature, because of the things that happened in my life. My bones are not very resilient though. I have broken all, which is why I am "funnybones" [laughs]. My spirit is a lot stronger than my body, so I am very resilient in that manner. And, I don't let many things deter me for very long. I think my greatest triumphs come when I am pushed against the wall. A couple of days ago, I came across an interview of J.K. Rowling when she was asked if she fears anything. She said, 'There's always a fear of the next blank page'. Even I have to confront the next blank page every day, and then get over it. As a creative person, your fear would be—can I create again or can I create something as good again?
Akshay has said many times that things worked out for him because luck favoured him. How much do you believe in luck, and how much does hard work matter to you? And, you both have had very similar journeys—failing, reviving and succeeding.
He tells me the same thing—it's luck. One day, we were walking out of the garden, and as we were leaving we saw a turtle coming inside. It came in, found its way to the fish pond that we have. Lots of animals come to our house—stray cats, dogs, a monkey that would visit us—and he thinks we are lucky that all these animals come and live with us. I said luck has little to do with it; they come here because we have made an environment worth living in. Luck only comes when you have worked hard and created something where you can thrive. He has created that environment where luck can thrive with hard work. We have a very strong work ethic, and there really is nothing more important to us than our work and our family. We have very little interest in socialising or going for late nights, or going to page 3 events. Our life is divided between our work and our family, and that is what is common between us. Otherwise, we are completely different.
Yeah. He doesn't read, you do…
[Cuts in]. He doesn't read which is wonderful. He thinks I am Einstein [smirks]. And, thanks to him, I keep researching new theories of relativity and sunao [sneer at] him, so it's perfect.
So, what exactly are your similarities and differences?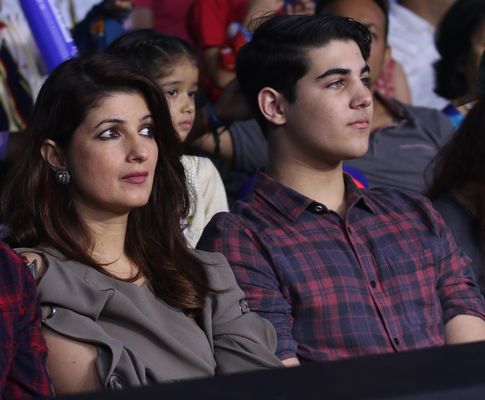 All his strengths are my weaknesses and vice-versa. He is very diplomatic, I am outspoken. He has a very neat, orderly mind. It is like a cupboard where clothes are kept in place. My mind is like a washing machine; everything is tumbling around. I need him to stabilise my mind, and he needs me to keep pushing him. He can get complacent and I can go out of control.
Your outspokenness has got you into trouble so many times. Do you deal with it together when something backfires?
In this scenario, I am my own knight in shining armour. I don't go to Akshay for help. And, why should I? Similarly, when he is in trouble, he handles it on his own. What happens in a long-term partnership is that you realise that each person is responsible for their own actions, their own words and their own deeds.
Have you never tried changing anything about him?
No, I haven't. If I do that, we won't have a relationship. Because, why will I want to be with someone who is exactly like me? What will I learn from him, what will he learn from me. I had written a limerick once—two peas in a pod died of inertia. That is what will happen to us. Strangely enough, he has also given me the space to be truly myself, right from the time we got married 18 years ago. It didn't even occur to me to change my last name to his. He never questioned that. He may have made a few jokes that 'I am going to leave all my money to Mrs Bhatia [Akshay's real name is Rajeev Bhatia], so that when I die you'll have to change your name'. But apart from that, he never tried to alter me. And, that is probably why I decided to spend my life with him. And, now, Nitara has both our surnames.
Since you both, as you mentioned, are strong, opinionated individuals, how are you raising your kids—Aarav and Nitara?
What we are trying to do, is to raise fundamentally good human beings. I can't tell you whether we have succeeded; parenting never seems to get over. Or, at least, my mother doesn't believe that it gets over. She, even now, nags me about how I should change the parting of my hair, or how I should serve guests tea with three-tiered biscuits. I would say that we have never had clashes as far as parenting is concerned. If we set good examples as people, then they will also start inculcating those values.
Over the course of promoting Padman, you have also been talking about taking the issue of menstrual hygiene forward and working with Muruganantham even after the film. Akshay already works with women. Has the intent to get into social causes alway been there or has it developed over time?
Akshay has a karate school that teaches women self-defence [21,000 girls have graduated from it]. You reach a stage in life when you realise that you have enough of your own, then it's time to start and see that what have you done to make the world a better place than the one you found. That's our philosophy. For example, I work with a group called Rasta Chaap. We went around painting all the dead trees and planting new ones. Now, we are working on removing plastic. We are going to villages and start another plantation drive—with sustainable food-crop growing in disabled homes. And, we are just 11 women. It is just about stepping beyond our lives.
Suniel Shetty told me that anyone who loves his parents and family the way Akshay does, would have a good heart and that is why he is taking up all the causes. How much do you agree?
I knew that when I met him. Being the kind person that he is, he was always helping people. In fact, I think I was very insulated [at that time] and lived in the confines of my own environment. Living with him I learnt to look at the world from a different perspective. And, a little bit of his kindness rubbed off on me. But, inherently, that is the man he is.
Suddenly, after all your columns and speeches, everyone wants you to be funny. Does it ever get too much to live up to the expectation?
Thankfully, they don't expect me to be perfect, which I can't be. They don't expect me to be politically correct, which I can't be. Lame jokes are easy for me, so I guess I can live up to that [laughs]. Humour is nothing else than looking at the absolute inherent truth, through a peculiarly slanted magnifying glass.
Recently, while at Oxford, someone spoke about Toilet: Ek Prem Katha being a propaganda film. You thought it was a complicated question. But, a lot of film critics, too, mentioned the same thing.
Toilet: Ek Prem Katha is not a film that I made. When I saw the film, I though that it was addressing a topic that was concurrent with what the government was saying. I felt it was an interesting story. That was it. Now, about whether it was government propaganda—propaganda is also a very big word. It was not financed by the government in anyway or shown to the government in anyway. It was just along the lines of Swachh Bharat. There was no other layer to it.
Do you talk politics at home?
We talk to each other about politics all the time. We have jokes made on us. I read one that said we have both Republic TV and NDTV being played at the same time. I think they should learn peace and harmony from us—two opposing parties can live very happily together—without screaming. We don't interfere in each other's lives, except now, for Padman, where there is a collaboration and overlap of sorts.