"Technology has empowered us like never before. Nothing seems impossible. Surgically, non-surgically, we can fix almost any part of the body" - Dr Sachin Bhonsle, senior consultant orthopaedic surgeon, Fortis Hospital, Mulund, Mumbai
When he came to Fortis Hospital in Mulund, Mumbai, six-year-old Mustafa had already undergone multiple surgeries to correct a rare congenital disorder. Called Arthrogryposis Multiplex Congenita, the disorder had caused multiple leg deformities and had robbed him of the ability to walk.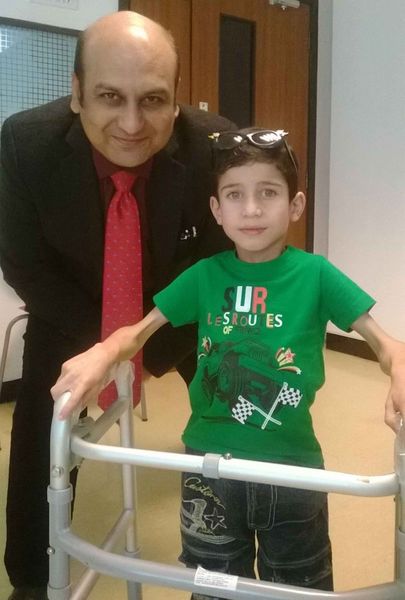 Happy feet: Thanks to his doctor, Sachin Bhonsle, Mustafa can now walk on his own
The surgeries, however, couldn't straighten his bent legs and he was brought to Dr Sachin Bhonsle on a wheelchair. Now, the conventional method of treatment would have called for another complex, high-risk surgery, which required interventions at six sites, involved many arteries and nerves, and could result in paralysis of the limbs. Bhonsle, however, decided to try an unconventional non-surgical technique called Ilizarov soft tissue correction procedure, which was designed by Russian orthopaedist Gavriil Abramovich Ilizarov in the 1950s.
To straighten the bent legs naturally, Bhonsle set up an apparatus—consisting of metal rings and pins, adjustable by nuts—around the knees and calves. The apparatus worked through applied pressure and required no incisions. In a few weeks, as a particular part of the leg straightened, Bhonsle would move the apparatus to a different position on the leg. Gradually, the legs opened and, in a couple of months, Mustafa took his first steps. "He left my cabin walking on his feet," says Bhonsle, senior consultant orthopedic surgeon, Fortis Hospital. "Technology has empowered doctors like never before. These days, nothing seems impossible to a doctor. Surgically, non-surgically, we orthopaedists can fix almost any part of the body."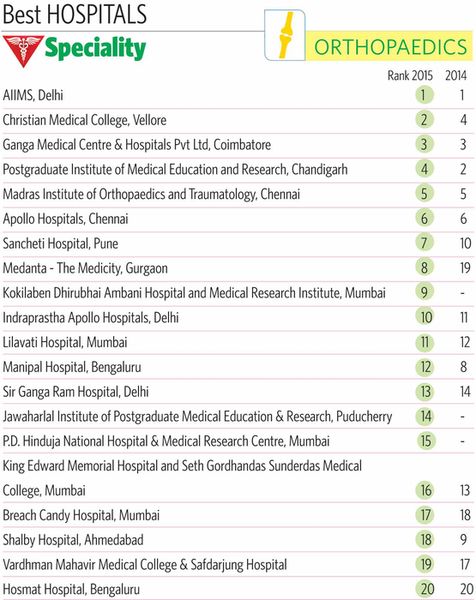 Kolkata-based senior surgeon Dr Gaurav Gupta handled an equally challenging case this year. Anant Anupam, 19, a state-level marathon runner, twisted his knee while playing frisbee. An MRI scan showed a rare meniscus root tear—an injury that had never been reported before. To save his patient's career, Gupta had to fix it through a minimally invasive keyhole surgery. He adopted the arthroscopy technique, in which a small camera is inserted into the knee, to repair the torn cartilage. The teenager is now back to the love of his life—frisbee. "I am playing my favourite sport again and I am practising for an upcoming marathon," he says.
In complex surgeries like these, precision is key. And, nowadays, computerised navigation systems help increase precision. Explains Dr Yash Gulati of Indraprastha Apollo Hospitals, New Delhi: "In a complex surgery such as knee replacement, limb alignment, balancing of the soft tissue and the correct positioning of the component of the knee implant are crucial. Knee implants that have been placed in suboptimal positions are more likely to fail."
Correct positioning ensures that the weight is transmitted from the centre of the thigh bone, through the centre of the knee joint and to the centre of the ankle. "The latest technology called i-Assist system—a surgical system that provides realtime information about the location of the joint centres, the position of the prosthetic implant and the alignment of the limb—helps a surgeon position the implant intra-operatively," says Gulati.
He cites the case of one of his patients, 75-year-old C.K. Ahuja, who could not stand for more than 20 minutes at a time. "Her severely damaged and degenerated knee could be fixed using the i-Assist system. Conventional techniques would not have been so precise," he says.
Now, computer-assisted surgeries are also being done for hip replacement. It helps the surgeon set, with precision, the length of the leg (which is usually affected during surgery) and the position of the ball in the hip socket. "If these two things are set with precision, the muscles function best and the person doesn't limp," says Dr S.K.S. Marya, joint replacement surgeon at Max multi-speciality hospital, Saket, Delhi.
The latest techniques also make surgeries less traumatic for patients. The new instruments minimise the damage to the surrounding soft tissues and the implants are designed to feel lighter and to allow greater and smoother movements. "The emphasis in research is on making implants that feel like a body part and last forever," says Marya. "Even in knee implants, researchers are looking at implants that would allow patients to squat and bear their body weight."