For leg spinner Amit Mishra, Thursday was a busy day. Released by the Indian team management from the squad for the second test match in Vishakapatnam, Mishra celebrated his 34th  birthday -- first by picking three wickets in the second innings in his Ranji team Haryana's match against Goa in Ghaziabad. Then he made a quick dash to Badarpur border, New Delhi, to spend quality time with the inmates of Guru Vishram Vridh Ashram.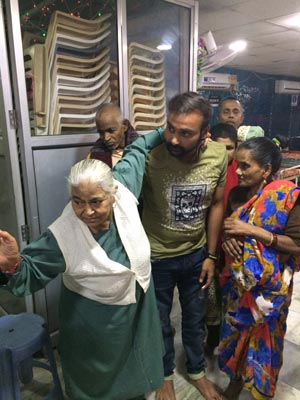 Amit Mishra at the old age home in New Delhi
Mishra, cut the cake with  senior citizens, many of whom were lost in their own little world. Majority of the inmates in the old age home suffered from Alzheimer and were in critical condition.
A dinner was specially arranged by Mishra before he headed for Mohali to join the Indian cricket team for the third test starting from Saturday against the visiting England team.
Speaking on the occasion, Amit Mishra said, "I feel very happy spending time with people who are in need of help. It is painful to watch them being abandoned by their own children at a time when they are in need of utmost care. I feel blessed to be spending quality time with them and celebrating my birthday."
The old age home is a ray of hope for the helpless elderly people suffering from various diseases and disorders, including those who are mentally and physically ill, apart from the destitute elderly people who are admitted by Delhi police as well as government hospitals and social workers.
Currently, the ashram has 100 beds and provides free food  for all the inmates. They are provided with 24 hour medical aid with the presence of a doctor and nurse around the clock.