Even as Indians slowly learn to trust online jewelers, they are offered another disruptive option: the ATM
Tradition met technology during Diwali this year. Leading online jewellery player, BlueStone.com, broke the mold to set up ATMs allowing shoppers to purchase gold.
The vending machines were located at Forum Mall in Bangalore and Select City Walk in Delhi and equipped to dispense certified 24 carat gold coins in denominations of one, two, five, ten and twenty grams.While offering convenience during the festive rush, it also promised, a new option for buyers of gold who have so far purchased precious metals either from a jewellery store or online.
BlueStone's gold ATM had a security guard near it. Since it is placed in a public, guarded space, there were no major security worries for customers. The machine took cash or card. (Gold coin rates at Bluestone online buying site here)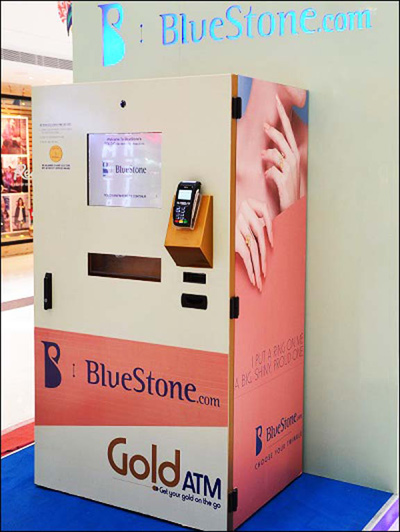 If you trusted the seller, buying gold coins through a dispenser is a relatively easy option, unlike buying jewellery which requires a lot of care and personalization. India's early players in the online jewellery sale business, are overcoming customer inhibitions by cannily combining the online experience with actual interaction between shop and customer.
Last month, THE WEEK brought you news of a new online jewellery souk, Orsuq.com, which offered readymade BIS hallmarked (916) gold pieces, diamonds verified by Solitaire gemological laboratories and made-to-order jewellery, for between Rs. 7,000 to Rs 3 Lakhs. But they also offered an appointment with a jewellery expert. (Online jewel site marries bricks to clicks).
The trend is growing. Gitanjali Group has recently launched Jewelsouk.com an online marketplace for branded jewelry and lifestyle accessories. It operates with no inventory of its own (much like Amazon and eBay). The brands exhibit at the site and look after the delivery. The portal has tied-up with some 40 brands and lists around 10,000 products.
Last year, CaratLane, a brand of Tanishq, launched what it claims to be the world's first 3D virtual jewellery try-on experience app. The App let' customers "try on" products like ear rings, before ordering. The app takes a video of the user and generates a 3D view of the customer wearing the item . The user can swipe to look at her face from one side to the other to get an idea of how she looks wearing those earrings. Customers can request a home trial of a product they like or chat online with expert consultants if they have any queries. Android app iOS app
What next? Make your own jewellery? Not as far-fetched as it sounds, in an era when 3-D printers fabricate everything from dentures to doughnuts!