Election to the Palair Assembly seat in Telangana, slated for May 16, is all set to be a direct fight between the Congress party and the Telangana Rashtra Samiti.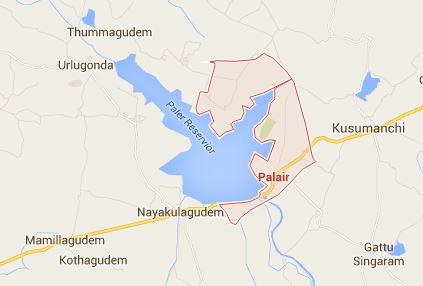 Image courtesy: Google map
The constituency fell vacant after the death of sitting MLA of Congress party Ramireddy Venkata Reddy on March 5.
While Congress hopes to cash in on the sympathy wave by fielding Sucharitha Reddy, widow of Ramreddy Venkat Reddy, the TRS is riding high on development agenda.
The ruling party has fielded roads and buildings minister Tummala Nageswara Rao as its candidate and has deputed four ministers to lead the campaign.
While the TRS might want to prove its might over Telangana and will leave no stone unturned to win this seat, the Congress too will go right ahead to win this seat to boost their sagging morale in the new state.
Rao, who was elected and made an MLC under the MLA's quota, has development on his side after striving for the sanctioning of Bhaktha Ramadas lift Irrigation project, which will irrigate Palair constituency. He is also at the constituency and taking part in many programmes.
The Congress, on the other hand, accuses TRS of using 'money and muscle power' to win the bypoll. Apart from the sympathy wave, the party also seeks to expose the 'failure' of TRS government in developing the district. The TDP has extended its support to the Congress while the BJP and YSRC will stay away from the contest.
The late Ramireddy Venkata Reddy, who was elected thrice from Sujathanagar and twice from Palair, had maintained a good rapport with the electorate and more particularly with tribals, who constitute a major section of voters in the constituency.
In 2014 elections, Ramireddy Venkata Reddy defeated his nearest TDP candidate M. Swarna Kumari by 21,863 votes, while the TRS fared poorly and its candidate, Ravella Ravinder, managed to get only 4,041 votes. The party, however, has gained strength by luring one MP and three MLAs of YSRC and two MLAs of the Congress from the district into its fold.
The YSRCP MP, Ponguleti Srinivasa Reddy had recently crossed floors to join the TRS and his brother Prasad Reddy was hoping to get the ticket for this constituency, but with Rao himself opting to contest these elections, the former did not stand much of a chance.
By fielding Rao who is a Kamma, the TRS also hopes to garner the votes of the community which has a considerable presence in the district.
Palair constituency is spread across four mandals of Kusumanchi, Tirumalayapalem, Nelakondapalli and Khammam (Rural). There are 1,90,285 voters of which 96,720 are women and 93,547 are men.