The valiant act of CRPF commandant Chetan Kumar Cheetah led to the killing of top Lashkar-e-Taiba (LeT) commander Abu Musaib in the notorious Hajin area of Bandipora district in Jammu and Kashmir. Hajin village, which has witnessed four encounters between security forces and terrorists in the last two months, saw a major joint operation by Jammu and Kashmir police, CRPF and Army on Tuesday morning. Upon its culmination, Chetan was taken seriously injured and three Army jawans lost their lives.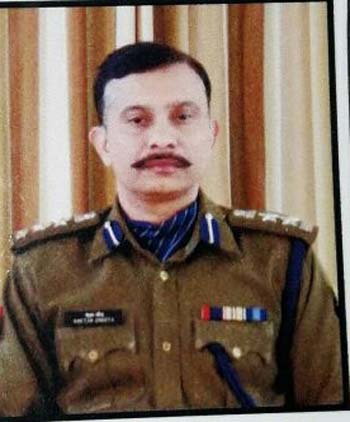 Injured CRPF commandant Chetan Kumar Cheetah
When the encounter came to an end and Chetan was being transported in an air ambulance to AIIMS in New Delhi, CRPF chief K.Durga Prasad spoke to THE WEEK, disclosing details of the operation which he described as an unusual one. Without waiting for his troops to move in, the commandant of the paramilitary force had gone along with the Army to take on the terrorists.
Prasad said that when Chetan got information from the Jammu and Kashmir police about two terrorists hiding in the village, he did not waste any time and immediately moved alongside the Rashtriya Rifles. In an operation where the Army led from the front, the paramilitary trooper of the 45th battalion of CRPF was alone. But he fired sixteen rounds even after he sustained injuries. While one militant got away, another was killed — later identified as top Lashkar commander Abu Musaib.
"Chetan did not wait for his force and was in the forefront of the operation. The militants had heavy arms and ammunition and fired AK-47s and UBGLs. His arms have been fractured, he has sustained injuries to his abdomen and shrapnel pierced his eyes. While he seems to have lost vision, we still don't know how many pieces are inside. He is being transported to AIIMS in an air ambulance," said Prasad.
The CRPF chief described the incident as a planned terrorist strike which was averted after the agencies got intelligence about the movements of the duo (terrorists). Sources in CRPF said Lashkar had become active in the region once again and there were desperate attempts in the last two months to sneak in terrorists to various parts of Jammu and Kashmir hinterlands to carry out a major strike.
Hajin village is being used by terrorists to take shelter, the sources said, adding that the security forces first waited for a few hours after they received intelligence — to confirm whether any civilians were present in the area that they had cordoned off. Once it became clear that there were none, the operation was launched.