In the second such instance in Karnataka this week, Deputy Superintendent of Police M.K. Ganapati of Mangaluru allegedly committed suicide in Madikeri on Thursday.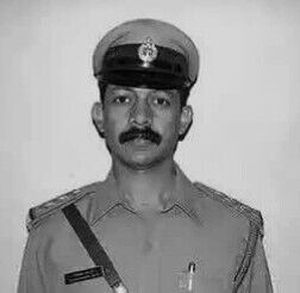 Deputy Superintendent of Police M.K. Ganapati
Ganapti (51) was found hanging from the ceiling fan in a room at a lodge in Madikeri where he had gone on Thursday, police said.
According to reports the deceased cop mentioned Bengaluru Development and Town Planning Minister KJ George and his son Rana George's name for driving him to death.
"We found the body of Deputy Superintendent of Police M.K.Ganapathy, 51, hanging from a ceiling fan in a lodge room. He was in uniform with service revolver around the waist," Kodagu's Superintendent of Police Rajendra Prasad said.
The DySP, in an interview to a local news channel in Madikeri had alleged that a politician and higher police officials were harassing him, police said.
Reacting to the incident, Opposition leader in the Assembly Jagadish Shettar said that BJP would take up the issue in the session and launch a protest, demanding the resignation of guilty police officials and the politician.
Ganapati was a native of Munjarayapattana, Siddhapur near Madikeri and belonged to the 1991 batch. He was a former sportsman and entered service through the sports quota. He was posted at the office of IGP (Western Range) in Mangaluru.
On July 5, the body of DySP of Chikkamagaluru sub-division Kallappa Handibag (35), accused of kidnapping a person for ransom, was found hanging in his father-in-law's home at Murgod in Belagavi district.
In another case, former DSP Anupama Shenoy had resigned her post last month over alleged interference in her work by a minister.
She had written the women's commission accusing Ballari Superintendent of Police R Chetan of harassing her by succumbing to political pressure.