Trump reckons political, financial and environmental costs before setting out to build his 'beautiful' wall along the border with Mexico
Building a wall on the southern border with Mexico did not figure in US president-elect Donald Trump's recently announced 100-day agenda. Though he has not abandoned one of his top campaign promises, it seems that he is not in a hurry to take up the ambitious project, for now. Facing many hurdles, it is quite possible that Trump may eventually take a U-turn on this too, like he did on other poll promises like Obama Care and 'jail Clinton'.
Announcing his candidacy on June 16, 2015, Trump told cheering supporters, "I would build a great wall, and nobody builds walls better than me, believe me, and I'll build them very inexpensively." In the campaign trail, he continued his tirade against illegal immigrants from Mexico stealing American jobs. But many observers believe he was unrealistic when he pledged to send back illegal immigrants from across the border.
In the past, too, there have been attempts to completely seal the American border with Mexico. In 2006, President Bush attempted to build the wall at a cost of $1.86 million per kilometre, by executing the Secure Fence Act—the federal law that requires a double-layered fence along the US-Mexican border. The project came to a standstill in 2010 following criticism from Congressional Government Accountability Office and the media. The US Customs and Border Protection ensures borderland safety using a combination of fencing, walls and monitoring using cameras.
But it is not cost alone that deters the US administration from sealing the border that runs along four states: California, Arizona, New Mexico and Texas.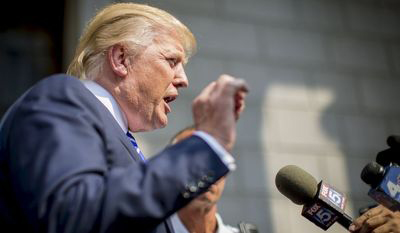 Donald Trump speaking to media
When asked about the huge cost involved in the project, Trump said he would use precast concrete to make the wall that rises 35 or 40 or even 50 feet. He said that the entire 3,218 kilometres need not be walled as half that length was already secure with natural barriers like the Colorado River and the Rio Granade. Fencing or wall has been built along 1,078 km at a cost of about $7 billion.
Protests against erecting the wall have come from many corners. A sealed border will directly put business, tourists, workers and students in trouble. Building a wall passing through private land in places like Texas could face stiff resistance if the owners are not compensated satisfactorily. Border patrol agents would not be able to watch activities across the border to make sure there are no illegal dealings like narcotics smuggling going on.
The US-Mexican border has a delicate ecosystem and the wall needs to withstand natural disasters like flooding and landslides that frequent the region. Birds and animals move across two countries for food and mating. And they include endangered species like the North American jaguar and the black bear.
But those who support the wall said it would improve law and order in both countries, and furthermore, low immigration would ensure better employment prospects in the US.
Protestors raised a symbolic wall, made of sandbags, around Trump Tower, the headquarters of the Trump Organization.

Who'll foot the bill
Trump promised he would build a beautiful and inexpensive concrete wall—obviously costlier than iron fence or wire mesh. He puts various figures as cost, the highest being $12 billion. However, according to independent estimates, the wall would cost no less than $25 billion.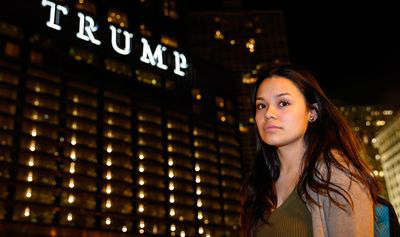 A Mexican immigrant stands on a street in Chicago. She has a work permit through a 2012 federal program started under Obama's administration. Photo: AP
Trump said, "I will build a great, great wall on our southern border. And I will make Mexico pay for that wall." When asked how Mexico would pay, he said he could use executive powers as president to evoke Section 326 Patriot Act that puts liability on financial institutions for verifying the identity of their customers. Mexico earns about $24 billion by way of remittance from its people in the United States—the lion's share of it comes from illegal immigrants. Trump says he can stop illegal Mexicans from sending money home. Mexico would be left with no option but to pay for the construction.
Trump said he would raise finances by various means: hiking visa fees and border crossing cards fee, and imposing trade tariffs. He said implementing them wouldn't be a problem with his team of efficient negotiators.
However, Mexico has repeatedly said it could not be a party to separation of the land by building a wall, and it wouldn't consider paying a peso towards it.