Why a boycott call of China-made goods won't be effective
Media reports indicate a decline in sales of Chinese goods—up to 45 per cent less than last year—this Diwali season. Many customers specifically asked for India-made items rather than cheaper Chinese. However, the reported dip in sales could be partly due to non-availability of Chinese items in the shops. Retailers shrank Chinese inventory anticipating a tepid demand after a call to shun Chinese items.
The boycott call has affected sales of crackers, LED bulbs, electric and electronic items, toys, gifts, plastic items and consumables among others. But a number of China-made items are being passed as local make since they do not give any clue about the county of origin. Some traders have even resorted to selling Chinese products with 'made in India' labels.
Though there was no official patronage from the government, RSS-backed organisations led a campaign for boycott, mostly through social media. Since the BJP came to power, there have been increasing efforts to inspire a spirit of nationalistic consumerism. The old slogan 'be Indian, buy Indian' has given way to an assertive patriotism. Baba Ramdev marketed Patanjali products seizing this opportunity.
China is India's largest trading partner and the bilateral trade of $71.6 billion is skewed in favour of China. And the trade imbalance is rising faster— in 2015-16, the deficit rose 9 per cent to touch $53 billion. Indian export to China is just over $9 billion, one-sixth of Chinese export to India. In just four years, Indian export to China nearly halved.
China leads the world in goods export. According to Chinese embassy in New Delhi, its export to India accounts for 2 per cent of its global goods exports worth $ 2,276.5 billion in 2015. The embassy asserts the boycott would only hamper Chinese investment in India. "China is more concerned that the boycott will negatively affect Chinese enterprises to invest in India and the bilateral cooperation, which both Chinese and Indian people are not willing to see," said an embassy statement.
China's closer ties with Pakistan and its continued support for it at the United Nations have angered many Indians. China blocked India's move to include Jaish-e-Mohammad chief Maulana Masood Azhar on the UN sanctions list. Masood is an accused in terrorist cases across India, including the Parliament and Pathankot attacks. What triggered the recent boycott call was China's extension of the technical hold in Masood issue at the UN for six more months from October 3. The anger in India swiftly turned against Chinese goods.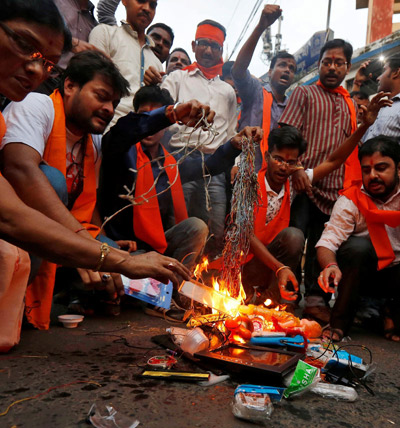 Demonstrators burn Chinese goods at a rally organised by the activists of Bajrang Dal calling for the boycott of Chinese products, in Kolkata on October 25. Photo: Reuters
Yet, so far, the passionate call of boycott of China-made goods has made only marginal impact.
India is China's largest export market in South Asia and its ninth in the world. Many Indians are furious that China is flooding Indian market with its products. People wonder why India can't afford to do without Chinese goods.
An article published in China's official media Global Times said the boycott call would have little impact. Chinese media said Indian products were not competitive enough and advised companies against investing in India. Chinese investment in India was $870 million in 2015, ascending six times in one year.
The fascination for Chinese goods is evident from the recent Diwali online sales. In just three days, Flipkart, Amazon and Snapdeal grabbed orders for half a million Chinese-made Xiaomi mobiles.
Chinese goods are in demand for their reasonable pricing, though they do not hold high brand value. However, these popular goods are just a tiny fraction of Chinese imports to India. India imports large volumes of electronic and electric products, machinery, computers, fertilizers and chemicals, iron and steel products, plastics and telecommunication equipment from China. Indian export to China is mostly limited to raw materials while China exports finished goods. In 2015-16, Chinese products accounted for over 16 per cent of India's total imports.
India's dependence on Chinese-made high-tech products cannot be done away with as such a move will not get support of Indian industry and trade organisations. Furthermore, banning of goods between members is illegal under the terms of the World Trade Organisation. So the boycott of Chinese products is an unfeasible option, both legally and practically.