A few minutes into this film, beautifully set back in time, and you are reeled into the life of The Man Who Knew Infinity. This is a biographical drama based on Indian mathematician, Srinivasa Ramanujan (Dev Patel), who lived and died between in the early 1900s. Set between Madras, India, and Cambridge, England, during the first World War, the young scholar, besotted with numbers, makes the journey from pure emotion for abstract (pure) mathematics to one that incorporates "proofs" and "rigour" drilled by his mentor, Professor G.H. Hardy (Jeremy Irons) at Trinity College.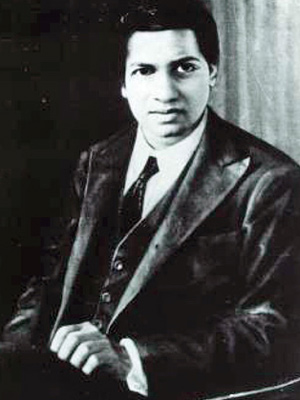 Srinivasa Ramanujan
This is a sensitively told tale about a driven, genius mind, whose story is compelling enough for the performances to meet the bar. Apart from Patel and Irons, theatre actor Arundhati Nag and NRI actor Devika Bhise (Janaki) add an interesting strand to the story with their age-old tussle between a mother and a wife.
A sense of deep but restrained emotion—such as some of the tender moments between Ramanujan and his young wife, the point when Hardy learns of Ramanujan's death, his subsequent heartfelt tribute to him—runs through the film. Almost congruous to the way Ramanujan's unbridled passion for the subject was reined in and given shape by his mentor, who didn't believe in anything he couldn't prove.
Ironically, for a student of maths, Ramanujan was a man of compelling faith. An interesting exchange takes between him and Hardy when speaking about their belief system or the lack of one, and Hardy says that he's an atheist to which Ramanujan retorts with conviction, "You believe in God, it's just that you don't think he likes you very much."
It was rock-solid faith in his work and ability that took Ramanujan to great heights but the traditional aspect of casteist customs became his downfall as he fell fatally ill during his stay in England.
As a late Indian mathematician wrote of Ramanujan: "Long before Gandhi and Nehru stormed the imperialist citadel to win us our independence, Ramanujan by the dint of his mathematical prowess, had captured that intellectual fortress of England, the Royal Society." Nearly 70 years after independence, when India is raring to scale greater heights, it might help to pause and remember those who brought us to this stage. Celebrating icons like Ramanujan is one such good point.
Film: The Man Who Knew Infinity
Director: Matthew Brown
Cast: Dev Patel, Jeremy Irons, Malcolm Sinclair, Devika Bhise, Arundhati Nag
Rating: 4