The problem with liars is that they don't believe their own lies. One imagines a biopic to generally chronicle a historical figure's inspiring journey, a rags-to-riches story, or an anyone-to-someone saga... but The Program is about the hero who wasn't one. You don't come away from this 105-minute film any energised or inspired, but rather sobered.
Lance Armstrong is an American former road racing cyclist who won the prestigious Tour de France (an annual multiple stage cycling race, that includes going over mountainous terrains) consecutively seven times, between 1999 to 2005, but was stripped of his titles in 2012 following a doping scandal.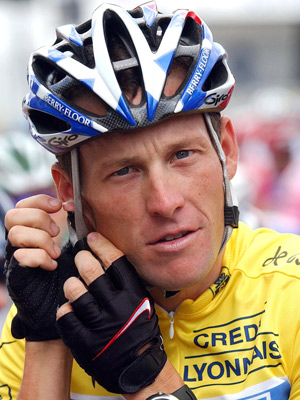 Termed as a champ of day races, young Armstrong (Ben Foster) is not content and wants more. He wants the Tour's coveted yellow jersey even though he has been told his body is not built for this version of the sport. The yellow-bellied hero thus falls easily into a routine of using performance enhancing drugs (PED) to hoist himself onto number one and do whatever it takes—including getting up from a bout of stage three testicular cancer and going back to blood doping—to keep himself there.
The rather sophisticated doping routine under the controversial trainer Michele Ferrari (Guillaume Canet) that he couches with a team of cyclists nicknamed the 'blue train' and his cancer charity also reveals the dark side of glamour associated with big sport. When there is big money at stake everyone knows where their mouth is. Tightly zipped. Armstrong plays to the gallery of fans and other stakeholders by using his wins and supposed worth to mouth platitudes about heroism to anyone looking for an idol to worship or be inspired by. Armstrong is a man who has stared death in the face and instead of backing away from the reasons that led him to developing the cancer, he pedals up even harder. But he is not a hero. He is a liar consumed with the idea of being numero uno.
One person, however, catches a chink in Armstrong's armour early on. David Walsh (Chris O'Dowd), the sports journalist with The Sunday Times, stays true to his reporter's instinct when he first suspects the champ cyclist uses PED and follows the lead to a book that leads him and the paper to a libel suit. (The film is based on Walsh's book, Seven Deadly Sins: My Pursuit of Lance Armstrong). It is possibly the story of a lifetime for Walsh when much later Armstrong confesses all, having perfected his line—'I have never tested positive for a performance enhancing drug'—in front of the proverbial and literal mirror before each press conference for several years. It is then that the reporter stands vindicated.
This is an absorbing film, at times whizzing by so fast that if you're not 'with the program', you might want to revisit and mull over certain parts, like when Walsh develops a professional interest in Armstrong and what exactly the cancer did to him and his mind. Foster gives a convincing performance as Armstrong as does O'Dowd play the good, old-fashioned reporter.
Interestingly, the film comes at a time when tennis ace Maria Sharapova confessed having failed a drug test.
Film: The Program
Director: Stephen Frears
Cast: Ben Foster, Chris O'Dowd, Dustin Hoffman, Jesse Plemons, Lee Pace, Guillaume Canet
Rating: 3.5/5