In filmmaker Karan Johar's candyfloss world, it helps that the characters are rich, because then they can afford their heartbreaks, emotional indulgences and the subsequent pain-turned-profound-prose through expensive trips in private jets, dancing to the trend of silent disco in nightclubs and luxurious satin sheets.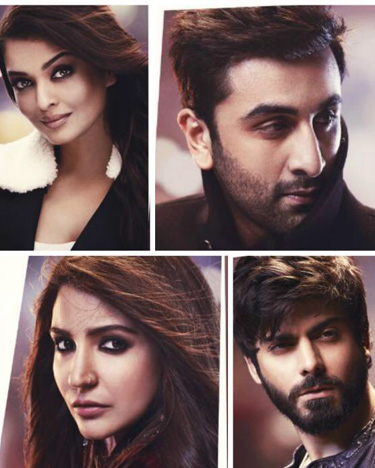 Ayan (Ranbir Kapoor) and Alizeh (Anushka Sharma) meet at a nightclub in London and after a drunken clumsy attempt at chemistry, turn into best friends. Alizeh who's moved to London following a heartbreak in Lucknow spends her time learning filmy dances and languages, Ayan is struggling to do his MBA while his yet-to-mature heart beats to become the next Mohammad Rafi. Both share a love for Bollywood and its popular songs through the decades. This gives Johar a chance to doff his hat at 'tacky' songs from the 1980s, recreate the chiffon-sari-in-snow-clad-Swiss-mountains a la Yash Chopra of the 90s and of course, refer to his earlier films about love and friendship too.
But heartbreak must inevitably strike; like carrying the physical weight of a flowerpot on the chest. It leads to Ayan seeking solace and sexual expression in an older, always dressed-straight-out-of-glossy-fashion-pages poetess, Saba (Aishwarya Rai Bachchan), who indulges in lyrical banter with her former husband, an artist, played by, surprise surprise, Shah Rukh Khan.
Love becomes a chhuk-chhuk train, one loves the other who loves another. Sexual expression is out of the (expensive) closet and is a far, far cry from two flowers or birds kissing like in earlier Hindi films. There is some genuine acting by Bachchan for a change and good work by Sharma. Kapoor comes into his own with this role, somewhat reminiscent of Imtiaz Ali's Rockstar. Lisa Haydon pulls off the proverbial dumb hot girlfriend to Kapoor in a brief but memorable role with panache, smarts and funnies.
This candyfloss be made with a healthier sugar alternative?
What is central to the idea of the film is an attempt to explore unrequited love through a complex idea of friendship between a man and woman, that must transcend vanities and needs. Political controversy, call for jingoism or refusal to work with Pakistani actors in the future didn't dent the audience's hooting for actor-across-the-border Fawad Khan when he appears in the film (as DJ Ali). The irony couldn't be more apparent.
Film: Ae Dil Hai Mushkil
Director: Karan Johar
Cast: Aishwarya Rai Bachchan, Ranbir Kapoor, Anushka Sharma, Lisa Haydon
Rating: 3