Jack Reacher, the main character in all of Lee Child's 20 books, is a steely-eyed, cold-blooded "ex-Major", who finds trouble and busts operations of the most dangerous criminals. Child etched him out to be a strong, bulky guy who has no permanent home, is always on the move, and is unpredictable but tactical.
Tom Cruise played Reacher in the first film, Jack Reacher, in 2012, which did well despite the fact that he wasn't as physically built as the character in the books is supposed to be. Director Christopher McQuarrie introduced Reacher in the entertaining action thriller, which was based on Child's ninth book, One Shot.
Four years later, the sequel, Jack Reacher: Never Go Back or Jack Reacher 2 (based on Child's 18th book of the same name), comes across as a watered-down mix with ups and downs in equal measure. Director Edward Zwick, who is known for commercial successes such as The Last Samurai and Blood Diamond, manages to keep things afloat.
Firstly, you don't need to watch the first film to understand what's going on. It has the capacity to be a stand-alone action thriller.
The story starts with Jack travelling to Washington, D.C. to meet Major Susan Turner (Cobie Smulders), whom he has asked out for dinner. When he gets to her office, he finds out that she was arrested. Convinced that she is framed (this is revealed in the trailer, too), Jack helps her escape from custody. He also comes to know that he has a paternity suit filed against him, for a daughter he never knew he had. When the daughter, Samantha (Danika Yarosh), is in danger, he saves her. She completes the trio, who go on to solve the mystery that they are unsuspectingly thrust into—military weapons contractors trying to hide evidence of illegal deals, Afghanistan, and Reacher being framed for several crimes.
Robert Knepper (Prison Break's T-Bag) also makes a presence, playing the bad guy's boss, calling the shots and keeping an eye on the movements of the trio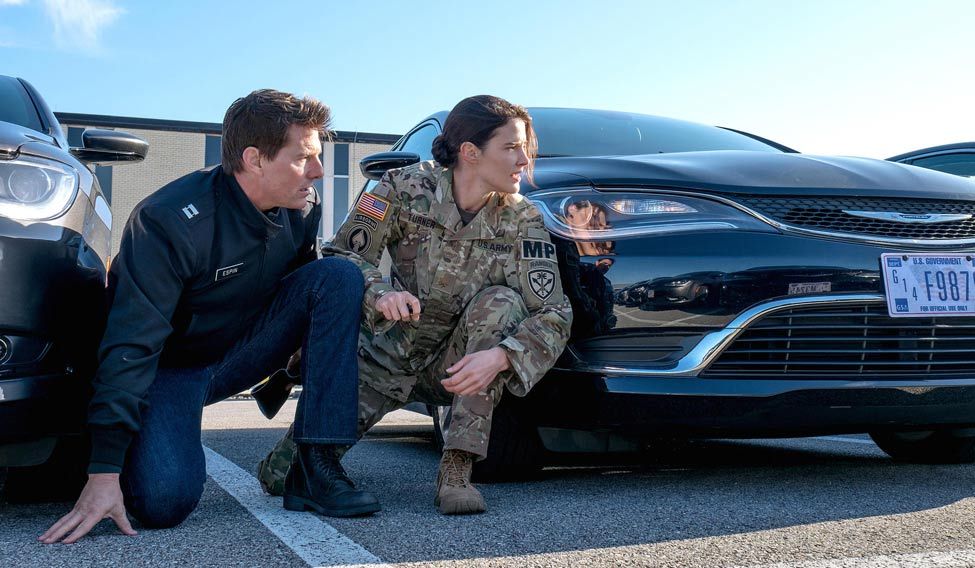 The story in the book is solid, with enough motivation for every character to do what they do. But, in the film, it seems to run thin at certain places. Some plot points seem unconvincing, as it inevitably shifts the focus from the mystery to the inter-personal relationships between the three characters.
For instance, Reacher's relationship with his supposed daughter comes across as an ugly clash. Reacher, who we know from the previous film to be the hard-hearted sort, is forced to feel protective and care for Sam. Had this strain been introduced in a later sequel, it would have worked better. Here, it seems out of place.
Cruise does what he is good at—effortlessly beating up the bad guys. The film appeals to fans of his Mission: Impossible series for its action and quick pace, minus the gadgets, cars and super tech (Most of the cars, intel and resources are either stolen or forced out by the trio). Some of the fight scenes are stretched out for dramatic effect, though, especially the final showdown.
Yarosh plays Sam, the teenager with commendable thieving skills, quite convincingly. But, credit has to be given to Smulder, who doesn't let Cruise overshadow her character. Her performance is at par with that of Cruise. She does not come across as the weaker counterpart or as a sidekick to the big hero. She does not exist only to serve as an aide or as a romantic partner to Reacher. Their relationship is so underplayed, you can be forgiven for not noticing the signs of admiration. There are times when her character is sidelined for being female, which Turner speaks out against in an argument with Reacher. In an action film based on a one-man-army trying to save the day, she has her share of fighting and defending.
Comparing the 2012 film with the latest is futile; other than the titular character, there is nothing in common. The feel of the film remains the same, albeit with lesser quips and witty banter. That's not to say Zwick's version doesn't have any of the funny or ironic situations. There are a few light moments that, thankfully, don't distract the audience.
Overall, Jack Reacher: Never Go Back is an average thriller with nothing memorable to take back home. It does make one hope for another sequel that takes the suave, loner Reacher on another adventure, perhaps directed by someone else.
Film: Jack Reacher: Never Go Back
Director: Edward Zwick
Cast: Tom Cruise, Danika Yarosh, Cobie Smulders, Robert Knepper
Rating: 2.5/5