What do you get when you put a forceful director, a powerhouse actor and a promising young talent, along with a gripping script, under the same roof? An absolute thriller of a film.
Bollywood's enfant terrible Anurag Kashyap is back in his groove with Raman Raghav 2.0, after the disastrous Bombay Velvet in 2015. Kashyap seems to have a fascination for Mumbai and his latest outing is no different. The film opens with a word about a psychopathic serial killer who prowled the streets of Bombay in the 1960s—Raman Raghav.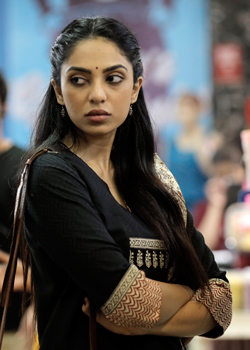 Sobhita Dhulipala in a still from the film
But the film is not about him. It is about Ramanna (Nawazuddin Siddiqui), who is 'inspired' by the serial killer. Killing comes "naturally" to him... "like you eat, shit, sleep". Possibly a schizophrenic, Ramanna believes he is the agent of the god of death, and sees no difference between him and the cops, especially trigger-happy ACP Raghavendra Singh Ubbi (Vicky Kaushal) who is a drug-addict.
Ideally, this would have been a cat-and-mouse game between the cop and the killer. But it isn't, and that is where the film falters. So, even after Ramanna surrenders, the cops let him off taking him to be yet another destitute who is looking for free food and lodging—in the prison. No background check is done, nor do the police keep an eye on him. The murders continue, and yet there are no signs of any massive man-hunt though it is evident that he committed them. And all this while, he is shown working as a security personnel, in a supermarket, and roaming the streets casually with his weapon—a wheel nut wrench—in hand.
But there is nothing unbelievable about Siddiqui as the psychopathic killer. From the deep gash running across his forehead, the "eyes that glow like a fox in the dark", to the smirk, he absolutely lives the character. Though none of the killings are shown on camera, the blood, the sound, and his actions are enough to make you cringe every time he swings the wrench. How does one deal with a person who "kills because he wants to kill", one cannot but wonder. Siddiqui melts into the stinky bylanes of Mumbai—he could be any other person in the crowd. The city and its underbelly is brilliantly captured by cinematographer Jay Oza. Every time Siddiqui appears on the screen, he makes skin crawl. So, when he hides in a gutter (it is left to the audience to make the inference) while eluding capture, you actually go... yuck. Realism, thy name is Nawazuddin Siddiqui!
Ramanna takes a liking to the ACP, the reason for which is revealed at the end. Raghavendra (or Raghav) has his own share of problems besides his addiction to cocaine—a 'girlfriend' Smrutika (Sobhita Dhulipala) and an authoritarian father (Vipin Sharma in an impressive cameo). It is a giant leap for Vicky, from a shy and vulnerable teenager in Masaan, to a drug-addict cop, and the transition is almost seamless. His ACP appears a bit unconvincing at times, but there is no stopping him when he is on a 'high'. Watch the scene where he stares down his father in an eyeball-to-eyeball confrontation, and you know you can expect great things from this talented youngster.
It is not just the lead actors who deliver power-packed performances. While Sobhita does justice to a restrained but hard-hitting role, the extremely talented but underused Marathi actor Amrutha Subhash dazzles as Lakshmi, Ramanna's sister. Not to forget the casting director, Mukesh Chhabra, himself as a loan shark. Ram Sampath's background music, too, plays a supporting role, throbbing and haunting through the film, though it appears jarring at times.
Though Ramanna is a killer, his conversation with Raghav at the end of the film, is a lesson in itself. In Raman Raghav 2.0, the lines separating the hunter from the hunted are blurred. Isn't it so, more often than not, in real life, too?
Film: Raman Raghav 2.0
Director: Anurag Kashyap
Cast: Nawazuddin Siddiqui, Vicky Kaushal, Sobhita Dhulipala, Amruta Subhash, Vipin Sharma, Mukesh Chhabra
Rating: 3.5/5