Next time someone calls you boring, find a tape recorder, grab a cassette, play it and slowly groove into a striptease–at your own risk.
Problem yeh hai ki woh ladki hai, and the problem persists in director Luv Ranjan's Pyaar Ka Punchnama 2. When the first part hit theatres in 2011, critics dismissed the little-known film as misogynist and the youth hailed it as a realistic story of a man in a relationship. For the first time, a film depicted men as helpless, vulnerable, and exploited partners in a relationship.
Pyaar Ka Punchnama 2 is no different. Keeping the tried and tested formula intact, Luv Ranjan brings you more of the same, with a hint of extravaganza. Here, the dudes, Gogo (Kartik Aaryan), Thakur (Omkar Kapoor) and Chauka (Sunny Singh), share a swanky apartment overlooking the city, party at poshest of clubs, drink so much that they have a song dedicated to it and drive fancy cars. What they lack in life are girlfriends. Luck turns around for them when Gogo meets gusty and bright as a Christmas tree Chikoo (Nushrat Bharucha), Chauka is smitten by Supriya (Sonnalli Seygall) who has no qualms about drinking with strangers and Thakur is invited home by Kusum (Ishita Raj) after he ogles (and approves) every inch of her at the gym.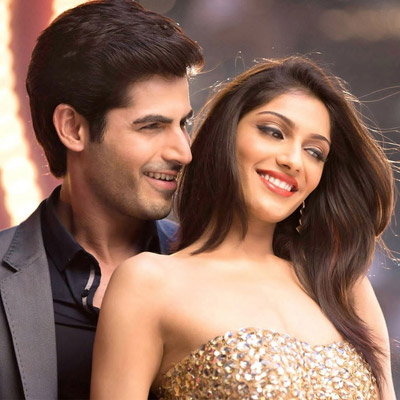 Sound like independent, bold and sexually frank female characters? Well, soon you realise that it's just the filmmaker's way of establishing the protagonists as cool guys who will not fall for anyone less than a modern woman who doesn't mind premarital sex, is addicted to her iPhone, wears revealing clothes and holidays abroad with her boyfriend. The definition of modernity ends there and what starts is the saga of how sensitive Gogo, level-headed Thakur, and naive Chauka–again stereotypical good guys–become prey to whims and fancies of bimbo Chikoo, gold-digger Kusum and spineless Supriya.
Inspired from Pyaar Ka Punchnama, Kartik Aaryan's five-minute monologue in this film is funny only in parts, lacks natural emotions and fails to connect, unlike Rajjo's hilarious emotional outburst that became a must-have mobile audio clip for many. And this is just one of the many instances when you'll be reminded of the part one.
Solely talking about no-surprises Pyaar Ka Punchnama 2, although abusive, it has it's own small triumphs and lot of interesting one-liners. The director has successfully managed to capture the essence of Delhi and Delhi-guys, starting from their dressing to accents to the nature of jokes and the bhai-bonding. Sunny Singh stands out for his endearing performance of golden-hearted Chauka who keeps getting emotionally stronger as the plot progresses. The transition is smooth and believable. Also, without any doubt, he is the funniest–in a sweet way. Kartik Aaryan lacks versatility in his projection of Gogo as after a point, it becomes hard to distinguish between Gogo and part one's Rajjo. Omkar Kapoor as a hot-shot engineer, who earns 3 lakh a month and does a striptease for a random woman whom he caught fancy of at the gym, nailed it with sharp looks and no-nonsense dialogue delivery. Among the leading women, only Ishita Raj's character had any scope for performance. Ishita easily slipped into the shoes of a vamp, and was convincing in her portrayal of a manipulative, greedy girlfriend.
In all, Pyaar Ka Punchnama 2 is miles away from meeting the standard set by its first part, but is still worth a one-time watch for some original performances and hilarious one-liners.
Film: Pyaar Ka Punchnama 2
Director: Luv Ranjan
Cast: Kartik Aaryan, Omkar Kapoor, Sunny Singh, Nushrat Bharucha, Sonnalli Seygall, Ishita Raj
Rating: 3