Chances are if you've grown up reading the iconic American comic strip Peanuts by the late cartoonist Charles M. Schulz, named your own pet dachshund Snoopy, are a bigger fan of his protégé, cartoonist Bill Watterson, whose legendary Calvin and Hobbes was hugely influenced by Schulz's characters... the idea of watching the first computer-animated Peanuts on the big screen would be exciting.
Peanuts—a set of kids, a semi-anthropomorphic pet beagle with his sidekick, a bird named Woodstock, and no visible adults characters—ran from the 1950s to 2000 till Schulz's death and is possibly the best known comic strip worldwide. It ran as a successful television series and theatre production in the US.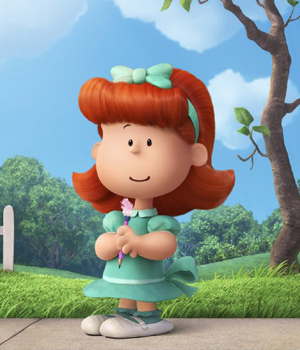 The Little Red-Haired Girl
The film adaptation competently brings out the familiar characters—Charles or Charlie Brown (Noah Schnapp), Snoopy/Woodstock (Bill Melendez), Peppermint Patty (Venus Schultheis), Linus (Alexander Garfin), The Little Red-Haired Girl/Frieda (Francesca Capaldi) and others—in a new adventure where Brown falls in love with Frieda, the new girl who moves into their neighbourhood.
Brown is the under-confident, clumsy, good-natured helpful boy who, try as he might, cannot fly a kite but knows everything about flying one. However, in a bid to impress Frieda in a local talent show, he, unflinchingly, comes to the aid of his flailing younger sister. On friend and 'psychiatrist' Lucy's advice that girls like heroic boys, he goes about learning dance aided by Snoopy when he finds out Frieda loves it. Through a switch of test papers with nerd-genius Peppermint Patty, Brown comes to be crowned the school winner and becomes a star overnight. Unmoved by this undeserved success, Brown gets partnered up with Frieda on a book assignment, spends the entire weekend reading and writing the review on Leo Tolstoy's War and Peace. Despite his attempts to impress her and failing in the end—spoiler alert—Frieda comes to like him for 'who he is'.
The film points to some good old-fashioned ideas about friendship, love and life—being yourself, being honourable, being solid and above all, being funny. The drama comes from Snoopy's parallel fantasy track of battling Red Baron as a World War 1 flying hero to save his lady love, keying in philosophical musings on the quaint blue typewriter with Woodstock by his side, and his undying loyalty to his owner standing by him always, including eating up the cupcakes Brown makes for a group event and teaching him how to dance. (Yes, the dachshund at home got an extra hug after the film.)
Given the sleek animation productions one has gotten used to, this feels a little like a hark back to the good old days. Nevertheless, a frothy, touching and entertaining watch for the young and younger.
Film: The Peanuts Movie
Director: Steve Martino
Writers: Bryan Schulz, Craig Schulz
Cast: Noah Schnapp, Bill Melendez, Venus Schultheis, Francesca Capaldi
Rating: 3.5