The last time Kabir Khan and Salman Khan came together, the two delivered a blockbuster in the form of Ek Tha Tiger which was high on action. The film also had a love story, beautiful songs and, of course, 'dhamakedaar' dialogues. But if that's what you are expecting from their latest collaboration then you will be highly disappointed because Bajrangi Bhaijaan is unlike any of the recent Salman Khan films. But that's what works in the favour of the film.
Pawan Chaturvedi (Salman Khan) is exactly what 'Being Human' is all about. He is a simple guy, who never lies, is always ready to help people and has a golden heart. He is a big Bajrangbali devotee and he will instantly win you over with his innocence. Shahida (Harshaali Malhotra) is a mute Pakistani girl who loses her way in India. These two characters meet just after Khan's introductory song and that's when the story really takes off. Pawan decides to reunite Shahida with her family but the only problem is that he doesn't know where Shahida hails from. But he soon finds out—thanks to a cricket match!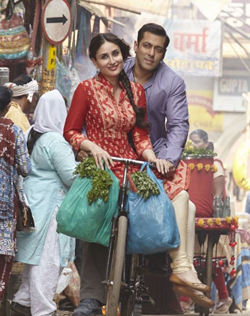 Thereafter the film is about Pawan and Shahida's journey from India to Pakistan and how the Bajrangbali devotee succeeds in his mission of reuniting the little girl with her family. But in the process he sacrifices a lot of things. When Pawan and Shahida make it to Pakistan, a new character is introduced and he makes things even more interesting and funny. Yes, I am talking about the very versatile Nawazuddin Siddiqui. He plays Chand Nawab, a local reporter in search of a good story. Initially, he thinks Pawan is an Indian spy but when he learns the truth, he decides to help him in his quest.
The story is certainly not a masterpiece but its simplicity is what strikes the right chord. The film has its heart in the right place and that's what comes across on the big screen. All the characters have been defined so well that they all manage to shine irrespective of their screen time—whether its Nawaz who comes in the second half or Kareena Kapoor who plays Salman's love interest in the film. What's even more impressive is Harshaali Malhotra's strong screen presence. The little girl has no dialogues in the film but she acts through her eyes and that says a lot about her talent. Even the way Kabir has treated the Indo-Pak background is very refreshing. No item songs and no shirtless Salman. Yet Bajrangi Bhaijaan is a visual delight courtesy brilliant cinematography, good performances and a sweet story.
Salman does a fine job in portraying a subdued and not larger-than-life character. Nawazuddin has always been a terrific actor and will remain one. It's a pleasure to see him and Salman share the screen space. All their scenes together will tickle your funny bone. Kareena, too, plays her part well. As for Harshaali, well, she is the superstar and not Salman, in the film.
However, the first half is quite slow compared to the second. Also, in the beginning, Kabir has shown how Salman lands up in Delhi through flashback. Well, this is something the director could have easily done away with because it really doesn't add anything to the story. Same can be said about some songs in the film. It would have surely made the script more tighter and crisper. The climax of the film is also a let down simply because it's predictable.
Nonetheless, in a nutshell, Bajrangi Bhaijaan has nothing that you would expect out of a Salman film (going by the recent ones, at least) but it has everything that will appeal to the masses including his hardcore fans. The fact that Bajrangi Bhaijaan is not just about Bhaijaan is what makes it worth watching.
Film: Bajrangi Bhaijaan
Director: Kabir Khan
Cast: Salman Khan, Kareena Kapoor Khan, Nawazuddin Siddiqui and Harshaali Malhotra
Rating: 3.5