How many squares does a chessboard contain? 64? Not really. That's just one possibility and that's the magic of chess. There is the obvious game, there is the not-so-obvious and then there is the arcane. Bobby Fischer's game fell into the last lot. In fact, Fischer's game and personality matched perfectly. Impulsive, seemingly irrational and abrasive. All these elements come through in Pawn Sacrifice, which covers Fischer's disturbed childhood, his brilliant and tempestuous teens and the final showdown in Reykjavík, Iceland, in 1972.
The film is set in those times when the air was filled with madness. Vietnam. Watergate. The Beatles. Flower Power. VW hippy-van. Spies. Henry effing Kissinger. Cold War. Bugs in Bakelite phones. And, so, can you blame Fischer (Tobey Maguire) for being infected with the madness? If anything, the movie hits the madness nail on the head. Fischer's madness and the mad, mad times.
To the uninitiated, watching a game of chess is almost as painful as extracting teeth. To those in the know, it is a magical landscape where stallions race across chequered battlefields and where a bald, stubby pawn can dare threaten a king. Much like the poor Brooklyn boy who took on the Russian czars of chess. It was Fischer against the USSR, and the movie drives home that point. Despite chess being central to the movie, director Edward Zwick ensures that it is racy and that it covers much more than just the game and Fischer.
One might feel that Maguire overdoes Fischer's madness a bit. A Jew, he rants against Jews, the KGB and tilts at imaginary foes. But biopics often do that, don't they? A wee bit of exaggeration. Like Benedict Cumberbatch's Alan Turing in The Imitation Game or Leonardo DiCaprio's Howard Hughes in The Aviator. Not all geniuses are like Sachin Tendulkar, see!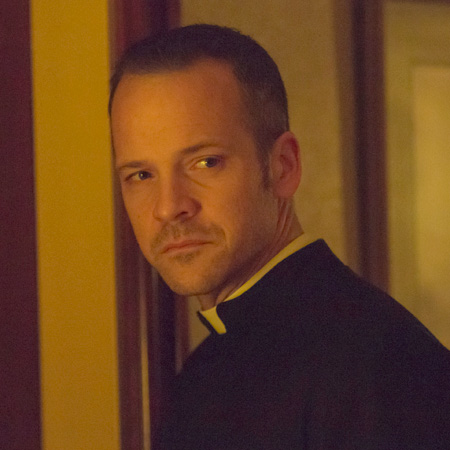 Peter Sarsgaard as Father Bill Lombardy
Pawn Sacrifice begins with Fischer freaking out in a remote house in Iceland. Dismantling phones, ripping paintings apart… basically looking for bugs. Then it rewinds to Fischer's childhood and climaxes when he captures the World Chess Championship from Boris Spassky in 1972. Steven Knight provides crisp dialogues, especially those delivered by Father Bill Lombardy (Peter Sarsgaard), the priest who serves as Fischer's second. The other supporting character is Paul Marshall (Michael Stuhlbarg), a lawyer and Cold War patriot seeking a chess win for the propaganda mills.
Fischer's nemesis, Spassky (Liev Schreiber), is portrayed as a regal, aloof person. The private Spassky does not match the player. He dodges the KGB, takes an unsupervised night out and is paranoid, much like Fischer. But, while Maguire takes commercial flights to tournaments, the USSR flies Spassky in private jets and provides him with the best hotels and a personal security detail. It is a reversal of roles. The capitalist-socialist roles, that is.
In the movie, Fisher does not do much, other than play and rant, and ask for more money and fresh oranges. And, yes, lose his virginity to a prostitute. But, most of the dialogues between the blonde and him were muted in India. It did seem like they were saying naughty things, yeah. She does become a chess fan, eventually.
On the whole, the movie is a good watch, despite the sabre-rattling expected in a movie set in the Cold War era. It is not a biopic, but comes close enough. The real Fischer makes an appearance in the end, through newsreels.
Actually, there are 204, considering all combinations. Squares on a chess board.
Film: Pawn Sacrifice
Director: Edward Zwick
Cast: Tobey Maguire, Liev Schreiber, Peter Sarsgaard, Lily Rabe, Robin Weigert
Rating: 3