"All the world's a stage, and all the men and women merely players; They have their exits and their entrances...", wrote William Shakespeare in As You Like It. The world of Rakeysh Omprakash Mehra has, more often than not, been in a perpetual time warp, where the 'players' float in and out, switching between the past and present as effortlessly as one bats an eyelid. Be it DJ/Chandra Shekhar Azad in Rang De Basanti or the young Miku/Milkha Singh in Bhaag Milkha Bhaag, between their 'entrance' or their 'exit', these players have managed to leave their mark on the audience.
In his latest flick Mirzya, too, Mehra manages to create an unreal world somewhere in the past that co-exists with the real one. In the real world, in Jodhpur, 12-year-olds Mohnish and Suchitra are thick friends (and lovers, too, as we find out later) but are separated. They meet years later as stablehand 'Adil Mirza' (Harshvardhan Kapoor) and 'Rajkumari' Suchitra (Saiyami Kher, not related to Anupam Kher but to Tanvi Azmi), who is to get married to Prince Karan (Anuj Choudhry). Sparks fly when the old lovers meet.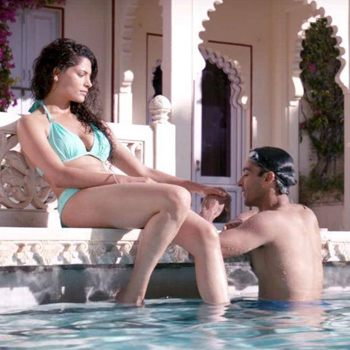 Kher and Anuj Choudhry in a still from the film
Or at least, that is what Mehra intended. But, all we get are dead cold embers of a failed chemistry between Saiyami and Harshvardhan. He might have inherited his father Anil Kapoor's disarming smile, but it would take more polishing for Harshvardhan to match his father's spontaneity. Saiyami looks every bit the model she is and less of an actor. Both the lead actors fail to emote when absolutely necessary—be it when they realise each other's true identity or when one has to choose between her family's honour and her lover, or the climax. What makes the contrast starker is some brilliant acting by the supporting actors like Anjali Patil as Zeenat, who loves Adil, or Anuj or Art Malik as Suchitra's policeman father, who mouths Shakespearean lines (in fact, the references to Shakespearean plays throughout the film are hard to miss). Om Puri, to be frank, is wasted as an ironsmith, who doubles up as the narrator.
The unreal world, however, belongs to marksman Mirza and his Sahiban. Though their tragic tale is part of Punjabi folklore, it might not ring as many bells as Heer-Ranjha or Sohni-Mahiwal would do. And so, a person unfamiliar with the tale would hardly understand what's happening on the screen. Otherwise, Harshvardhan as Mirza and Polish cinematographer Pawel Dyllus are in their elements in this world. That the scenes are shot in the bewitchingly beautiful Ladakh does make a cinematographer's job easier, but Dyllus deserves a standing ovation for the manner he has captured the essence of Ladakh (and Rajasthan, too, in the rest of the film) and has shot the action sequences, with the right mix of close-ups and slow-motion shots. Harshvardhan looks every bit the rustic and mysterious Mirza on his favourite horse Bakki, though Saiyami looks as if she stopped by on the way to a photoshoot. The stunts are choreographed well and look authentic. Add to it Daler Mehendi's powerful rendition of O Mirzya as the background score, and you wish you could stay on in the ethereal world of Mirza and Sahiban.
Which brings us to the music by Shankar-Ehsaan-Loy. Music has always been the soul of Mehra's films and Mirzya is no different. From the title track to Aave Re Hichki, from Teen Gawah Hai Ishq Ke to Ek Nadi Thi, the legendary lyricist Gulzar is at his best, complemented exceptionally by the trio, who have managed to bring in an earthy tinge to all the songs. Though, a couple of songs stick out like a sore thumb for bad timing and irrelevance, if music was the only benchmark to measure a film, Mirzya would have been a runaway hit.
But then, it isn't. If only Gulzar the scriptwriter—after a long gap of 17 years—was as much in control as Gulzar the lyricist. Sigh. In the real world, Mehra-Gulzar's 'players' enter and exit the stage without leaving any noticeable footprints.
Film: Mirzya
Director: Rakeysh Omprakash Mehra
Cast: Harshvardhan Kapoor, Saiyami Kher, Anuj Choudhry, Art Malik
Rating: 2.5/5