There's a sad news and we all know it. Hugh Jackman is bowing out from the 'homo superior' universe with Logan. The filmy version of X-Men universe is not going to be the same again; blame it on the certain absence of the man who made the mutant with mutton chops part of our cinematic growing up years. But there's some good news too; Logan is the best Wolverine can ever get.
The year is 2029 and there aren't many mutants spotted in public. The years passed by haven't been particularly kind to Logan aka Wolverine. He has aged; the mutton chops gone fully and the self-healing powers partially. He spends his days driving a limousine and tending Professor X who is no longer in control of his telepathic capabilities. Giving them company is another mutant, Caliban, who can track other mutants. Logan, who has lost faith both in men and mutants, has found solace in downing bottles of booze.
Their melancholic, unremarkable lives are violently knocked over when a little girl with claws, Laura, haunted by mercenaries of a secret facility called Transigen, strays into their lives, almost uninvited. Logan becomes her unwilling chaperone in her journey towards a promised land for mutants. As the journey progresses, there are startling revelations, beautifully violent decapitations and impalements and an eventual hope for a better morrow.
The clawed mutant in Logan is more human than you could ever ask for. The old, jaded Logan also isn't averse to scoffing off the league of exceptionally gifted mutants as an overrated bunch when he notices Laura's fascination with the comic book accounts of the X-men's exploits. And it only seems legit as it's the human race that appears to have the 'last stand' in Logan. The mutant guardians of the universe are a near extinct breed in the dystopian world in which Logan is set. Perhaps, the sense of mortality and vulnerability that has slowly began to creep in has made Logan realise that no mutant is powerful enough to thwart the designs of time.
He may be worn out and spent, but that that doesn't hold Logan back from giving his all when it comes to decimating the gun-toting cyborgs. Intense and unrelenting, Logan, aided by impressive cinematography and background score, has enough gore and fury to satiate the thirst for on-screen bloodshed. The absence of monsters and other netherworldly creatures helped in minimising the CGI overkill, making the action more real, bloody and brutal. Joining him in slicing the baddies is the brooding Laura, who lets her claws do the talk more than her mouth.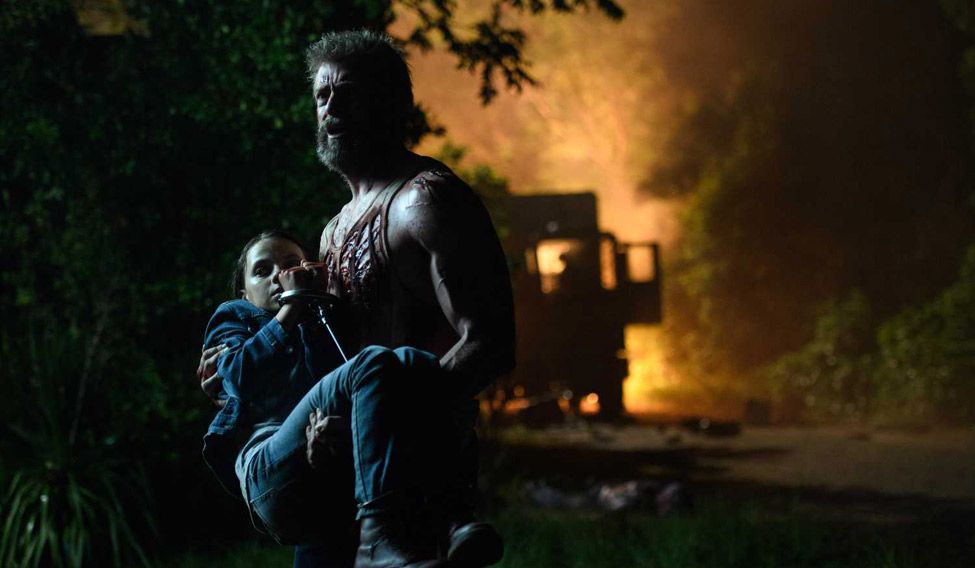 With Logan, James Mangold, who has helmed some fine films in the past, including Cop Land, Girl, Interrupted and the Johnny Cash biopic Walk the Line, is making amends for gifting superhero flick lovers a tepid take on Wolverine in 2013. The third and final Wolvy movie, a fairly loose adaptation of the popular Old Man Logan comic, also stars Patrick Stewart, Boyd Holbrook (of Narcos's fame) and newcomer Dafne Keen.
In his swansong, Jackman gives his all to bring out the tragic side of the ailing mutant. Stewart, who plays Professor X, too, is in his finest form. It is heart-rending to see the all-powerful Professor X being reduced to a senile old man who struggles with his own special power. Keen's little mutant, Laura, makes an inspiring impression although she talks little throughout the film.
Mangold, whose 3:10 to Yuma was one of the finest Westerns of recent times, continues his fascination with the genre in Logan as well. There is a distinct Western feel to the film besides several references to some of the top Westerns, including the 1953 classic Shane. The film becomes tad slow in the middle when it assumes the tone of a road movie, but soon gains pace with a huge surprise.
Unlike the usual good vs evil, action-driven superhero flicks, Logan is a riveting, character-driven drama about loss, hopelessness and eventual redemption. This is the best parting gift Jackman's Wolverine could leave for his fans who stood by him nearly for two decades when he made repeated appearances, extending and retracting his claws.
Film: Logan
Director: James Mangold
Cast: Hugh Jackman, Patrick Stewart, Richard E. Grant, Boyd Holbrook, Stephen Merchant, Dafne Keen
Rating: 4/5