"Everyone is entitled to his own nostalgia," wrote James Wolcott, the Vanity Fair critic. So am I. Dappa kali (Pitta garam or seven stones game) makes me nostalgic. So do cricket bats carved out of a branch of a coconut tree, playing football in flooded paddy fields, brushing teeth with crushed charcoal, Cuticura talcum powder, text books covered with newspaper, and, of course, kolumittayi (lollipop).
Arun Viswam's Kolumittayi is a sweet walk down the memory lane for any 1980-early 1990s kid, who has grown up in the lap of nature. It is a tale of four children and the 'challenges' they face in life. Unnikrishnan (Gaurav Menon, who won the State and National Award for Ben) and his friends Abu (Aakash Santhosh), Lalu (Sidharth) and Varkey (Roshan) are the perennial late-coming troublemakers at school, who haunt the last bench and bunk classes at will.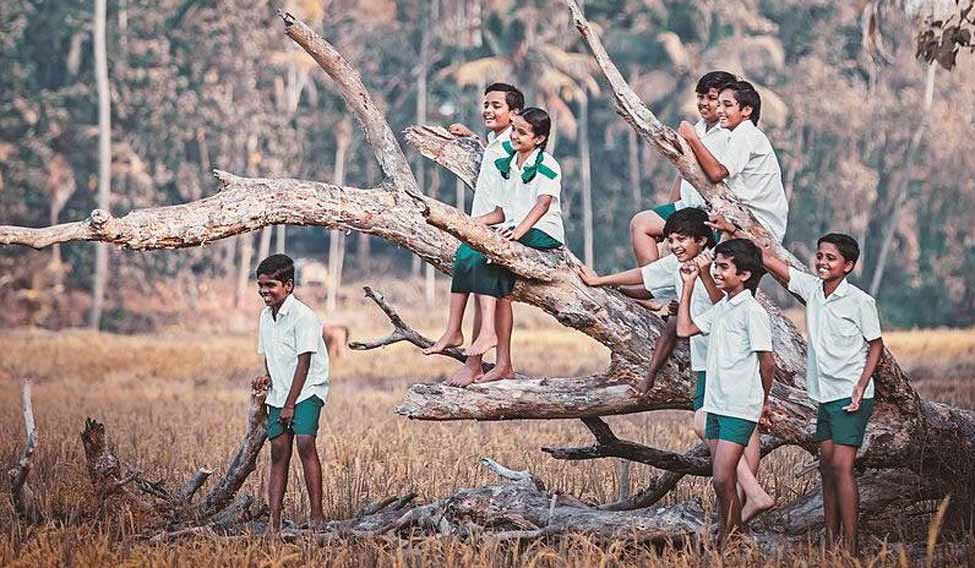 When not in school, the gang of four while away time frolicking in the fields, fishing and roaming around on their cycles. Unni has a crush on Riya (Meenakshi) who doesn't think much of him. Enter all-rounder Ronny (Naif), who is as good at studies as he is at painting, and all hell breaks loose. The teachers and the students, especially Riya, are impressed with the newcomer. Soon, Unni finds himself at loggerheads with Ronny.
The story is as simple as it can be—Viswam and Abijith Asokan, who is also the producer, would not have had to break their heads over it. But, what makes Kolumittayi endearing is the way the director has kept the innocence of the subject and the characters intact. Proven performers like Saiju Kurup (as Satheeshan Puzhakkara, the 'artist'), Devi Ajith (as Unni's mother) and Dinesh Nair (as a cycle repairman) take the back seat and let the child artistes express themselves freely.
Gaurav and Meenakshi do their reputation no harm with their effortless portrayal of Unni and Riya, and are ably supported by the three friends and Naif, the 'villain'—though, strictly speaking, there are no heroes and villains in the film. Santhosh Anima's cinematography captures the rustic beauty of the idyllic village brilliantly. The music by Sreeraj K. Sahajan, too, carries the film along without striking a discordant note.
Kolumittayi cannot, and should not, be dismissed as a children's film with dollops of nostalgia. There is a lesson or two for the grown-ups as well.
Film: Kolumittayi
Language: Malayalam
Director: Arun Viswam
Cast: Gaurav Menon, Naif, Meenakshi, Saiju Kurup, Devi Ajith
Rating: 4/5