First up, the most annoying part of the film is the constant product plugging—from the sanitary pad brand to bank to hospital to car to make-up... they are there in the dialogues, visuals, backdrops.... at one point, it even feels like the refined oil company is making a showreel for itself.
Keeping with the current trend in Bollywood of the script being king, this one is a romantic drama about gender role reversal. Kabir / Ka (Arjun) is every ambitious, working woman's 'dream man'—emotionally sensitive, can rustle up a mean meal on demand, keep a clean home, handle domestic staff, worry about his family's health, even beat up goons if needed. Kiya / Ki (Kareena) is an outspoken, whiskey-loving, ambitious, career-oriented, workaholic woman whose goal is to become the CEO one day. She lives with her charity worker, widowed mother in a messy but posh rented apartment (the landlord shown in the film actually deals with real estate in Mumbai, while the TV anchor also plays herself), and he gives up his rich builder father's millions to move into his wife's home. As the dynamics of married life roll out, several issues and emotions come into play—the homemaker versus proverbial provider, jealousy, anger, passion...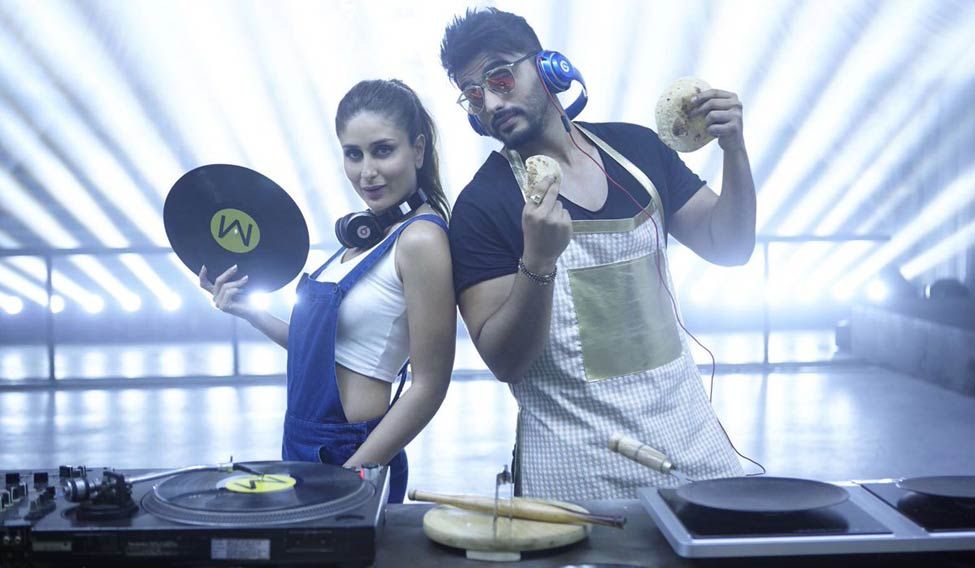 Arjun gives a limited spectrum performance, bordering on being expressionless. Kareena is competent as the older, feisty, 30-year-old. Their chemistry as a couple lacks spark. The husband wearing the mangalsutra much to the amazement of the marriage court official is an obvious, clumsy attempt at role reversal, while Ka's love for all things paced out—trains over planes—is another obvious attempt to show the idea of slowing down by having toy trains constantly chugging through their home.
This is adman R. Balki's fourth film as director, where yet again his screen idol, Amitabh Bachchan has been casted in a special appearance with wife Jaya Bhaduri, as themselves. Bachchan leaves a strand for thought in the gender role debate when he says the dynamic can change with the arrival of children. Sampat, who we remember from the 1980s popular television sitcoms, as the widowed mother of Kapoor working in the NGO sector, is shown to be the quintessential progressive, being comfortable with the idea of pre-marital sex when it comes to her daughter or finding love second time round for herself. This sort of creates new clichés but some words of wisdom from her towards the end is interesting, where she says the larger dilemma is not about genders but the tussle between the main breadwinner and homemaker in a marriage, and the complexities of human nature that transcend the battle of the sexes. The film could delved deeper into these ideas but remains floating on the surface.
Film: Ki & Ka
Director: R Balki
Cast: Kareena Kapoor Khan, Arjun Kapoor, Rajit Kapoor, Swaroop Sampat
Rating: 3.5 / 5