Why? Why would anyone pay $65,000 (in 1996, that is) to flirt with death? Why would anyone dare to climb the tallest peak in the world knowing fully well the next step he takes might be his last, where if the lack of oxygen does not get you, the cold will? Why would anyone climb Mt Everest?
Baltasar Kormákur's Everest leaves the viewer in a blizzard of such questions, and many more. In the film, which is based on a real-life incident when eight climbers were killed on May 10-11, 1996, Jon Krakauer (played by Michael Kelly), a journalist who was covering the expedition and later wrote a book Into Thin Air on the tragedy, puts this question—why—to the members of the team he is part of, which is led by veteran Rob Hall (Jason Clarke). Surprisingly, or not, none of them comes up with a convincing answer, apart from Doug Hansen (John Hawkes), who says he wants to show the kids at his school that, with persistence, an ordinary man like him, a mailman, can achieve the seemingly impossible.
The question makes its haunting presence felt again when Anatoli Boukreev (Ingvar Eggert Sigurðsson), who leads another team of climbers, reminds his counterpart Scott Fischer (Jake Gyllenhaal) that the competition is not as much between the climbers as it is between every person and the mountain. So, why would anyone scale the 29,029-foot-high peak at sub-zero temperatures and inhumane conditions?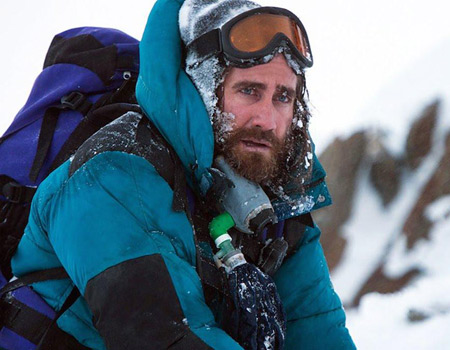 Jake Gyllenhaal as Scott Fischer
It is one important question that, one feels, remains unanswered in the breathtakingly-shot 121-minute drama—it's not all CGI; the crew actually went to the Alps and Nepal and shot in freezing temperatures. It is difficult to tag the characters—be it the inspirational and suave Hall, essayed well by Clarke, unpredictable and not-so-polished Beck Weathers (Josh Brolin), the laid-back yet flamboyant Fischer, effortlessly portrayed by Gyllenhaal, old but determined Hansen or the edgy Andy 'Harold' Harris (Martin Henderson)—as heroes who died fighting, or just fools who rushed in where angels fear to tread.
Casting director Fiona Weir has pulled off a coup of sorts with a star list that boasts Keira Knightley as Hall's pregnant wife Jan Arnold, Sam Worthington as another team leader and Hall's buddy Guy Cotter, and Emily Watson as base camp in-charge Helen Wilton, among others, and all do justice to their roles, however short it is.
With a star cast like that, it often happens that other important characters in the story might get elbowed out of the spotlight. Here, it is the sherpas who lose out. We get only glimpses of their role in the expedition, their lives and the difficulties they face. It might have been a deliberate ploy by Kormákur, whose focus was the incident itself. Probably, that might also explain why the emotional quotient of the film went for a toss, with mushy scenes—scattered—involving (loving) exchanges between Hall and Jan, and Weathers and his better half Peach (Robin Wright), who manages to arrange a chopper, no less, to take him to safety, failing to tug at our hearts. The film fails to linger on these aspects long enough to create an impression.
But what the film lacks in emotions, it makes up with stunning shots of the ice-covered mountains, the crevices and valleys. Watching it in 3D makes it all the more real—probably the closest mere mortals can get to reality. Kormákur more than manages to portray the perils climbers face at the summit of a mountain that "makes its own weather", and he does it with devastating effect, without going overboard. The helplessness of the climbers in the face of nature's fury is depicted excellently. As the credits roll, Boukreev's words ring in our ears—"the last word always belongs to the mountain".
Every act of daredevilry evokes awe and opprobrium in (un)equal measure in the minds of the onlookers. Maybe, not all questions are to be answered. If every mountaineer had asked himself why he was doing it and had waited for an answer, we probably would not have had Edmund Hillary and Tenzing Norgay—and many after that—conquering the Everest in 1953. Like Fischer says, "It's not the altitude, it's the attitude."
Film: Everest (3D)
Director: Baltasar Kormákur
Cast: Jake Gyllenhaal, Josh Brolin, Jason Clarke, Sam Worthington, John Hawkes, Keira Knightley, Robin Wright and Emily Watson
Rating: 3.5