Last year witnessed some fine Marathi films like Court and Killa helmed by Chaitanya Tamhane and Avinash Arun respectively—both debutant directors. The films represented a new phase of Marathi cinema, which is driven by a strong desire to constantly experiment and expand its horizons.
Continuing the good run is the first big Marathi film of 2016—Natsamrat (an actor hailed as the emperor of the stage), which is based on an epic play by the same name by Jnanpith Award-winning Marathi litterateur Vishnu Vaman Shirwadkar, fondly remembered across Maharashtra by his alias 'Kusumagraj'. This play revolves around Ganpantrao Ramchandra Belvalkar, a thespian hailed as 'natsamrat', in the autumn of his life. Written in the mid 1960s, the greatness of the play can be gauged from the fact that almost each and every top Marathi stage actor has essayed the role of Ganpatrao Belvalkar—best remembered among them being late Datta Bhat, Dr Shriram Lagoo, and late Yashwant Datt. There was a time when one was not considered a good actor if he had not played Ganpatrao Belvalkar in Natsamrat. Generations of aspiring actors, in their college years, have memorised dialogues of this play when they gave auditions for that elusive big break. It is said that theatre legend Pandit Satyadev Dubey, in his workshops for college students, would discuss the depth in the dialogues of this play by discussing them sentence by sentence.
So, when such an iconic play is transformed into a film it is but natural that there are immense expectations from the director as well as the actors. Full credit to director Mahesh Manjrekar and Nana Patekar, as the film satisfies the audience on almost every count. The only dampener might be its length—160 minutes.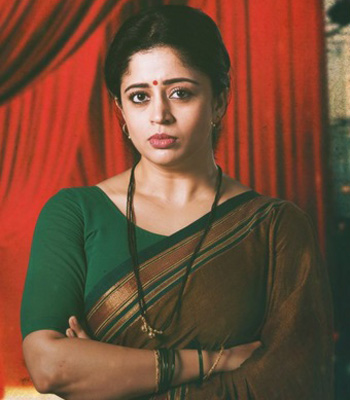 Mrunmayee Deshpande
The film is essentially about the post retirement life of the 'natsamrat' and how he is abandoned by his son and daughter. The man who dominated stage and cultural space for almost four decades is forced on to the streets.
It has been a while since Nana has delivered a power-packed performance, but with Natsamrat he has made a brilliant comeback. The actor, whom this writer has met on a couple of occasions, is a sensitive and intense personality known for his social commitment. He is also wise enough to make his money in Hindi films and deliver his best performances mostly in Marathi films and in theatre. His last memorable role in a Hindi film was in Ab Tak Chhappan, a film by Ram Gopal Varma on the life of encounter specialist Daya Nayak. Audience in Maharashtra should be thankful that his first love remains Marathi theatre and Marathi films.
The character of Ram, who is an accomplished actor and a great pal of the 'natsamrat' is not there in the play. However, Vikram Gokhale's portrayal of Ram is not just compelling, it is, in fact, as moving as Nana's character. There is not a single scene when you feel this this character is a misfit. The scenes where Nana and Gokhale share screen space are a sheer delight. The command with which they have tackled these scenes and the hidden layers of their respective characters is yet another reminder of the greatness of these two performers.
It is said that Mahesh Manjrekar wanted to make Natsamrat in Hindi. He did not and wisely, too. The English subtitles take care of language barriers. The very soul of Natsamrat, the play, and now the film, too, is essentially Maharashtrian.
Film: Natsamrat
Language : Marathi
Director : Mahesh Manjrekar
Cast: Nana Patekar, Vikram Gokhale, Mrunmayee Deshpande, Sunil Barve
Rating: 3.5