Known for light-hearted comedy and romance in his two earlier films (Kadhalil Sodhappuvadhu Yeppadi and Vaayi Moodi Pesuvom) director Balaji Mohan has made a bold attempt to break into the highly volatile commercial 'masala' segment with Maari. Its protagonist Dhanush (Maari), well-known, in most of his earlier films, for action scenes, moves easily into the skin of the character—a local daadha with not much to aspire for in life other than to indulge in his favourite pastime of racing pigeons, late evening drinking bouts and carrying out 'righting the wrong' chores of his boss. Within a hard and menacing exterior of a cigarette-smoking, moustache-twirling façade, Maari has a soft heart; his demeanour changes the moment he is with his pigeons. And, unknown to his neighbour, Maari pays the fees of the school-going girl.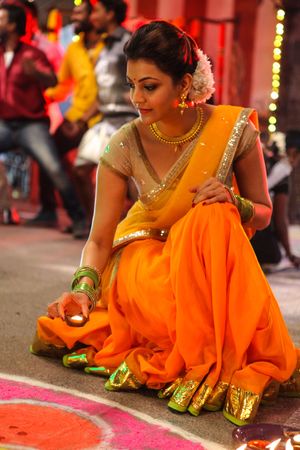 Maari will never allow 'love' to enter his life, despite the best efforts of Sridevi (Kajal Agarwal) who moves into the neighbourhood to start a clothes shop. Maari is not a MCP, but strongly feels that letting a woman enter his life will rob him of his freedom, waywardness and taking life one day at a time. He learns an important lesson, in a moment of drunken melancholy when he confesses to a scheming Sridevi, about his involvement in a crime, albeit as an accessory; enough to send him to jail. The story is simple: The pigeon is the real hero and the plot revolves around the camaraderie as well as the enmity surrounding the sport of racing them. When Maari's competitors play dirty, damages his reputation, sends him and his boss to jail and usurps their 'territory', the real story begins. On his release from jail, Maari sets about to right the wrong and in the process, learns that the newly moved in police officer (played by singer K.J. Yesudas's son, singer Vijay Yesudas) is not only corrupt but also wanted to annexe for himself, the 'territory'. As usual, might, right and justice, in that order, prevail. But, Maari spurns the 'love offering' from Sridevi, deciding that friendship is better than a noose around his neck!
Balaji Mohan's script is not without flaws, but Maari is a fictional feature film, to be viewed purely for its commercial qualities, its entertainment value and, in the latter department, there is not one moment of boredom. The editing (Prasanna G.K.) is superb making Maari a fast-paced movie. Anirudh, Dhanush's close buddy who gave him a world-wide hit in Why This Kolaveri Di? has not only delivered a couple of foot-tapping numbers but has accelerated the scenes with appropriate background scores. In a cameo, Anirudh appears as himself and even shakes a leg with the hero who is well-known for his 'thara local' dance moves.
Dhanush has many inspirations to hone his acting skills—a director-producer father in Kasturi Raja, a director brother in Selvaraghavan and, not least of all, a father-in-law in super star Rajinikanth. Dhanush knows that punch lines and related actions are a must and action laced with comedy and right doses of romance will form the right 'masala' for churning out tasty dishes for his fans. Helping him in this endeavour, Balaji Mohan has come up with the right character and screenplay; in fact, Balaji has gone on record to say that the script was written with Dhanush in mind.
Vijay Yesudas as the corrupt cop and Robo Shankar as the hero's sidekick have delivered commendable performances. No blood and gore, just two hyperactive fights and subtle comedy in one-liners, less the usual slapstick, mark the highlights of the film.
Will Maari crack the box office? I am sure of that happening in the B & C segments, but the crucial A? With no competition from any big film, a Ramzan weekend and playing to the gallery (Maari's constant one-word-liner: "seyinchiduvaen"—meaning, I will do the needful!), or as Dhanush terms the film a 'thara local', will surely ensure a wave at the box office.
Producer: R. Sarathkumar, R. Radikaa Sarathkumar, Listin Stephen
Written & Directed: Balaji Mohan
Actors: Dhanush, Kajal Agarwal
Music: Anirudh
Rating: 3 out of 5 stars