I still remember the awe I was overcome with, as I walked out after my first superhero flick. "Who am I? I'm Spider-Man," I would keep telling myself, echoing the last lines of the film. In my preadolescent mind, there was no experience that could come close to that one. Tobey Maguire was something else to me.
It has been 15 years since director Sam Raimi treated the world to Marvel comics' first silver screen hit. Until then, superhero movies were poor alternatives to mainstream films and were generally taken lightly. But Raimi's Spider-Man was different. It didn't just have a fancy action hero, it told a story worth listening to. The only films worth noting, prior to this, were several Supermans and Batmans, but nothing from Marvel.
The second installment (2004) was equally good, if not better. Though the third (2007) was a damp squib, by then the web-slinger had set the ball rolling—Marvel comics was firmly in the business. A decade and a half later, industry analysts point to that trilogy for the onslaught of big-budget superhero films that have taken the cinema world by storm.
It is, thus, befitting as well as heartening that Spider-Man: Homecoming is yet another milestone in the burgeoning superhero market. The boy wonder made his bow with a brief appearance in Captain America: Civil War, and as the Marvel Cinematic Universe (MCU) continues to mould their characters one by one, Homecoming gives a refreshing, hilarious and fun account of the coming-of-age teenage hero.
Sony Pictures owned the cinematic rights to Spider-Man until 2015, when Marvel Studios decided to collaborate with them to introduce the crime-fighter to the Avengers. It has been a long wait, but the two studios have done well to bring out this reboot—the second such reboot in the 15 years since the first Spidey movie.
The first reboot The Amazing Spider-Man (2012), was high on graphics, had a wittier Spidey (Andrew Garfield) than Maguire's, but was terribly low on substance and execution. The sequel (2014) is said to be worst of the lot, and it was no surprise that Sony decided to do away with a third. Director Marc Webb's web-slinger hadn't quite kicked ass.
Homecoming was always going to be different, and it was evident all through the promotional campaigns leading up to the film. Unlike the previous two series, we are spared of the whole, familiar drill of how he became Spider-Man, and it instead takes us through his journey of discovering the extent of his powers.
A 15-year-old Peter Parker returns home after his overwhelming introduction in Civil War. He desperately yearns to join the Avengers, but Tony Stark is firm that he learn to be a "friendly neighbourhood Spider-Man" first. So Parker continues to be the unpopular geek in school, whose excuse to go fight crime is that he has a Stark Industries "internship".
As he fumbles his way through his mid-teens, he is an error-prone, awkward vigilante who doesn't know how to interrogate villains, struggles to keep his identity a secret, makes poor judgements while fighting and is just trying to look cool. The attention to detail, from him putting on the suit, to his mistakes and quirks to answering the basic questions about his powers and equipment are all portrayed with much care and expertise.
He's left to handle petty crimes, much to his chagrin, until he stumbles upon a group that has secretly been up to no good. Led by Adrian Toomes aka Vulture, the group has been stealing leftovers from the Avengers' battles to make weapons on their own. Either due to ignorance, or the because it is "below the Avengers' pay grade" to deal with such people, Spider-Man takes it up on his own to stop the illegal activity. His inexperience is evident, but over the course of the film, he gets better with the job.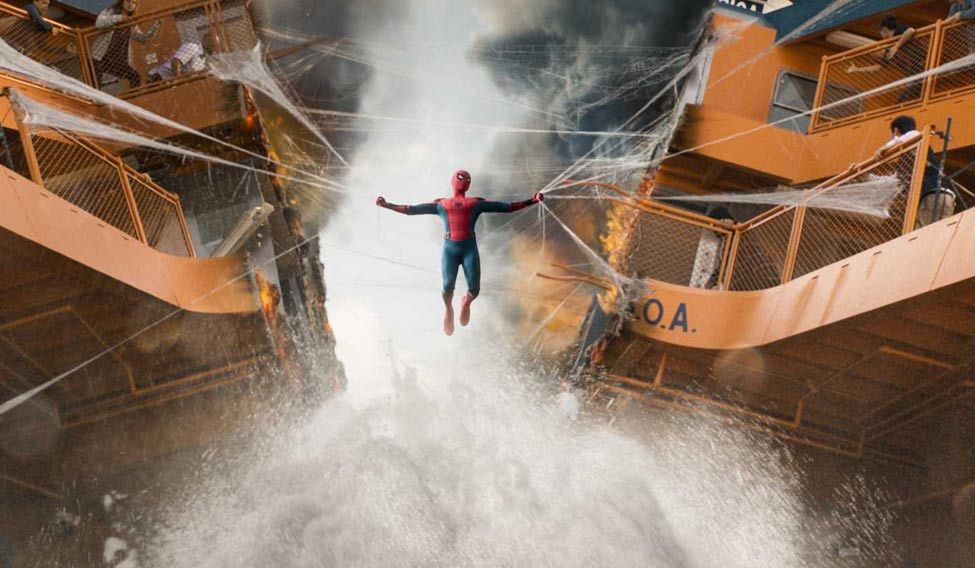 There is a lot to be said about Tom Holland's portrayal of Spider-Man. For once, Peter Parker actually looks like a high-schooler, and brings the kind of wit that Deadpool brought, minus the cussing. Holland's performance is seamless and his character is wide-eyed and relatable. With the highly advanced suit provided by Mr Stark himself, he has his own computer to talk to (similar to J.A.R.V.I.S.). He may be a kid, but it would be fair to say that among all the Marvel off-screen demigods, this boy delivered best.
Michael Keaton as the Vulture is yet another villain who is spurred to the dark side because of the collateral damage of the Avengers' battles. Keaton is used to playing a bird man, and this outing is yet another reminder of why he is one of the industry's more under-rated actors. He plays a soft baddie, who is hesitant to kill, and he delivers the goods with great ease. The best part about Toomes is his top-notch character development as the villain—the lack of which Marvel critics have always complained about in previous films.
The supporting cast—Robert Downey Jr as the irreplaceable Tony Stark who keeps bailing out the rookie hero, Jon Favreau as Happy Hogan, Laura Harrier as the dreamy Liz (Peter's love interest), Jacob Batalon as Peter's "guy in the chair" Ned and Marisa Tomei as the (ahem) attractive Aunt May—have donned their roles to perfection and do more than just support the lead character.
Director Jon Watts had this to say in one interview: 'The biggest difference between this Spider-Man movie and the rest is that he isn't the only superhero in the world, he's now part of the Marvel universe. That's the way Spider-Man was always meant to be seen. When Stan Lee and Steve Ditko created Spidey in the 1960s, it was to give a younger person's point of view of the world of superheroes. That was a big part of the appeal of Spider-Man and it made him iconic. This is the first time we get to see Spidey the way he was meant to be seen."
That is what makes the film so great—rebranding Spider-Man's role and his place in the franchise. It was a big gamble to hand over the movie to the relatively unknown Jon Watts, but his handling of the movie's script is highly commendable.
That said, Homecoming also has its drawbacks. The film has a brilliant climax, but as it ends, it feels a bit incomplete, perhaps in the makers' attempt to keep it short and simple. The movie also lacks the requisite hero-villain stand-off, but that is pardonable.
To some extent, there is the expected overbearing influence of the Avengers agenda on the movie, from the first scene to the last. (Most of the movie uses a background score on the lines of the Avengers theme and very little else that stands out.) But full credit to Jon Watts and his team of writers for writing a script that discovers new boundaries and uncharted territories of superhero flicks.
Another departure from the regular is the diversity in the film. Holland is British, Batalon is an plump Filipino-American, Harrier is half black and the actor who plays Parker's school rival, Flash, is Guatemalan. If it counts for anything, there is also a lengthy Indian wedding scene.
As yet another well-crafted superhero movie is gifted to our generation, swing to your closest theatre to bask in the beauty of this work of art. With all the elements neatly packaged, it's a two-hour odd movie, that isn't as long as this review.
Before you leave, here's a fun fact: It is said that Tom Holland actually did most of the stunts. Holland grew up as a 'weirdo' just like Parker, as he had done ballet in school, for which he was laughed at. Invariably, it was his ballet training that helped him swerve and twirl to fetch the role. Who's laughing now?
Film: Spider-Man: Homecoming
Director: Jon Watts
Cast: Tom Holland, Michael Keaton, Laura Harrier, Robert Downey Jr
Rating: 4/5