Nawazuddin as Dasarath Manjhi is not only impressive but convincing, too. From dialogue delivery to body language, the talented actor scores on every front.
Year 2015 is turning out to be rather special for Nawazuddin Siddiqui. First, he earned accolades for his terrific performance in Sriram Raghavan's revenge drama Badlapur and then, recently, he tasted commercial success with Kabir Khan's highly anticipated film Bajrangi Bhaijaan. And now his third release of this year Manjhi—The Mountain Man is out. While there is no denying the fact that Siddiqui is one of the finest actors of this generation, with this biopic he has proved that he can pull off a film on his own as well.
Directed by Ketan Mehta, the film is based on the true story of Dasarath Manjhi who carved a path through a mountain in Ghelaur village of Bihar, using only hammer and chisel. By now everyone is aware of Manjhi's awe-inspiring tale but there is always more to the story than what meets the eye. And that's exactly what Ketan Mehta has tried to offer in his latest directorial venture. He has shown the colourful and funny side of the man who single-handedly moved a mountain. The talented filmmaker has also highlighted other issues like untouchability, corruption and drought. But if it wasn't for Nawazuddin's acting skills, it would have been a forgettable biopic.
The film starts with Manjhi (Nawazuddin) pelting stones at the mountain and promising to break it down. His clothes are drenched in blood and that's when few villagers pass by and call him a lunatic. But Manjhi is unmoved and the next day he sets out on his mission to break down the mountain. Thereafter, the story goes into flashback when Manjhi is just a child. He is a son of a low-caste bonded labourer. When Manjhi's father fails to repay the money he owes to the Mukhiyaji (Tigmanshu Dhulia), he decides to sell his son as a bonded labourer. However, Manjhi runs away from his village and returns after seven years to find out that nothing hasn't really changed.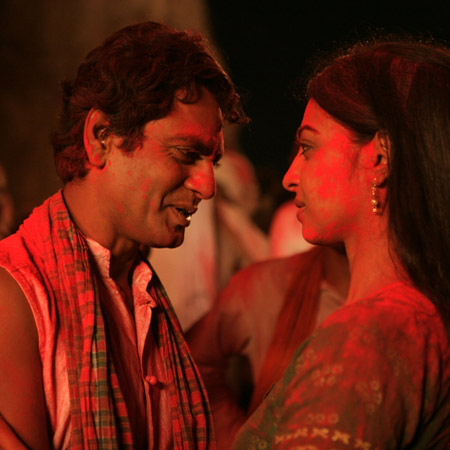 Nawazuddin Siddiqui and Radhika Apte in a still from the film
On his way back home, Manjhi meets Phaguniya (Radhika Apte) and falls in love with her. Later, he finds out that she was the one he got married to in his childhood. Since Manjhi is unemployed, Phaguniya's father decides to get his daughter remarried to someone else. After much drama, Manjhi succeeds in eloping with the love of his life. However, his life changes forever when Phaguniya slips from the mountain and dies.
Manjhi decides to take revenge from the mountain for taking away his wife. With a hammer and a chisel, he starts chipping away the giant mountain. Nobody comes forward to help him, not even his own father. There comes a time when the village is struck by drought and everyone flees except him. Even a snake bite doesn't stop him from hammering down the mountain. He then becomes the victim of corruption and is sent behind bars. But none of these hurdles stop Manjhi from achieving his ultimate goal. Finally, after toiling hard for 22 years, the 'Mountain' surrenders and he accomplishes the unimaginable.
Nawazuddin as Dasarath Manjhi is not only impressive but convincing, too. From dialogue delivery to body language, the talented actor scores on every front. He has also got the most powerful dialogues in the film and they hit you right in your face. You laugh with him and also empathise with him. In a nutshell, you live the journey with him. That's how good Nawazuddin is in the film as Manjhi. Radhika Apte doesn't have much screen time but she does a decent job. The supporting cast isn't bad either. The film, however, truly belongs to that one man.
The fact that Ketan Mehta decided to portray the story of an unsung hero on the big screen is commendable. But he fails to nail this one as far as execution is concerned. The romance between Nawaz and Radhika is too filmy and it certainly doesn't blend well with the flow of the story. Also, Mehta has tried to tackle too many issues in this two-hour film and hence the story often seems chaotic. But mostly Nawazuddin makes up for it with his brilliant acting. Guess Ketan Mehta wasn't wrong in believing that nobody can play Dasarath Manjhi better than Nawazuddin.
Overall, the film is worth watching not just because Nawazuddin has given an amazing performance but because this is one story that will indeed inspire you to follow your dream no matter how big or tough it is. After all, it can't be tougher than breaking down a mountain, right?
Film: Manjhi—The Mountain Man
Director: Ketan Mehta
Cast: Nawazuddin Siddiqui and Radhika Apte
Rating: 3