A few things are established right in the beginning of Trapped —that you're desperate for love or company in urban cities like Mumbai, that housing is a big deal troubling each person in different ways, and that no one cares. The beginning is also the time when the film features more than one person on screen, otherwise it's a one-man show put up by Rajkummar Rao as Shaurya.
The film reminds us of Dastak (1970), which captured the struggles faced by a newly married couple when they move into a rental flat earlier occupied by a nautch girl in a red light area (to of course fit the rent within a stipulated budget). Trapped shows the struggles of a young man wanting to settle down with the love of his life. Shaurya has his share of financial constraints and he doesn't have the high deposit amount you usually require to rent a flat in Mumbai. But he still strikes a deal, fortunately or unfortunately, and rents a flat in a desolated high rise which has been vacant for two years since it has been built. A metallic door and a tricky lock aside, the flat has issues with water supply and electricity, and a watchman with a hearing impairment.
The 'no one cares' attitude is quite reflective when Shaurya plans to vacate his shared apartment and announces it to his room mates to end up with almost no reaction. He goes ahead anyway, just to find himself trapped on the first morning, after spending a night in his new flat.
From here onwards, filmmaker Vikramaditya Motwane and cinematographer Siddharth Diwan take up the challenge to portray the conflict of one man trapped inside an apartment, and still engage with the audience. While you anticipate who will come to rescue the young man stuck in a very normal situation—that of being in his home—you can't help but wonder if there would be any dialogues. There are! Shaurya finds company in a rat of which he is scared of in the beginning but makes do with later.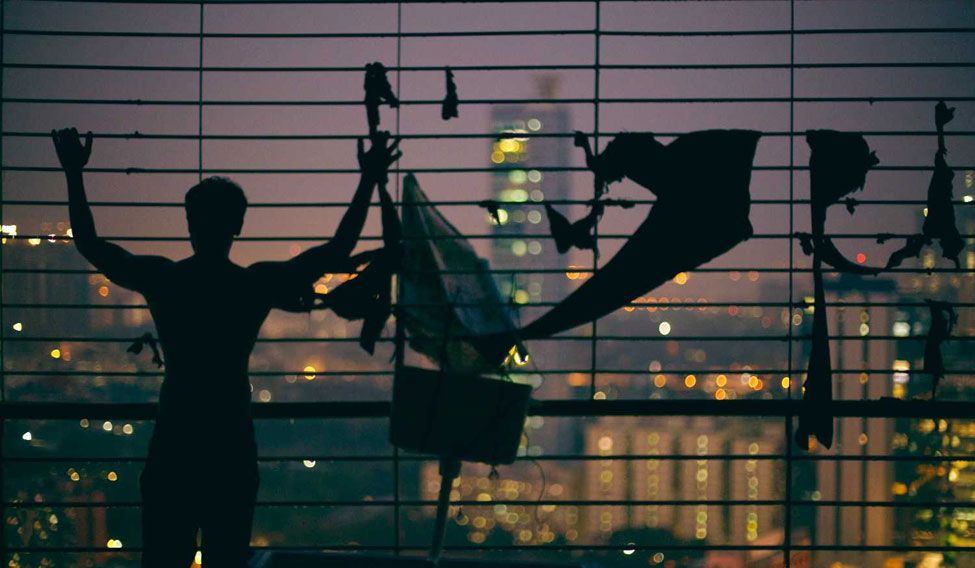 Like Ryan Reynolds' Paul Conroy in Buried (2010), Shaurya isn't stuck in a coffin, six feet under the ground. Neither does he have a cellphone with a 'no signal' sign; he doesn't have it at all thanks to no electricity. But still, the claustrophobia is somewhat similar, especially when as an audience you are just left with one actor and his surroundings. Though a few scenes try to lighten up the drama, there is anxiety and fear of a nervous meltdown. Motwane, who has earlier surprised us with an unusual yet subtle father-son drama in Udaan and later with the period romance in Lootera, manages to surprise you yet again with a film minus an intermission, a concept rarely explored in India. The last time was with Dhobi Ghaat and Delhi Belly.
Coming to think of the flaws, the background music by Alokananda Dasgupta, at times, misses the punch. But most of the time, it keeps you glued to your seat. Especially because Rao does an awesome job as Shaurya, whether trying desperately to quench his thirst, even if he has to do so by drinking his pee, or when he, a staunch vegetarian, beats his hunger pangs by eating a bird.
Rao is too real and believable. There are no pretensions. You can relate with him in each and every scene. The best part is that even if it is only him and some shots are capable of grossing you out on a normal day, you wouldn't want to look away. You want to see the survival tricks he uses. You never know when these would come handy.
Film: Trapped
Director: Vikramaditya Motwane
Cast: Rajkummar Rao
Rating: 3/5