Eccentric, socially-awkward, brilliant and cocky private detective. Check. Not-so-brilliant best friend and sidekick. Check. In love with a con woman. Check. A brutal and wicked nemesis. Check. An unsolvable murder mystery. Check, check. Director Mysskin's new crime-thriller Thupparivalan, has all that it takes to make a Sherlock Holmes novel.
The critically acclaimed director is back with yet another crime thriller (his earlier flicks in the same genre, Yuddham Sei and Onaayum Aattukutiyum, were well received) but this time with a mainstream actor in the lead. The film unfolds with detective Kaniyan Poonkundran (Vishal) and his friend and assistant Mano (Prasanna) waiting for a case. They are then hired by a schoolboy to find out the reason for the death of his dog. As the investigation unfolds in true Sherlock-Holmes style, Kani unearths new murders and we are introduced to a gang of ruthless criminals, comprising Devil (Vinay), Pritha (Andrea Jeremiah), Muthu (director K. Bhagyaraj). The film goes on to focus on more murders and how they all are interconnected.
The narration is interesting and keeps the audience at the edge of their seats. Although, initially, the audience may lose track of the investigation, towards the interval, the narration gets crisper with each murder and the horrific way in which it is committed. Arrol Corelli's background score—which is dominated by violin—acts as the backbone to the narration, heightening the pulse and tension of the audience.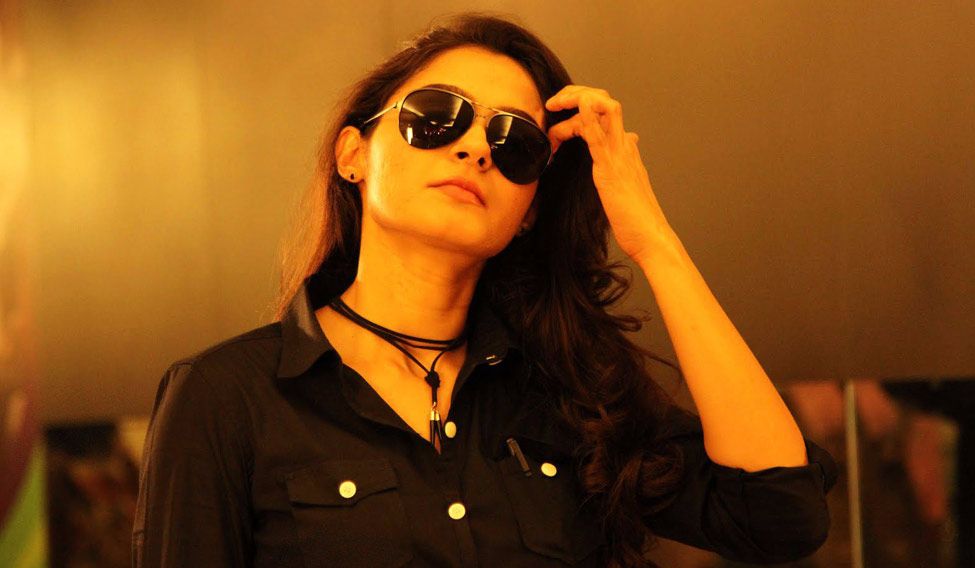 Andrea Jeremiah in a still from the film
Vishal, as the eccentric and brilliant detective, is impressive, though one cannot miss the way he tries to imitate both Robert Downey Jr. and Benedict Cumberbatch who have played Holmes on the silver screen and small screen respectively. The power-packed action sequences are a visual treat, though there is some resemblance to the fight sequences in Guy Ritchie films. Extra points for Vishal for performing the realistic and dangerous stunts himself. However, though Kani appears to be a master of deduction, the director has failed to explain the observations and the reasons for deduction, which are generally found in Holmes films.
Prasanna as Mano adds humour to the narrative. He is much more than a sidekick in the film. Vinay is subtle yet impactful as the antagonist. Thupparivalan will surely give Vinay and Prasanna the much-needed breakthrough in the industry. The impressive array of actors, comprising Simran, Andrea, Bhagyaraj, Anu Emmanuel and John Vijay, do justice to their roles.
What makes Thupparivalan different from other Mysskin films, is that how he has done away with some of his visual narration techniques and, in the process, has found new ones in the film. Mysskin is definitely one of the most intriguing filmmakers of our times, enthralling us with his innovative storytelling techniques, which connect with the deepest emotions within us.
Film: Thupparivalan
Director: Mysskin
Cast: Vishal, Prasanna, Vinay, Anu Emmanuel, Andrea Jeremiah
Rating: 3.5/5