Even before the film's release, the title song of Sooraj R. Barjatya's latest offering, Prem Ratan Dhan Payo (PRDP), had been parodied. From Beyonce dancing to the tune (in a video mixed by a fan) to digs at an 'ageless' Salman romancing a heroine his 'niece's age', social networking took potshots at the return of the 90s-style family drama, typical of the Rajshri production house, which had earlier collaborated with Khan on films such as Maine Pyar Kiya, Hum Aapke Hain Kaun and Hum Saath Saath Hain.
Spoiler alert. PRDP has Salman Khan in a double role. SK1, that is Prem Dilwala, lives in Ayodhya, is part of a local Ramleela troupe, and believes in, well, spreading the message of love, that includes donating his meagre earnings to Rajkumari Maithili's (Sonam Kapoor) charity. His entry in the film, marked by mock roughing up of two men, evokes hooting among the loyal fans in the audience, while Kapoor dressed in 'charity chic' lowers herself from a helicopter in a rescue mission. SK2 aka Vijay Singh is the rich, eldest prince of an imaginary Pritampur royal family, speaks several foreign languages, sports a moustache, is trained in sword-fighting but is forced to eat boiled food given his weak digestion.
In a typical twist of fate, SK1 finds himself in place of SK2 after the latter is nearly killed in a conspiratorial attack. SK1 is seen trying to win over the estranged, disgruntled family members through 'undying' messages of love and 'family is all important' gestures. As some young viewers guffawed after the film, "it had all the typical Sooraj Barjatya film elements" with just the "dog missing".
Mobiles, cameras, photography and old-style landline seen alongside depict a curious mix of tradition and modernity. Characters such as Aashika Bhatia as the younger step-sister who loves football and Sonam Kapoor's initiative in terms of her sexuality, is the film's interpretation of women power. The new-age Prem, devoid of a moustache, the quintessential symbol of masculinity worn by his princely counterpart, is focussed on making his woman happy, noting her grievances in a notebook or sharing the royal inheritance with his step-sisters. The philandering of their father, the dead king, is glazed over as the siblings from different mothers are forced to come together as one big happy family given a 'fierce' bond of love.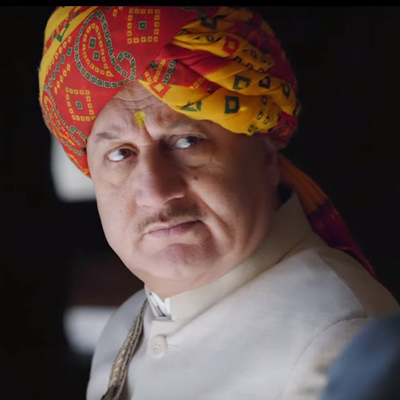 Anupam Kher as Bapu
Almost a dozen forgettable songs stretch the plot, with strains of the Titanic theme being gleaned from the soundtrack in the initial segment. Cliches abound such as a young SK2 rescuing his younger brother (Neil Nitin Mukesh) in the family's 'sheesh mahal', a feat repeated in the finale between their older versions. The palace made of mirrors is also symbolic of reflecting on siblings' childhood memories, which must bring them together.
No marks to Khan or Kapoor for their acting. The latter gets another chance to showcase her fashionista self while the former tries to get away with exaggerated comic expressions.
It's hard to miss Anupam Kher, the trusted diwan, named Bapu by SK1 with propaganda-esque ads in the film's interval drawing parallels between Gandhi and Modi as well as sarkari-style messages of 'respecting your parents'.
In short, PRDP reminds you of the bumbling, gaudily-dressed neighbour who insists on stuffing your mouth with oh-too-sweet mithai, wearing you down with their preachy, dramatic rants making themselves comfortable in the family drawing room over three hours, making a customary visit on Diwali.
Film: Prem Ratan Dhan Payo
Director: Sooraj R. Barjatya
Cast: Salman Khan, Sonam Kapoor, Anupam Kher, Neil Nitin Mukesh, Swara Bhaskar
Rating: 2.5