One of the biggest risks in making a remake is that there is no surprise element especially if the film belongs to suspense thriller genre. But with Ajay Devgn-starrer Drishyam, which is a remake of the Malayalam blockbuster of the same name, the case isn't exactly the same, thanks to some powerful performances.
Vijay (Ajay Devgn) is a cable operator who is a big time movie buff and a quintessential family man. He is a doting father to two daughters and will go to any length to protect his family. He isn't highly educated but still manages to help an old couple whose son has been wrongly arrested by a corrupt police officer. Vijay gives correct legal advice to the distressed couple despite having no formal education and that is because of his love for cinema. He learns all the tricks of trades from the films he watches every night. And that's how he also succeeds in saving his family from the police after they are suspected of having killed Inspector General Meera Deshmukh's (Tabu) son Sam.
During a camp trip, Vijay's eldest daughter meets the lecherous Sam, because of whom she gets embroiled in an MMS scandal. And when Sam goes to Vijay's place to blackmail her, he gets killed in a freak accident. That is when Tabu makes her entry and the story takes off. How Vijay saves is family from the police forms the rest of the story.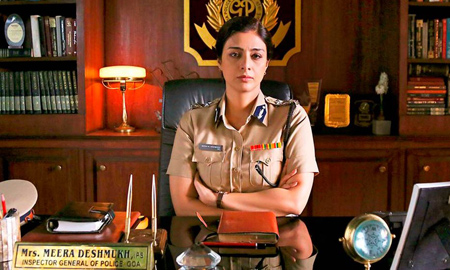 Devgn as Vijay is mighty impressive. After a long time, the actor is playing a simple character and that is refreshing. His intense eyes add the much-needed edge to his character and helps him to play his role to perfection. Tabu, too, does full justice to her multi-layered character, switching between the roles of a ruthless cop and a loving mother with ease. You will hate her as the cop but you will empathise with her as a mother desperately searching for her son. Shriya Saran, who plays Ajay's wife, delivers an average performance. Rajat Kapoor does not have much screen time but he does a decent job as Tabu's husband.
Director Nishikant Kamat stays true to the original script, which is the best part about the Hindi version of Drishyam. Yes, the first half of the film is a bit slow. The characters take too long to establish themselves. Also, Shriya has quite a few important scenes in the film but she never really rises to the occasion which is disappointing. But Devgn makes up for it with his solid acting. All his scenes with Tabu are to watch out for. Every time they come face-to-face, you know sparks are going to fly and they do. It is a visual treat to watch Ajay and Tabu come together for a film like Drishyam wherein an actor's performance is as important as the story.
Devgn, who, in the recent past, has established himself as an action superstar, proves that he is equally good with intense roles. Tabu, too, has once again underlined her versatility as an actor with Drishyam.
Film: Drishyam

Director: Nishikant Kamat

Cast: Ajay Devgn, Tabu, Shriya Saran and Rajat Kapoor

Rating: 3