One day, a goat lost its way and ended up at Prabhu Deva's doorstep with a half-eaten book on sardar jokes it had found on the way. The director, who was lying low after the 2014 shocker Action Jackson, managed to extract whatever was left of the book. He glanced through it and rang up Akshay Kumar, who gave him his last hit Rowdy Rathore, in 2012. Rest is… Singh is Bliing.
The result? A gooey lump of stale sardar jokes and clichés masquerading as a script, the credit for which goes to an entire production house, interestingly named, Grazing Goat Pictures. So, we have Akshay as Raftaar Singh, the happy-go-lucky village darling who whiles away his time and father's money. As is mandatory in all Prabhu Deva films, the hero is introduced through an over-the-top song—Tung Tung Baje in this case, which, though catchy, is a melting point of everything stereotypical about sardars. And yes, a camel and a horse match steps with Akshay in the song. Completely natural in a place where even cows talk and a lion ends up in an SUV.
His strict father (Yograj Singh), however, puts his foot down and sends his illiterate son to Goa to work under his friend, a casino owner, brushing aside the tears of the doting mother (Rati Agnihotri). In Goa—where, for some reason, Raftaar keeps one leg of his trousers folded up to the knee—the screenplay goes into the overdrive to underline the sardar's stupidity.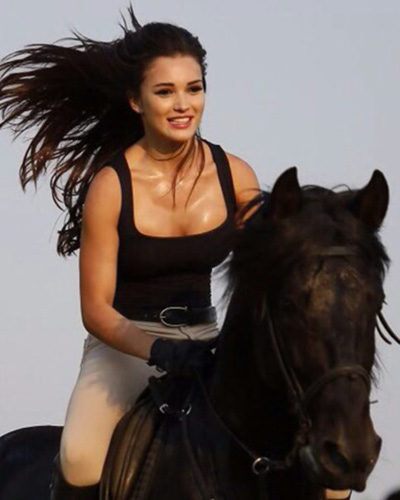 Now that we have the hero, wondering where the heroine and the villain is? In Romania, no less. Enter British actor Amy Jackson as Sara, the daughter of a don. She fits the description of 'a kick-ass girl', who talks less (only English, no Hindi) and punches and kicks more. Women empowerment, eh? Going by how the women were characterised in his earlier films, especially Action Jackson, Deva seems to have tried to redeem himself here.
Stalking Sara is the quintessential villain Kay Kay Menon as Mark, another don, with long greasy hair, dark clothes and is a narcissist—every time he remarks "I am too good", we wish we could have shared the same feeling. So, to escape Mark, Sara goes to her father's friend in Goa (where else?) who owns a casino. Yes, the same guy, the same casino. Raftaar is entrusted with her safety and he falls in love with her (yawn). But language becomes an obstacle.
Like a whiff of fresh air comes Lara Dutta as Emily the translator. Or Imli, as Raftaar calls her. Her translations are hilarious and her comic timing and body language complement her character well. Though her character is goofy at times—her sleepwalking sojourns might leave you bewildered—Lara carries off her first out-and-out comedy role with remarkable poise. She is truly the surprise element in the film.
But don't expect any surprises or twists in the story as Sara eventually falls for Raftaar and… you get the drift, right? Sigh… if only the script was the only casualty.
The editing and direction could have been tighter. Be it the scenes where Raftaar effortlessly switches between a full beard and a trimmed one in a matter of minutes, or the dance sequences where at least one of the dancers is out of sync or, the worst of them all, where the dummy is clearly visible in a car crash scene. In the climax—a fight scene, of course—Raftaar is beaten up by around 20 guys on a bridge but there is neither a speck of dirt or dust on his tuxedo nor a crease. Even the tie remains in place!
Those who swear by Akshay, might find the film worth watching at least once. For others, sitting through 141 minutes of this 'comedy riot' will get their goat.
Film: Singh is Bliing
Cast: Akshay Kumar, Amy Jackson, Lara Dutta, Kay Kay Menon
Director: Prabhu Deva
Rating: 2