In the 18th century there lived a great Maratha warrior, Bajirao Ballal Bhat, who, at the tender age of 20, was appointed the Peshwa—prime minister—of the great Maratha empire. With his military acumen and inspirational leadership, Peshwa Bajirao or Rao, as he was popularly called, went on to win all the 41 battles he fought and contributed greatly to the expansion of the empire to the Deccan region and the north, till his death in 1740 on the battlefield due to fever.
And there is a Peshwa Bajirao, who pierces a peacock feather with an arrow, leaps as high as an elephant, dances like a man possessed albeit with well-choreographed steps after a battle victory, loves passionately, catches an arrow mid-air, just millimetres from his eye, takes on hundreds of enemy soldiers with only two urumis—whip-like, flat double-edged sword—in hand, and even helps deliver a baby! Sanjay Leela Bhansali's Bajirao Mastani is more about this larger-than-life Peshwa than the real one. But who's complaining.
With historical inaccuracies taken care of through an early disclaimer, the love story of Bajirao and his second wife Mastani is Bhansali-fied, with his ever-familiar overwhelming regard for opulence and grandeur. Each frame in this 158-minute drama is a visual spectacle, be it the intricately-designed costumes by Anju Modi or the enchanting cinematography by Sudeep Chatterjee.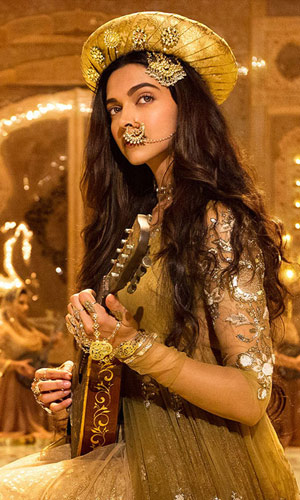 Add to that three beautiful actors sharing space, and it becomes difficult to take your eyes off the screen. The effervescent Ranveer Singh reprises the role of Bajirao with great elan and confidence, though his uninhibited energy occasionally rears its head, especially in the Malhari song. The real Bajirao was said to be an epitome of manliness, and though Ranveer lacks the screen presence of, say, Hrithik Roshan in Jodhaa Akbar, he, with his chiselled torso, handlebar whiskers, shikha (the lone tuft of hair on an otherwise clean-shaved head of a Brahmin), intense kohl-rimmed eyes and a touch of Marathi slang, brings Bhansali's Bajirao alive on screen.
The Peshwa takes a detour during his expansion spree to save Bundelkhand, which is under siege, from Mughal general Muhammad Khan Bangash, and in the process falls in love with the Bundelkhand king's feisty daughter—(whistles and hoots) Mastani (Deepika Padukone). Mastani is born of a Muslim woman and so, Bajirao's mother (brilliantly portrayed by Tanvi Azmi) refuses to accept her as his wife and humiliates her. Deepika, who makes a kick-ass entry as Mastani, mellows down gracefully later in the film, tolerating the Maratha family's atrocities, at the same time defending her love and faith vehemently. The reel chemistry (real-life, too) between Ranveer and Deepika makes it difficult to imagine other actors in these avatars. And to think Salman Khan was considered for the role of Bajirao when Bhansali conceived the plot almost a decade ago.
While the focus is on Bajirao and Mastani, Priyanka Chopra as his wife Kashibai gives the lead pair a run for their gold. A devoted and dutiful wife, Kashibai is devastated when she learns of her husband's affair but she does not shirk away from her duties—even welcoming Mastani to the household with an aarti. Priyanka Chopra is adorable as Kashibai and her portrayal of an anguished wife torn between her duty as a wife and the pain of having to share her husband deserves a big applause. Not only does she score over Deepika in the acting department, she stands a notch above with her dancing skills in the Pinga (a la Dola re dola from Devdas) song, too.
The music, including the background score, by Sanchit Balhara and Bhansali and choreography deserve special mention. And so do the supporting actors, be it Vaibbhav Tatwawdi as Bajirao's brother Chimaji Appa, Tanvi Azmi or Milind Soman.
For all the talk about Hindustan, Hindu rajya and the kesari (saffron) flag on Red Fort, Bhansali's first historical drama drives home the point that though every religion promotes love, love, by itself, has no religion. Nor should a colour be associated to a religion. A proud Hindu nevertheless, Bajirao decides to raise his son Krishna borne by Mastani as a Muslim and names him Shamsher Bahadur, when the Brahmins refuse to hold the naming ceremony for the 'illegitimate child'. Preachy? Not really. Any message about equality and love is always welcome.
All's well that ends well, they say. Sadly, Bajirao Mastani doesn't. The climax is steeped in melodrama, right out of the Bollywood factory. That, and the lack of an engaging storyline apart from the love angle with a few war sequences thrown in, ruin what could have been a real blockbuster.
Film: Bajirao Mastani
Director: Sanjay Leela Bhansali
Cast: Deepika Padukone, Ranveer Singh, Priyanka Chopra, Tanvi Azmi
Rating: 3.5