Fast, and somewhat fierce, is what defines the pace of Kahaani 2—the two-hour long sequel to the 2012 film, both by director Sujoy Ghosh.
The part two does not pick up where the first one ended, standing instead as an independent story. Vidya Bagchi turns into Vidya Sinha (named after the actor in the film Rajnigandha) or Durga Rani Singh played by Vidya Balan who glides into her role effortlessly. Without a trace of makeup she shines, relentlessly inching towards her maternal calling. From a dull office administrator in a local school overcoming her inner demons, to a single mother in a small town, working to support her paralysed daughter, Minnie (Naisha Khanna), she turns into a 'most wanted' criminal towards the end, accused of kidnapping and killing.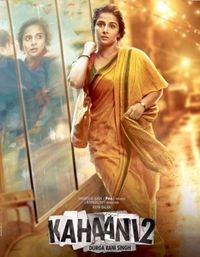 Arjun Rampal as Inderjeet Singh, the sub-inspector on an 'unexciting' posting because his 'gut feeling' about cases prevent him from landed promotions, looks good and manages to act well. The rich, twisted Mohit Dewan is played by the angelic Jugal Hansraj who has done a convincing job. Kahaani 2 is a suspense film with a well-etched underlying social message. The sequel, too, is set in West Bengal—between Kolkata, Kalimpong, and Chandan Nagar. As Vidya battles a long-standing trauma, working in the school, she is unknowingly aided by Arun, a man with the right intentions and good culinary skills, but whom she has to reluctantly let go. It is interesting to see how male characters are being portrayed in a nurturing avatar now. Beauty is no longer defined by fancy outfits or expensive layers of makeup, instead 'eating fresh fruit to enhance the complexion' is an idea of feminine vanity.
To put out a more critical analysis would mean giving away the film's premise even though one is able to figure the story out early on. Kahaani 2 does not have the upward curving suspense and sharp climax that the first film had. It jogs along nimbly in the first half and starts to lose pace with a couple of inconsistencies in the later part. The ball slips a little here, but Ghosh manages to get the game back on.
Film: Kahaani 2
Director: Sujoy Ghosh
Cast: Vidya Balan, Arjun Rampal, Jugal Hansraj
Rating: 3