The last dialogue in Dilwale that Shah Rukh Khan (Raj aka Kali) mouths to Kajol (Meera)—almost like a hat tip to the audience—comes from a film made 20 years ago starring the pair. You are compelled to ask if there any such line that one would recall from this film, 20 years hence. Sadly, the answer is no.
Kali and Meera belong to warring mafia families in Bulgaria. Their fathers, played by Vinod Khanna and Kabir Bedi respectively, end up killing each other. Following a cliched misunderstanding, the duo dramatically part ways and unknown to each other, never fall in love again or marry any other. They choose to retire with their younger siblings in Goa. He opens a car modification shop, she, a shack on the beach. Eventually, destiny brings them together, and they must reconcile their old differences.
This is Kajol's comeback to the big screen (as well as the return of the lead pair best known for their work together in the 90s) where she is shown as the quintessential 'strong woman', who can unhesitatingly pull the trigger, beat up a man who tries to harass her but ultimately needs her man's protection when confronted by a posse of baddies. The actor's looks for the film, something out of the fashion glossies, marking a shift from her earlier not-so-glamorous avatar, attempts to slice years off her age. She manages to look diva-esque in the scene where she confronts Khan in the gold heist, sporting a satin white shirt, ragged jeans, high heels, coiffured hair, wearing red lipstick and with red nails closed around a gun.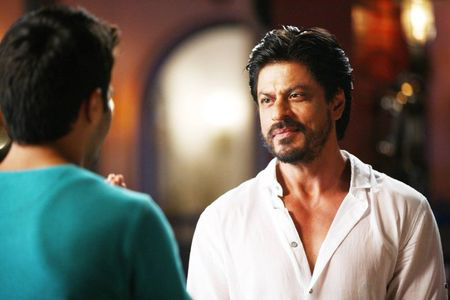 Khan, who starts out looking fatigued in the film, warms up and with his trademark intense eye-work switches between the sensitive relationship guy and the hard goon-basher with ease. Varun Dhawan (Veer) plays the cherubic, unsullied-by-the-world, younger brother, while his sidekick Varun Sharma (Sidhu) manages to bumble a point or two on the strains on young relationships today thanks to hyper-consumerism.
Unfortunately, for veterans Johnny Lever (Money Bhai) and Boman Irani (King), their roles and dialogues seem to be more like space-fillers and most of the jokes fall flat. Mainstream Bollywood has a long way to go with slapstick comedy in general.
The action sequences are fairly slick, Khan gets all the hoots from the audience, most songs are forgettable except rang de tu mohe gerua, which has already become quite popular.
In short, it seems filmmaker Rohit Shetty has taken the visceral, enduring chemistry between Khan and Kajol of the 90s, built a plot around it, thrown in some characters, wrapped it up with a rainbow and presented with a flourish.
Masala films like these, replete with tears, kicks, colour, glamour and lavish backdrops, are like occasional junk food treats. In this one, Khan-Kajol serve it up well. For nothing else, watch it for their searing chemistry alone and treat the unwilling romantic in you.
Film: Dilwale
Director: Rohit Shetty
Cast: Shah Rukh Khan, Kajol, Varun Dhawan, Kriti Sanon
Rating: 3