A woman (Ramya Krishnan as Sivagami) emerges out of a cave with a torch in one hand and a baby in another, with an arrow pierced into her back. She swims, holding the baby above the furious waters and delivers him into the safe hands of some tribals. Her hand points upstream while handing over the baby and there begins S.S. Rajamouli's magnum opus.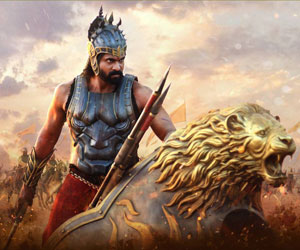 Rana Daggubati as Ballala Deva
Touted as the most expensive Indian film ever made, at Rs 250 crore, Bahubali—the beginning lives up to the expectations with such poignant scenes and much more. The 160-minute period extravaganza has all the wow factors—awe-inspiring cinematography, tight screenplay and a breathtaking battle sequence, with liberal doses of rivalry, rebellion, revenge and betrayal.
The story revolves around Shiva (Prabhas), who is born into the royal family in the kingdom of Mahishmati, but is smuggled out of his land and raised by a tribe. He is kept in the dark about his lineage. He grows up into a handsome hunk with the strength of Superman, the agility of Tarzan and the playfulness of Krishna. Heady combination, we must say.
And as most young men do, he, too, falls in love. With the beautiful and feisty Avanthika (Tamannaah Bhatia), who is part of a rebel group, which is in hiding and on a mission to rescue Devasena (Anushka Shetty), who is held captive by Ballala Deva (Rana Daggubati).
Both Prabhas and Rana have done complete justice to their roles as far as their appearances are concerned, with the latter complementing it with his smouldering eyes and raw emotions. Prabhas, however, fails to emote, especially in the romantic scenes. His biceps do most of the talking, be it while pulling a rope to steady a giant, golden statue or while walking with a huge shivalingam on his broad shoulders! As for Tamannaah... er... she is gorgeous, no doubt.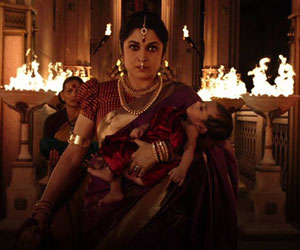 Ramya Krishnan as Sivagami
The film breezes through the first half with the focus firmly on Shiva. Second half is where the film picks up on all fronts. Shiva comes to know about his lineage and comes to the kingdom's rescue when it is under attack. Ramya delivers a stunning performance as the mighty leader of the Mahishmati kingdom. Veteran actors Nasser and Sathyaraj, too, have done their reputations no harm with their stellar performances in supporting albeit important roles.
Thanks to the VFX team, Sabu Cyril's sets and K.K. Senthilkumar's cinematography, the arid plains, cascading waterfalls, snow-clad mountains and the vast kingdom of Mahishmati look extremely believable. The battle sequence, which lasts for more than 30 minutes, can give Hollywood biggies like Lord Of The Rings, 300 and Troy a run for their money.
The costumes designed by Rama Rajamouli might remind you of Amar Chitra Katha, but then, isn't that how the mythological heroes used to dress? Or, did they?
While dealing with epics, comparisons with Mahabharat and Ramayan are inevitable. But V. Vijayendra Prasad's story stands out for its originality.
Produced as a two-part series, the second part is all set to release next year. The extraordinary climax of the first is sure to leave the audience in feverish anticipation of the final instalment. The wait begins.
Film: Bahubali—the beginning
Director: S.S. Rajamouli
Cast: Prabhas, Rana Daggubati, Tamannaah Bhatia, Ramya Krishnan, Anushka Shetty, Nasser, Sathyaraj
Rating: 4