One would surely have expectations from director Ravi Jadhav, who already has quite a few national awards in his kitty for his Marathi films, when he makes his big entry to the Hindi film space. His films, be it his debut directorial venture, the musical Natrang, or the hugely popular Timepass which was one of the highest grossing Marathi films, harped on the essence of the Marathi culture. The last time Riteish Deshmukh and Jadhav came together as a producer-director duo, they made the endearing Balak Palak. It is the same magic you'd expect when they paired up for Banjo.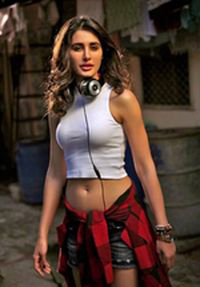 Unfortunately, the underdog story of_ Banjo_, does not live up to the expectations. It all starts with Christina (Nargis Fakhri), an NRI musician coming across a video of a music team performing at the Ganesh Chaturthi celebrations in Mumbai. She is impressed and wishes to record two songs with them. Her search for the team led by Taraat (Deshmukh) with band members Paper, Grease and Vaajya (Aditya Kumar, Dharmesh Yelande and Ram Menon respectively), lands her at a slum in Mumbai where everyone seems to be ogling at her. The story takes a very predictable route, especially after the interval when Taraat as the lead comes across many hurdles created by an envious group of competitors.
Fakhri's acting falls flat irrespective of whether she speaks English, Hindi or Marathi. Deshmukh could have played the part much more convincingly. He has surprised us many times, let alone his performances in films like Lai Bhaari and Ek Villain, even in run-of-the-mill adult comedies. Surprisingly, his act in this is upstaged only when he is with the other band members Kumar, Yelande and Menon who bring in some comic relief every now and then.
Music, that was supposed to be the lifeline of this film, also fails most of the time. Pee Paa ke... seems like a desperate attempt to create a party anthem. Meanwhile, Rada...is a relief, but that's about it. You expect much more from a person like Jadhav who has earlier breathed life into a film with his choice of music.
Film: Banjo Director: Ravi Jadhav Cast: Riteish Deshmukh, Nargis Fakhri Dharmesh Yelande Rating: 3/5