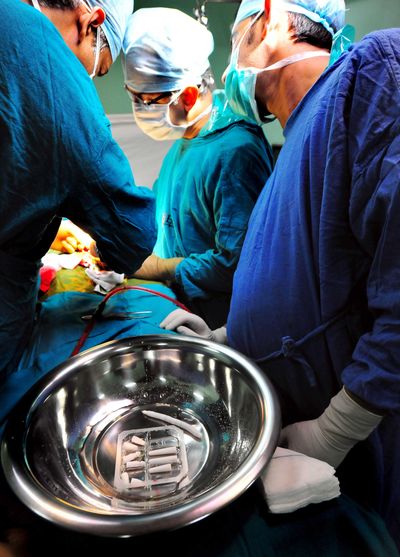 Doctors perform Implant surgery | Aayush Goel
Atma Singh Lubana of Punjab considered himself an 'incomplete man' till a few years ago. He was unable to get an erection, let alone hold it. His marriage, as a result, remained unconsummated.
The 36-year-old Punjab resident suffered from erectile dysfunction (impotence). Blood flow to the penis was impaired owing to multiple blockages in the penile artery.
Erectile dysfunction is not uncommon. According to a Massachusetts Male Ageing study, erectile dysfunction is prevalent among 40 per cent of men in their 40s and 70 per cent of men in their 70s. The incidence of erectile dysfunction was found to be higher in ageing men and those with conditions such as high blood pressure, diabetes, cardiovascular diseases and depression. Smoking and excessive alcohol consumption also contribute to erectile dysfunction.
Natural erection occurs when a person is stimulated and the blood flow to the penis increases. As the penis balloons up, the venogenic valves are kept shut, facilitating complete and full erection. When the stimulus wears off, the valves open and the penis becomes flaccid as the blood leaks back. "If at all a person has an artery blockage, the interventional radiologist can put a wire through the blockage and balloon-dilate the area. Or a different artery substitute can be used to do a bypass," says Dr Nandakishore S.K., urology consultant at Columbia Asia Hospital at Yeshwantpur, Bengaluru. "But if multiple places are blocked, a penile implant needs to be done."
Implants are recommended for men with venogenic and neurogenic erectile dysfunction, where medications, injections or vacuum devices do not work. For example, veno-occlusive dysfunction occurs when the valve of the penile cylinders cannot hold back the blood. "After thorough evaluation, we give them sequential treatment, starting with oral therapy and then vacuum erection device or injections. Penile implant is the last choice," says Dr Aditya Pradhan, senior consultant, urology and renal transplant, at the BLK Super Specialty Hospital in Delhi. "Before doing an implant, the cavernous tissues in the penis are hollowed out and a silicone rod is placed. Cavernous tissues are the spongy tissues which when filled with blood allow the penis to be rigid. If the implant fails, the person will never have natural erection after that."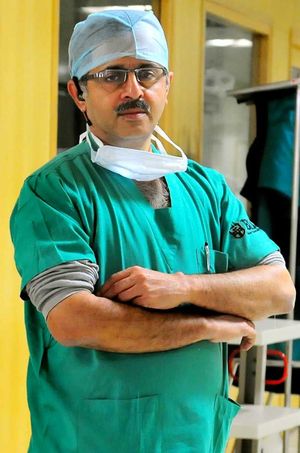 Ful Filling: Dr Aditya Pradhan | Aayush Goel
Inflatable devices have three parts: expandable cylinders, a pump which can be activated and a reservoir filled with saline. "When an activation button is pressed on the pump attached to the reservoir, the fluid fills the cylinders and an erection is obtained. After intercourse, you have to press a release button. The fluid will then drain back into the reservoir," explains Nandakishore. "Inflatable devices work fairly well, but cost between 14 lakh and 17 lakh depending on the model."
A more economical 'made in India' alternative is the Shah penile prosthesis. The indigenously manufactured implant developed by Dr Rupin Shah, is a semi rigid device made of silicone. "In this, two solid cylinders are put into the penis through a small opening at the base of the penis. The implant is placed within the corpora cavernosa (mass of erectile tissue forming the bulk of penis). It gives the penis the stiffness required for intercourse,'' says Shah, senior consultant andrologist at Lilavati Hospital, Mumbai.
The Shah prosthesis lasts longer as it doesn't have any parts except a lever. "The device has expanders and it is easy to increase the length of the graft to conform with the length of the penis," says Shah, adding that the implant doesn't improve pleasure.
The first recipient of Shah's implant, which costs between Rs50,000 and Rs1.25 lakh, was a Mumbai school teacher whose marriage of five years was unconsummated. "He was born with some problem with the blood flow to the organ. A vascular surgery didn't work. He couldn't afford the imported implants either. So we recommended the Shah implant. He had a baby soon," recalls Shah.
The oldest man Shah operated on for an implant was 82 years old. "It was a reimplant. He had his implant surgery done in the US 15 years ago. As the implant failed, we reimplanted him," says Shah.
Shah recounts the case of a young professional, who developed priapism while on a remote island in south east Asia. ''He had too much of a party. When he woke up the next day, he found that his penis was erect and the erection wouldn't go down,'' says Shah. By the time he got to the mainland for treatment, his organ was completely damaged. He had an inflatable implant. A few years later, he sent me a mail saying it was indeed a rebirth for him,'' says Shah.
Cheaper implants are also available. "Those are the rigid, non-inflatable, non-malleable ones—which are very rarely used nowadays as they will always keep the penis erect and they are not without complications," says Nandakishore.
The non-inflatable implants last forever, whereas the inflatable ones can be used for 10-15 years only. Patients are advised to avoid intercourse for six-eight weeks post surgery and are prescribed antibiotics to avoid infection which is the most dangerous complication.
Experts say erectile dysfunction often goes unreported though its incidence is high. "Only 5-6 per cent is reported. In fact, a significant percentage of erectile dysfunction cases in the country are psychological in origin. Once these issues are addressed, they can have a normal sex life," says Nandakishore.
Lubana (name changed) opted for a penile implant six years ago. "The couple had regular intercourse after the surgery," says Pradhan, who operated on him, "and they had a baby soon."