When Apple released the iPad Pro last November, Tim Cook, the company's CEO, predicted that people would start using the jumbo tablet and "conclude they no longer need to use anything else, other than their phones".
So, three months after the big tablet's debut, we decided to test that hypothesis with a panel of creative professionals who have integrated the tablet into their work lives. We found that all were still clinging to their personal computers.
"We're on PCs for the day-to-day work," said Larry Anderson, chief engineer of Teecom, an architectural engineering firm that bought iPad Pros last year to present drawings to clients and carry digitised blueprints to construction sites. "But when I go to a meeting, I don't grab my laptop—I grab my iPad."
The iPad Pro, which starts at $799, stands out from other tablets because of its especially large screen, which measures 12.9 diagonal inches. It also supports the Apple Pencil, a digital stylus with pressure sensitivity and angle detection. The iPad Pro is an important prong of Apple's iPad lineup, a product category where sales have declined for eight consecutive quarters. Apple executives have told investors they are bullish about iPad sales returning to growth, and the company continues to market the device as the future of personal computing.
Apple also plans to introduce another new iPad model alongside a smaller iPhone in an event this month, according to a person briefed on the devices, who asked to remain anonymous because the plans were confidential. The news site 9to5Mac earlier reported details of the products. Apple declined to comment on the event.
To assess whether there may be a jump in iPad sales anytime soon, we waited a few months after the iPad Pro's release to gather feedback from some professionals who use it. Our panel of reviewers was Anderson of Teecom; Stephen Gates, a design director for the global bank Citigroup; and Jennifer Daniel, a graphic designer for The New York Times. They unanimously agreed that while the iPad Pro's big screen and stylus were helpful for crucial tasks, like mocking up illustrations or giving presentations, they still had to turn to a computer for more powerful apps.
Michael Tchao, a vice president of product marketing for Apple, said in an interview that such early reactions to the iPad Pro were not unexpected.
At Citigroup's Citibank, about 30 of 80 designers are using iPad Pros and the company plans to order more, said Gates, the head of design for Citi's Global Consumer Bank in New York. He said he bought an iPad Pro on the day it was released because he had been waiting for a device that supported a capable stylus like the Apple Pencil.
Gates said Citi designers had used the iPad Pro to work on a new design for a Citi mobile app, among other projects. Designers used the big iPads to sketch out and present mock-ups of the app and discuss where they wanted images or buttons, for example.
Nonetheless, the iPad Pro primarily helps Citi designers conceive ideas, not create final products, he said. When it comes to production, Gates said, he moves his initial ideas to a computer to use desktop apps like Adobe Photoshop to refine and polish the designs.
He said he thought the iPad Pro could eventually replace his computer, but not yet because of the limitations of the current apps. Many creative apps designed for the iPad Pro focus on the start of the design process, like sketches and rough compositions, while desktop apps have the ability to do more complex image manipulations, animations and other functions.
Jennifer Daniel, a graphics editor for The New York Times, recently tried to do her job on an iPad Pro but was unsuccessful. Her work generally involves talking to reporters about how to tell their stories visually, researching topics on the internet, interviewing experts, sketching out concepts with Adobe Illustrator, and writing and publishing code directly from her computer, often all at once.
Such multitasking is difficult on an iPad Pro. While Adobe offers a suite of mobile apps for Photoshop and Illustrator that Daniel can use on a tablet, the apps do not replicate a full-size computer's ability to multitask easily on projects, and they aren't compatible with colleagues' desktop apps, she said.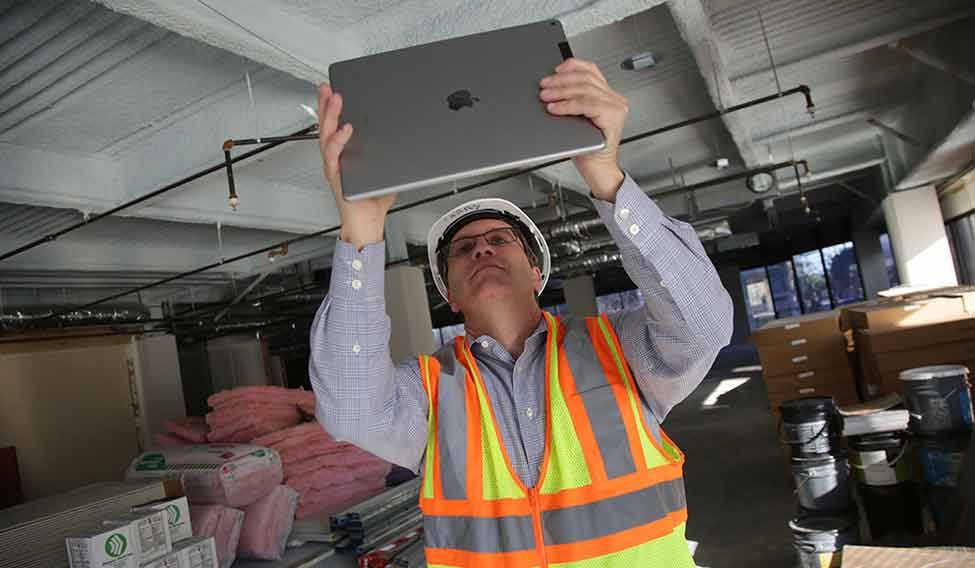 Larry Anderson, chief engineer of Teecom, an architectural engineering firm that bought iPad Pros to present drawings to clients and carry digitized blueprints, with an iPad Pro, in San Francisco
And while Daniel found the iPad Pro's screen to be big and beautiful and said the Apple Pencil felt like an upgrade compared with drawing on her laptop's trackpad, the tablet can run only two apps at the same time side by side. Daniel said she preferred having many apps open in multiple windows to juggle more tasks simultaneously.
"As an illustrator, can the iPad Pro replace a part of my process?" she said. "Maybe for the initial research and writing phase, but it stops when I have to conform to other people's workflows. Adobe software is a prison, and my work, its prisoners." Engineers at Anderson's company, Teecom, an engineering firm based in Oakland, California, that designs technology systems like data centres for corporations and hospitals, rely heavily on a mix of computers and iPads to do their work.
The engineers use extremely powerful Windows laptops to use 3-D modelling software like Autodesk Revit to design the technology systems for buildings, Anderson said. Then Teecom moves those drawings to PlanGrid, an iPad app that displays and edits blueprints. From there, the engineers use the iPad to show the construction projects to clients or to take notes on blueprints while at construction sites.
Engineers at the firm use iPad Minis and began buying iPad Pros last year for the larger screen and stylus. Anderson said he enjoyed the ability to see more drawings on the screen and mark up blueprints with the Apple Pencil while on job sites. One complaint: He constantly worries he will lose the Apple Pencil, because there is no compartment to hold it in the iPad.
Fewer than a quarter of Teecom's engineers have iPad Pros, but a year from now the company will probably order more, Anderson said. Still, he doesn't see the firm phasing out computers.
"For what we do, it's not there yet," he said about the iPad Pro. "Engineers still need that high-powered laptop for the mouse and the ability to have a big screen connected to it."