It is time to say goodbye to hot projector bulbs. Global makers have launched 'cool' laser-based projectors in India
Finally, it is time to say 'goodbye and good riddance' to the most vulnerable part of a projector—its lamp. Always getting hot and apt to pack up and die without warning, just when you are in the midst of an important presentation, the bulb has been the bane of projectors from inception.
The new lamp-less projectors in fact offer a hybrid approach, where the laser is used together with one of three competing technologies to create the colours—3-LCD, Digital Light Processor (DLP) also known as DMD or Digital Micromirror Device and LCoS or Liquid Crystal on Silicon. Epson has long been the proponent of the 3-LCD technology in digital projectors, one of each of the three primary colours, red, green and blue. Texas Instruments holds most of the patents in DLP technology where the key projecting devices with millions of tiny mirrors have been fabricated in silicon. Benq is a brand that uses DLP. LCoS is a sort of hybrid with elements of 3-LCD and DLP and its main supporters are Sony and JVC.
DLP, LCoS and 3LCD projectors have been in use both for home/office projectors as well as theatrical systems for some years. Now most of the makers of projectors are switching to lasers for the primary light source.
Epson has launched its new EB-L1000 series projector based on laser source in India. These are the first worldwide to integrate inorganic 3LCD panels with an inorganic phosphor wheel to achieve superior light and heat resistance.They are capable of delivering up to 20,000 hours of maintenance free use. The projectors come with nine optional lenses enabling the projectors to be installed with the shortest throw distance where available space is at a premium. The EB-L1000 series will be available in 3 models ranging in India—L1200U (Rs 11, 03,799 with 7000 lumens ) , L1405U (Rs 11, 68,999, 8000 lumens) and L1505U( Rs17, 86,399, 12,000 lumens).
BenQ has launched its first BlueCore laser light source projector LU9715. BlueCore laser technology enables a high contrast output of 80000:1 with an extended lamp life. The projector is available for Rs 18,00,000.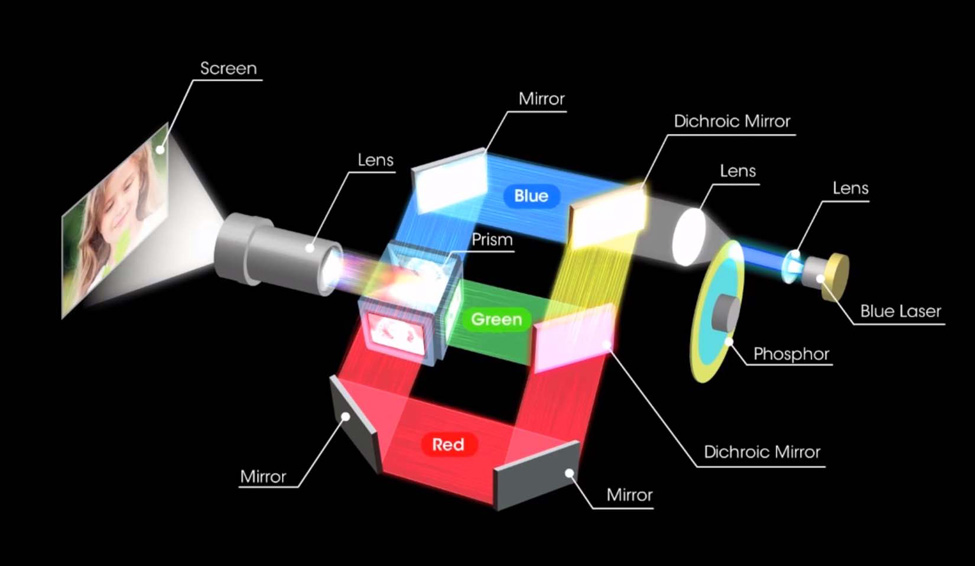 Casio India has introduced three new models to its EcoLite series of LampFree projectors XJ-V2, XJ-V100W and XJ-V110W, Laser & LED Hybrid Light Source technology that reduces the power consumption up to 50%. The 3 models range in price from Rs 56,995 to Rs 79,995.
Though not yet launched in India Casio has created ultra compact laser projectors just 4.3 cms thick and the size of an A4 sized sheet of paper, weighing 2.25 kgs.—with built in wireless remote operation and mating with multiple sources of video or presentation.
Sony's new projector range in India, includes three 3LCD laser models (VPL-FHZ65, VPL-FHZ60 and VPL-FHZ57). The laser models only some 7 seconds for the brightness to ramp up after turning on. The life of laser light source is expected to be up to 20,000 hours The models range in price from Rs 9.66 lakhs to Rs 5.33 lakhs.
Panasonic and Christie are two other projector makers who are offering laser projectors in India—mainly in the corporate sector.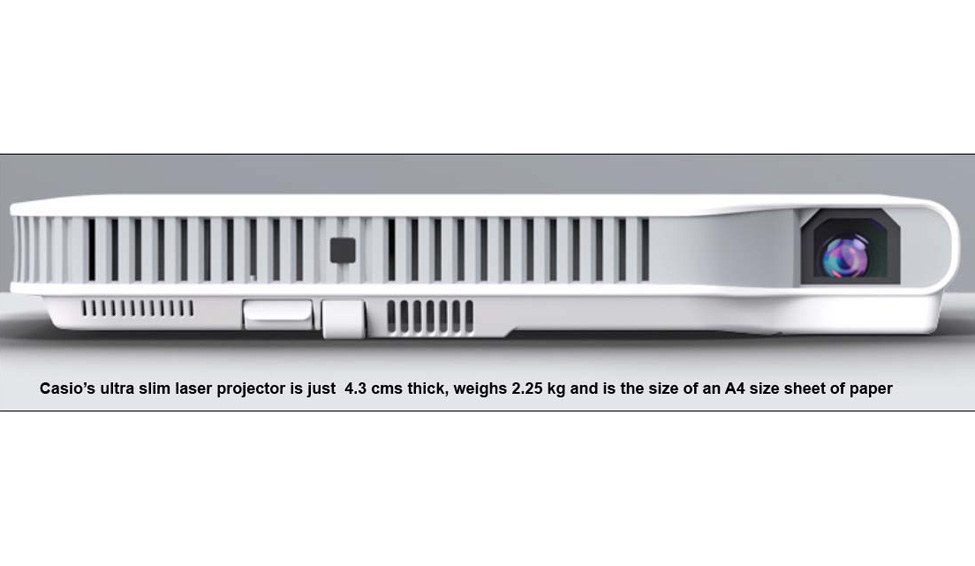 None of these with the exception of the Casio models can be called cheap—but remember they cater to a wide range of use-environments from home movies to corporate presentation to huge outdoor signage. For all them, the big advantage of laser is its s promise of ten-fold increase in life from 2000- 4000 to 2000- 30000 hours.
All new technology tends to be pricey upon introduction. As lamps fade away into history and lasers become the norm to illuminate our screen, we can expect the asking price to become more affordable. Meanwhile, let the laser-lit show begin!