Just because you can do something, does it mean you should?
That question may come to mind when considering the Internet of Things—the idea that one day, products of virtually all kinds will be connected to the Internet and integrated.
Many of us now take for granted simple things that Internet-connected devices can do, like starting a car from inside the house, turning off air-conditioning with a smartphone app and automatically sending our blood pressure readings to our doctors.
Device makers are now expanding their imaginations. It remains to be seen whether these devices, and the myriad others coming our way, will become commonplace or simply represent a passing fancy.
Quirky + GE Aros Smart Window Air-Conditioner, $200
The Aros connects via Wi-Fi to Wink, an app that controls other connected home products from companies like General Electric, Philips, Lutron and Nest, among others. Using GPS, the Aros knows when you're home or away, turning the unit on and off to save energy and get your room comfortable before you arrive.
Set your monthly electricity budget on the app, and it will suggest temperature and power-on times to fit. The app takes into account your energy costs as well as the weather forecast. The app also tracks energy use over time, so you can adjust the air-conditioner's temperature to save money.
Withings Home, $200
Many home monitoring systems upload video to the Internet. But Withings, the maker of Internet-connected health care products such as scales and blood pressure cuffs, has come up with a multifeature approach.
In addition to standard video surveillance, Home detects motion, sounds and air quality. And eventually, it can recognise babies' cries and faces. If chemicals emitted from things like pressed-wood furniture, cleaning products and nail polish remover reach a dangerous level, the app sends an alert to open the window. Home can also be used as a baby monitor, both for camera surveillance and playing lullabies through the speaker.
Home records the last 48 hours of movement in time-lapse mode at no extra cost. Motion and other activity alerts, as well as video playback, are accessible via its app. Extra cloud storage for video is also available; a week's worth of full-motion or time-lapse video can be kept for $8 a month. A 30-day storage package is available for $20 a month.
Oral-B Pro 5000 Rechargeable Toothbrush, About $100

The Oral-B Pro 5000 rechargeable toothbrush | Agencies
This Oral-B toothbrush sends information to a smartphone app to help you brush for the recommended length of time, and in all the right ways.
The device is connected to the app with Bluetooth. The app points out the best ways to brush, provides checklists and reminders to brush your tongue and floss, and allows dentists to enter additional brushing routines in case certain areas of the mouth need more attention.
Oral-B says that the average brushing time for those who use the app is almost 2.5 minutes, compared with 45 to 60 seconds for those who brush without it. (The company downloads some data from the app.)
To remind you to keep the digital brush in action, a timer on the app starts up automatically when you turn the brush on, and counts down the seconds. And to keep users from getting bored, the app displays news, weather and brushing tips.
You don't need to keep your smartphone next to your toothbrush at all times. The brush has enough memory to store up to 30 brushing episodes and can upload them to the app the next time the two are within Bluetooth range, the brush is on and the app is open.
Sengled Boost, $50 to $60
Wi-Fi signals are often annoyingly weak, unable to reach where you most want them. The signal can be amplified by adding a range extender. But those extenders are typically in an ugly box.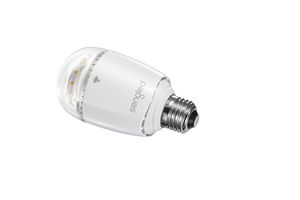 The Sengled Boost, a combination light bulb and Wi-Fi signal booster | Agencies
Sengled offers another option, combining a Wi-Fi range extender with an LED light bulb. The three options for the light are one that looks like a standard incandescent bulb similar in brightness to a 40-watt bulb ($50), a recessed lamp with the brightness of about 60 watts ($60), and a larger model that is similar in brightness to a 75-watt recessed lamp ($60).
You can control the lights—dimming them, for example, or turning them on or off—with the Sengled smartphone app. The Wi-Fi extender part of the device will stay on even if you turn the lamp off, but only if you do so from the app. The extender can deliver quite an upgrade of service. In a recent test, the Sengled Boost increased the Wi-Fi download signal speed in a home office from a paltry 2.4 megabits per second, or Mbps, to over 5 Mbps.
Sengled also makes other LED lamp combination products. Its Pulse line of lamps (starting at $60) combines lighting with a JBL Bluetooth speaker, allowing you to stream the music on a smartphone or tablet through the lamp.
PicoBrew Zymatic, $2,000
The PicoBrew—a 50-pound brewing unit and separate metal keg—largely automates the beer—making process.
To use the unit, you first connect it to the Internet, either with a wire or wirelessly, and then choose one of the more than 100 recipes available to download. You load the unit with the amounts of barley, hops and water called for in the recipe. From there, the PicoBrew's technology takes over, choosing the proper brewing time and temperature.
You can monitor the temperature of the brew and of the unit on the company's website. You can also come up with your own recipe and share it with others through the system—bringing a new social aspect to having a beer.